Price examples with free fitting included
Our prices start from £7,695.00
In this website you'll find a price example below each kitchen range. This price includes the current sale offers and is based on a 14 unit, "fitted" kitchen package. We have used 14 units as this number tends fit an average size kitchen.
Naturally, the kitchen design example shown may not necessarily be the layout you want! But it's a guide to what each kitchen range would cost, without appliances and optional extras.
We're so confident that our all-inclusive, fully installed kitchen deals are the best you'll find on offer, that we're happy to better any competitors price and even offer you a best price guarantee.
Remember, our prices are for fully installed kitchens, wired up, plumbed-in and working, NOT supply-only prices or "dry-fit" prices you get from other companies!
With us, the price we quote is the price you pay!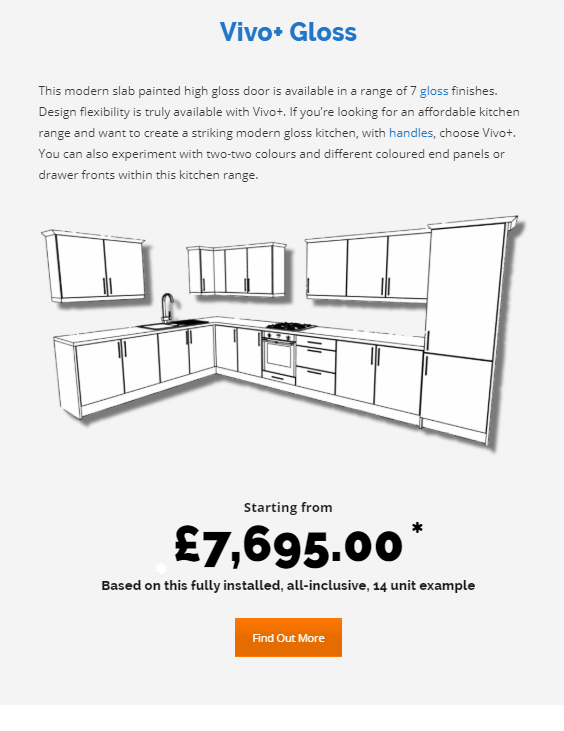 What's included in our price examples?
How much will my kitchen cost? This is quite often one of the most important questions you want answering. But, without an on-site visit to measure up and a list of your wants and needs, it's an impossible question to answer accurately.  However, what we can say is that the price of a made-to-measure Mastercraft Kitchen is very competitive with standard-size kitchen brands and start at around £8,000 for a basic fitted kitchen package but can go upwards to £80,000 or more, depending on kitchen style, the number of units, appliances, and which upgrades you want such as building work. So we really do have something to fit all budgets.
The usual price range of a new, fully installed, Mastercraft kitchen can be anywhere between £8,000 and £35,000, so it's really impossible to give an accurate price without measuring up.
Our prices are for Mastercraft's high quality, made-to-measure and pre-built kitchen cabinets and fittings, not just standard size, off-the-shelf, flat-pack ones as supplied by the majority of our competitors.
We give you an idea of the starting price of our kitchen ranges by displaying the price of a 14 unit kitchen package next to each kitchen's description. For a more detailed description of what a 14 unit package deal is, please see the video below.
How To Navigate Our Portfolio
In the Portfolio Section use the following icons for more information:

Click on this icon to magnify the image.

Click on this icon for more information on the kitchen range including the price.
It's essential to have a good idea of your budget when we start planning your new kitchen. Without a proper budget our designers will assume money is no object and quickly run up the costs. You need not fear the price if you already have given us an idea of your budget.
Knowing your budget will help us work more efficiently. If you know you would like a high gloss handleless look for example, and your budget is, say, £15,000 we can then show you ranges and layouts within that budget. We'll probably also have gloss doors at lower and higher price points, so we can show you various options and you can choose which is best for you.
Remember to also budget for any utility services, appliances, worktop upgrades and building work you may need plus the installation of your new kitchen. See our Installation and Fitting page for more information about our service. So, why not meet and talk to one of our Kitchen Designers. Even if you just want some advice, we'll be happy to help.
Will I Get Value For Money?
Most certainly! We have many customers who have owned a Mastercraft Kitchen for over 23 years and others who have bought three or more from us over the years. This not only shows that the quality of our kitchens will stand the test of time but also that the price, quality, and service that we offer is very good and brings customers back to us time and time again. We'll always offer you the most competitive price we possibly can. One that reflects the quality of our products, the expertise of our designs and the experience of all the people who deliver our service.
Yes, you can always find a cheaper kitchen somewhere else but will it be of the same high quality, with the same high standard of fitting?  And what would happen if something went wrong? We've been in business for over 20 years and have built our reputation on making sure our customers get good value for money and good after sales care.
For added reassurance, we offer a Best Price Guarantee, so that if you do manage to find the same quality kitchen and a better price at another retailer, we will not only match the price but beat it by a further 5%.
Browse for more kitchen styles
Our kitchen ranges have been featured in…