If there's one space in the home where getting the lighting right is absolutely critical, it's the kitchen. To get the perfect lighting scheme, consider your aesthetic aims as well as your practical needs, after all the kitchen is often considered as the hub of the home.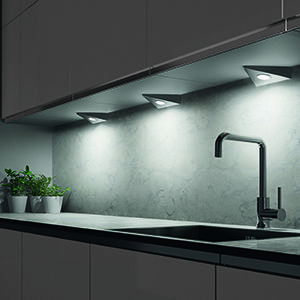 Under Cabinet Spot Lighting
Under cabinet lighting is primarily used as task lighting. Perfectly positioned to ensure the kitchen is an efficient working space for everyday tasks such as food preparation. Spot lighting is typically positioned under the wall units to illuminate the worktop, giving light exactly where it is needed.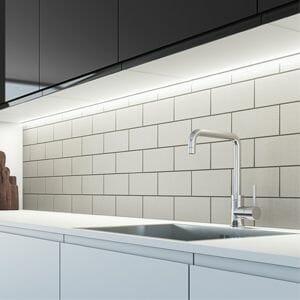 Under Cabinet Strip Lighting
The ultimate task lighting solution. Create a continuous run of unbroken lighting by using a LED strip light. Products can be interlinked to create the perfect solution for you. Strip Lights provide a continuous run of light with no breaks to create a flood of lighting onto the worktop.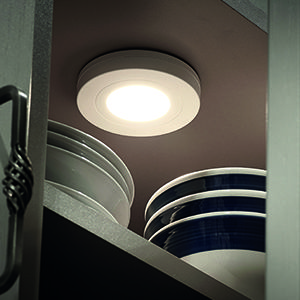 Convienient Battery Lighting
Here at Mastercraft Kitchens, we also offer convienient battery lighting that is discreet and easy to install. Each product come with an in-built PIR sensor for ease of finding your way around the kitchen in the dark without being blinded by bright ceiling lights.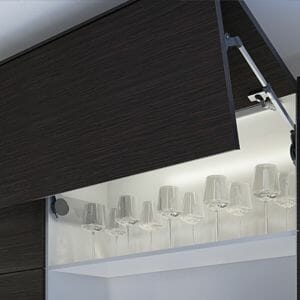 Interior Cabinet Lighting
Illuminate your cupboards automatically as they open for the ultimate ease of use by using an In Cabinet Light from the our lighting range. A beautiful added extra which brings a level of luxury to any kitchen design.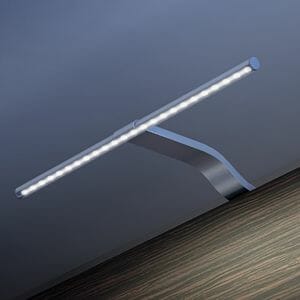 Illuminate your kitchen door fronts from above using over cabinet lighting for a great effect. You can also use up-lighting over the wall cabinets to offer a subtle mood light, a great addition to create a full lighting scheme.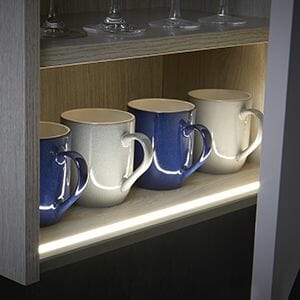 A stunning added extra to your lighting scheme, LED shelf lighting can have a big impact. Our lighting range consists of external, wall mounted shelf lighting and internal cabinet shelf lighting to illuminate glass shelving in a glass fronted wall unit.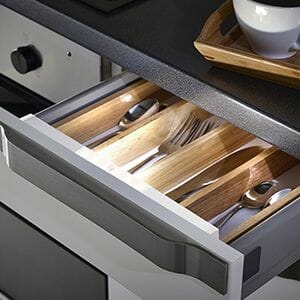 Drawer lighting is a functional convenience light which should be added to a design for ultimate ease of use. Mastercraft's high definition LED drawer light is a great added extra to illuminate pan drawers where additional light is often sought.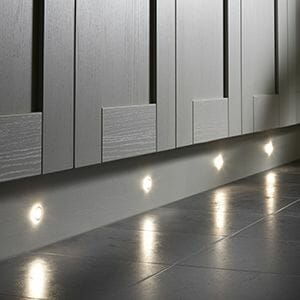 Integrate LED plinth lighting into your kitchen design to add dimension and depth to the room. Plinth lighting is soft and unobtrusive, used for decorative purpose. Often an overlooked aspect of kitchen lighting, it really can have a big impact.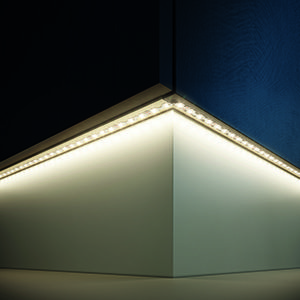 Flexible LED strip lighting is the perfect product to really add depth to a room. It is extremely simple to use and can be used almost anywhere. Consider creating ambient mood lighting by using the flexible strip above wall units, along the plinth, under the worktop and even around a TV!.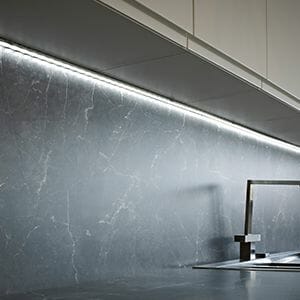 Choose from our range of aluminium profiles, available in a 1m or 2m length. We offer a surface mounted or recessed profile with a frosted diffuser, and our Continuum profile which can be used to introduce diffused LED lighting between the worktop and base units.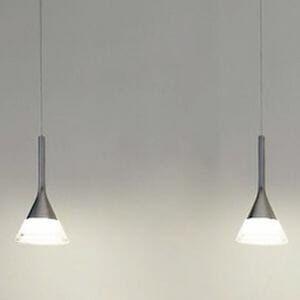 Ceiling lighting is undoubtedly the one essential element of any lighting design. Our recessed ceiling spotlights are perfect for adding needed task lighting to any room. Alternatively, our stunning IP rated pendant lighting collection will make a statement in any room and truly bring your space to life. The ultimate wow factor in any kitchen design.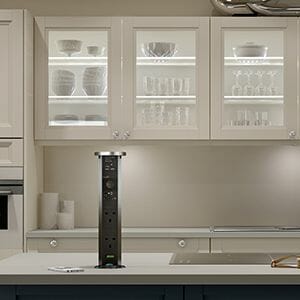 The Mastercraft SensioPod is an attractive pull up socket solution. Great for use in kitchen islands, the SensioPod boasts several different design features. You can choose the best solution to suit you from the Mastercraft SensioPod range.