Any traditional-style Mastercraft kitchen can be upgraded to feature solid timber, soft-closing drawers. All of our solid timber drawers are hand made with expertly crafted dovetail joints. Our exquisite dovetail kitchen drawers not only offer superior strength but they also come with a lifetime guarantee They fit in beautifully with in-frame and painted timber kitchens and add to the overall aesthetics.  They simply look amazing whenever you open your kitchen drawers.
Traditional Craftsmanship
Not only do timber drawers look classy, but dovetail joints are an extremely strong and durable construction method, due to their time-honoured, specialised design. The interlocking carved fingers form a sturdy and long-lasting joint that ensures your Mastercraft timber drawer upgrades last a lifetime.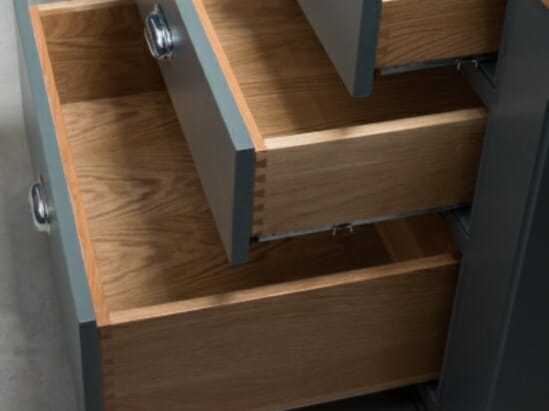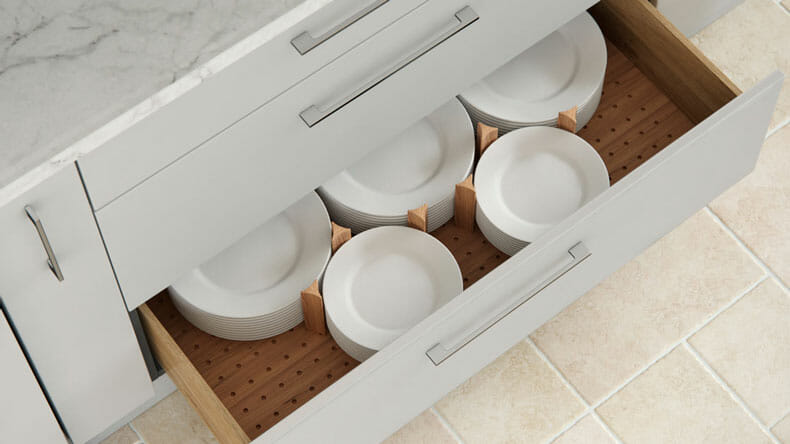 Our timber drawers are hand made by master craftsmen who are highly trained cabinet makers. As a family business, we come from a long line of master cabinet makers and we're experts in traditional furniture making techniques. Each and every hand made dovetail drawer will have our personal attention to detail and a certain quality that no screwed together drawer can ever create. A beautifully smooth hand-finished appearance is unmarred by any metal fasteners.
Hand Crafted Dovetail Drawers
Irresistibly Priced Deals
• Bespoke, made-to-measure cabinets
• Fully designed to suit your lifestyle
• Timber drawer upgrades from just £95
• All-inclusive fully installed kitchens from only £7,695*
• Premium, in-frame kitchens from £24,000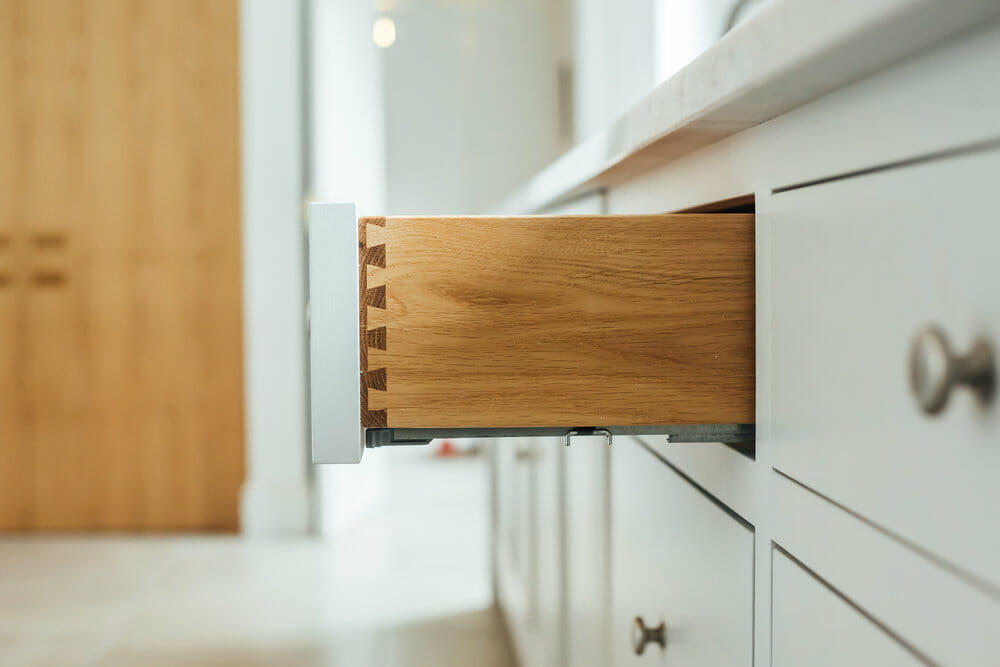 Every component of a Mastercraft kitchen is carefully considered and we're able to build into your design special features that make your kitchen different and unique to you. Discover our quality craftsmanship by arranging a free home design visit and let our designers recommend the right features to help make your kitchen your own.
Masterfully Crafted Cabinets
• Fully assembled hand-crafted cabinets –  not flat packs
• Blum® Soft close hinges and drawers
• Factory-fitted cabinet components
• 25 Year Warranty
Arrange a Home Design Visit
Why not request a free home design visit with one of our kitchen designers? We'll measure everything up for you and we can discuss your likes and dislikes. You'll get a fully rendered 3D design of how your new Mastercraft kitchen would look and receive a fully inclusive, competitive quote (and there's no obligation to buy).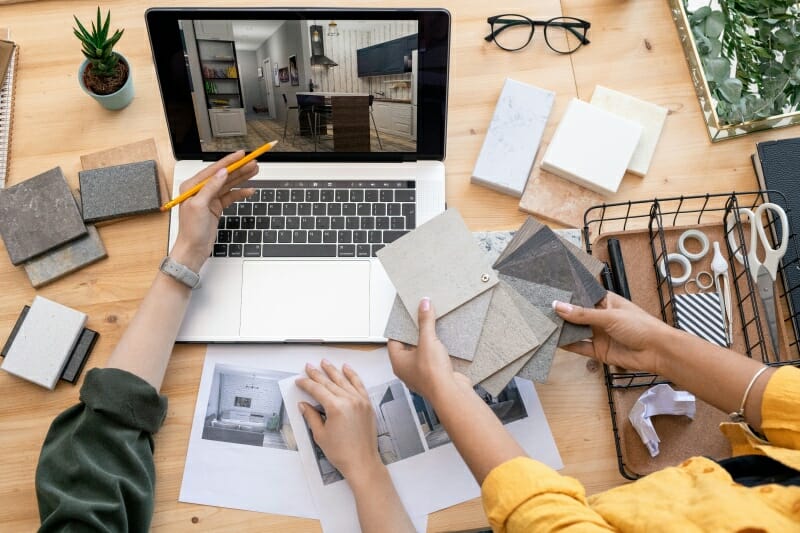 "Mastercraft fitted the bill perfectly"
"We wanted a company that could come in and do everything which meant knocking a wall through, bricking up a doorway and other alterations. Mastercraft fitted the bill perfectly as other companies only wanted to price for the kitchen units, not the building work."
Mr & Mrs Wilikinson, Northampton

"The best fitted kitchen experience we have ever had "
"We are very impressed with the service we received from Mastercraft Kitchens. Everyone has been very pleasant to deal with and nothing has been too much trouble. We can honestly say this is the best fitted kitchen experience we have ever had and would highly recommend anyone in the process of shopping for a new kitchen to try Mastercraft Kitchens, you won't be disappointed"
Stephen Cooper, Solihull

"We're very, very happy with everything"
"Well, I can say again, we're not disappointed as yet another Mastercraft Kitchen has been successfully completed to a very high standard. The speed of service, the ease that everything went together and the quality of the finish is superb. Thanks again to everyone at Mastercraft, from the guys in the factory to the aftersales staff, Lee's fitting team and to Steve our long suffering kitchen designer and project manager. A great job by all, we're very, very happy with everything."
Adam Owens, Property Developer

"Amazing service. Would definitely recommend"
"The whole service was wonderful from start to finish. The workmen were a friendly lot and they all did a fantastic job. Although my kitchen is only small, the design is very practical and the finish and quality of the units are noticeably better than a lot of the showrooms I looked around.  Best of all was that on the last day the guys cleaned and polished everything up for me. Amazing service. Would definitely recommend."
Mrs C Quinn, Manchester

"I'm a very happy customer"
"The workmanship, service and quality of the products supplied have all been and still are excellent.

We are particularly impressed by the friendly, cheery attitude everyone has in their work and would recommend anyone to use Mastercraft Kitchens for their kitchen project. I'm a very happy customer."
John Vine, Wakefield

"Above and beyond what we expected to get"
"Having traipsed around expensive kitchen showrooms as well as the usual B&Q and Wickes, and being disappointed at the prices being quoted we decided we would try something a little more up to date and used the internet to shop around for our new kitchen. We are so glad we did...the level of service we received was far above and beyond what we expected to get for the price."
Mrs Pam Jones, Sheffield

"A great service, great price and brilliant quality"
"All in all a great service, great price and brilliant quality.  You only do a quality kitchen once every blue moon so I would seriously recommend you go with Mastercraft Kitchens if you are about to make that all important decision."
Mrs Elaine Sumner, Wirral

"Exceeded our expectations"
"We love our new Mastercraft kitchen. Everyone who has visited has been wowed by the style, colours and tones. Exceeded our expectations and we have no hesitation in recommending Mastercraft to our family and friends."
Mr Graham Hall, Worksop

"Our only regret was not calling them in earlier"
"Full marks to Mastercraft Kitchens for all their help in our recent project.  Our only regret was not calling them in earlier. The out of business hours support and quick replies when we had any questions was very reassuring.
The kitchen is now the best room in our house and all our friends and family love it.  We would highly recommend anyone thinking of getting a new kitchen to get a quote from Mastercraft Kitchens."
Mrs Helen Shaw, Lancaster

"The quality is outstanding"
"The quality is outstanding and we had great service. There have been no issues with it since. Love the design and stone grey door colour. Our next door neighbour has just ordered theirs from Mastercraft too after getting several other quotes to compare prices. Would highly recommend Mastercraft to anyone looking."
Mr Alan Davies, Llandudno

"Nothing was too much trouble"
"Cannot speak highly enough about this company and everyone involved in bringing our kitchen to life. Steve did the most amazing design and he simply couldn't have been more helpful, friendly and professional.
Lee who fit the kitchen was amazing, hard working and did a superb job, nothing was too much trouble.
Everyone else, electrician, plasterers and floor fitter did such a good job"
Karen Illingsworth, Cleckheaton