The Best "Like-For-Like" Quote – Guaranteed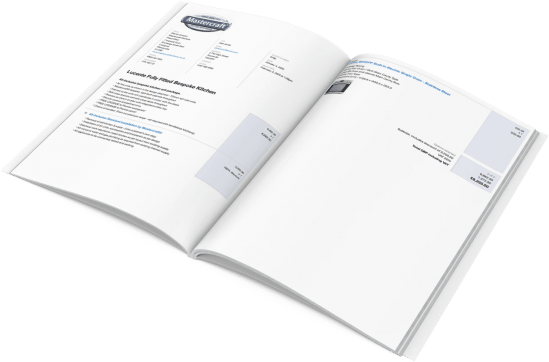 We always endeavor to offer you the best price we possibly can – however we don't supply cheap products, so our prices reflect the quality of our design, our product and our service.
For over 20 years we have been designing and crafting beautiful kitchens right here in the UK, so we really are experts at what we do.  Our company was founded and is managed by professionally qualified tradesmen, and we like to think we're nice people to deal with.
We really do believe that you won't get a better quality product or a better service from any other fitted kitchen company anywhere on the high street or online for a lower price.  So, just to make sure, we offer you a "Mastercraft® Best Price Guarantee".
The Mastercraft® Best Price Guarantee
If you should find a like-for-like kitchen proposal cheaper anywhere else we promise to not only match it on price, but to better it by beating their price by a further 5% .
Why would we want to even do this? Well, it's because offering you the lowest price will hopefully benefit both of us.  You are guaranteed a great quality product for a great low price, and we are able to supply yet another fitted kitchen , allowing us to keep on ordering our raw materials in bulk and therefore keeping our buying costs down.
Please see further information below for specific terms relating to the different products.
How To Claim Your Best Price Guarantee Discount
If you get quoted for a like-for-like fitted kitchen cheaper elsewhere, even up to 14 days after you have bought from us, simply tell us and provide the proof with a copy of the plan and written quote from the cheaper supplier.  One of our sales team will then gladly reduce your price accordingly and e-mail the amended order summary over to you confirming the new reduced price before processing the order any further.
Like for Like Best Price Guarantee Terms & Conditions
1.  The comparable quote must be for the same amount of units and worktop lengths. The specification of the kitchen, including cabinet quality, colour, material, thickness, and construction must be on a  "like for like" basis; The door/drawer material, colour and finish must be comparable too and the kitchen quote must include all the same accessories. The fitting breakdown must include everything we are providing as our quote will be for an all-inclusive service!
2. A technical survey and in-house installation service must be included with the other quote, along with full in-house project management and all relevant legislative compliance costs must also be included.
3.  The comparable quote must be presented within 14 days of our quote or purchase order and show a detailed breakdown of costs.  The quote must be from a reputable high street kitchen company or established online retailer and not one in administration.
4.  Our Best Price Guarantee only applies to the price of the whole kitchen including all the furniture, worktops, appliances and fitting as described above.
5.  The final decision on whether a kitchen is deemed comparable or not is at the sole discretion of Mastercraft® Kitchens' contract management. If we decide the comparable quote is not a "like-for-like" quote, we will offer you a detailed explanation why.
If you find a comparable kitchen quote cheaper on a full kitchen order (including fitting) then we will then match and beat the quote by a further 5%. Subject to the terms in section 1.
If you have already ordered from us, you can claim up to 14 days from the date of order. Please email your claim using the form on our contact page.