Introducing Radianz® Quartz Worktops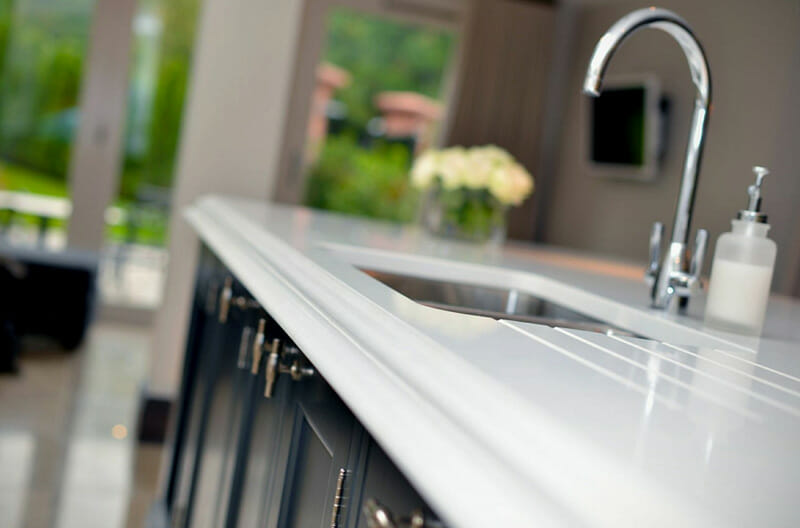 Function
Radianz® Quartz is substantially harder than granite countertops. That means it's not only more impact resistant, it also doesn't require any periodic sealing. That's right, granite countertops should be chemically resealed every year or more. Radianz® – never. Radianz® is also non-porous, making it nearly maintenance-free as it resists bacterial growth and stains unlike other natural surface materials. Beauty meets functionality when you can spill milk on a quartz surface as artfully crafted as Radianz®.  See the colour ranges available.
Radianz® Quartz worksurfaces are:
Impact Resistant.
Mined natural quartz is one of the hardest minerals found in nature, making Radianz® countertops extremely durable and long lasting. If frying pans ever inexplicably slip from your grasp, this is a definite advantage.

NSF Compliant
Because of its hygienic qualities, Radianz® is one of the few surfaces certified safe for direct contact with food in service and preparation areas. If you consider plates an unnecessary tool in the art of sandwich making, this is a definite advantage.
Versatile
No matter what your project entails, in a commercial or residential space, Radianz® Quartz can give you the perfect high tech, high touch surface. If your project is creative, ambitious, or just plain huge, this is a definite advantage.

Backed By A Samsung Warranty
Radianz® Quartz comes with a 15-year warranty for residential applications and 10-year warranty for commercial installation, something you won't get with marble and granite countertops. If peace of mind is top of mind, this is a definite advantage.
Heat Resistant
Radianz® is highly resistant to heat damage so exposure to ambient temperatures associated with cooking won't ruin your countertop. If you like to cook like you're on Masterchef, this is a definite advantage.
Hygienic
Radianz® Quartz countertops are non-porous so they are impervious to moisture, making them highly resistant to bacterial growth. This also makes Radianz® highly stain resistant and virtually maintenance free. No sealing or polishing required. If you have clumsy friends, or a clumsy spouse, this is a definite advantage.

Consistent In Colour
Radianz® offers consistent colour and uniform texture throughout an entire surface. With marble and granite countertops on the other hand, it's difficult to match a sample to a slab because appearances vary. If you want to see the colour you choose on virtually every inch of your countertop, this is a definite advantage.
Edge Designs
Bullnose. Ogee. These should be household names. The edge treatment on your countertop is an integral choice for the overall look of your space. When done right, countertop edging should add a whole new layer to your kitchen or bathroom design, and with Radianz® Quartz there are plenty of options to choose from.
For commercial spaces, Radianz® Quartz surfaces can be custom crafted to accommodate a wide range of applications, and a variety of edge profiles are available to match that range. So, before you start designing a countertop or work surface, shuffle through these popular choices and check with your local fabricator about other popular options