A traditional Mastercraft pantry is designed within the kitchen cabinetry and can either be integrated into the kitchen units or free-standing. It's a must-have for any organised chef. We use classic kitchen cabinet doors or bi-folding doors to store kitchen items away and can include a selection of shelving styles to tailor your organisation needs.
From housing your cooking staples to creating the perfect coffee station. Our bespoke kitchen pantry designs can include a range of personal features that are unique to you. Choose to have a granite workspace incorporated behind the doors, build in an integrated coffee machine or have the internal drawers engraved with your favourite ingredients, spices or even your family names!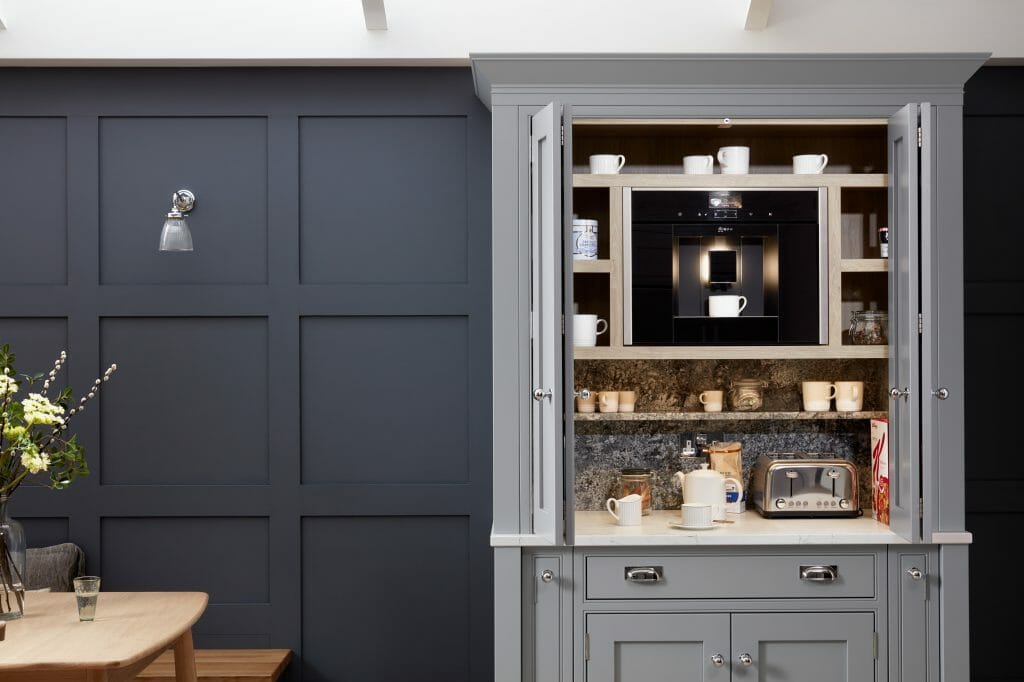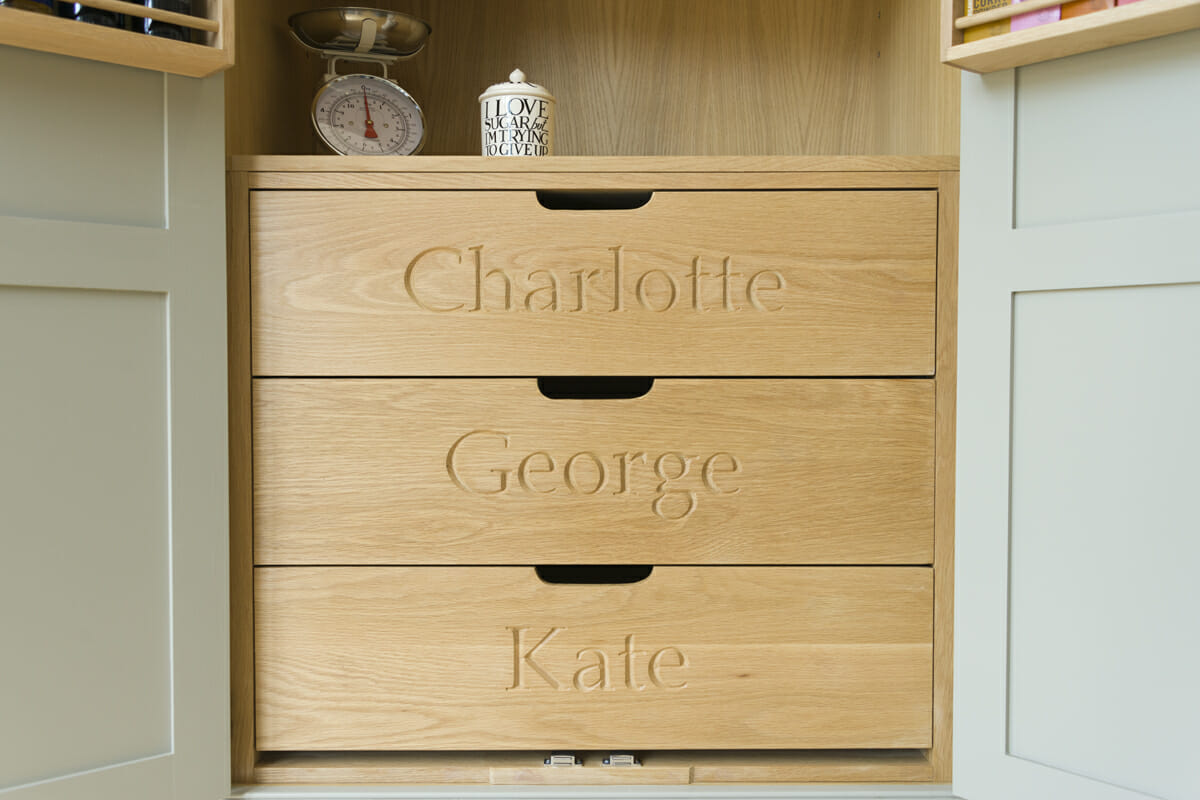 Build-in our personalised dovetail timber drawers and make the humble pantry a cupboard with a difference- creating a style statement whilst holding an abundance of practical value. With an array of tailoring options available, including combination shelving, dovetail drawers, bi-folding doors, integrated chopping boards and spice racks, it's easier than ever to design a pantry to fit your unique shape and style.
The quality of any Mastercraft kitchen is second to none and a Mastercraft pantry is no exception. Apart from the fact that your cabinetry will be beautifully handcrafted from the finest materials, it's the little touches, like spice racks, spice drawers and fully opening 180-degree hinges that make your pantry a stunning feature and a practical storage solution.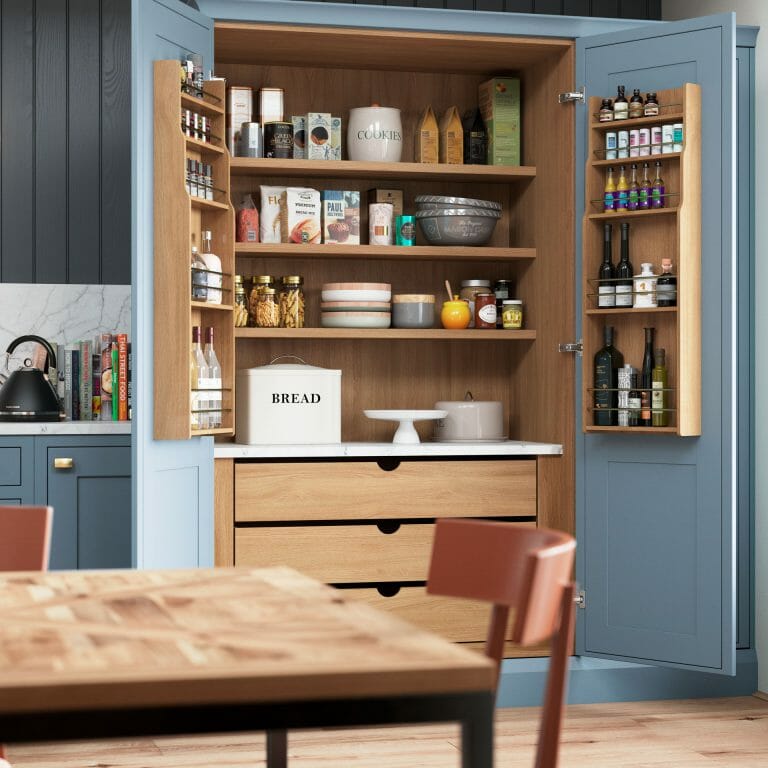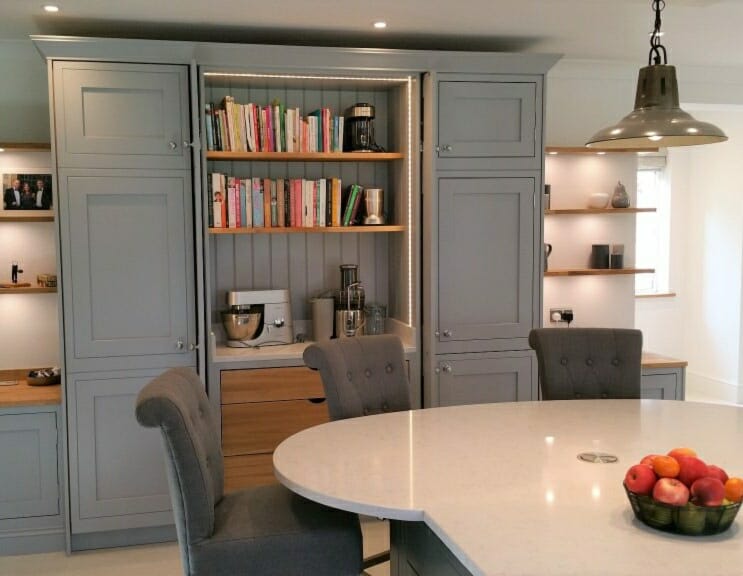 A bespoke Mastercraft pantry is the ideal place for a keen baker to store and display their baking essentials – with a worktop to house a mixer or food processor, shelves or door racks to display dry baking ingredients, and drawers below to tidy away important utensil – having everything you could need at your fingertips will make your baking experience smoother than ever before.
Styling tip: Pantry shelves are a great place to display your colourful recipe books for all to see!
Create a walk-in pantry or extra wall storage with bespoke open shelving. Whether you're opting for shelving as an alternative to wall cabinets, or to make the most of free "under-the-stairs" cupboard space, open shelving is a great opportunity to maximise storage possibilities whilst creating a beautiful feature.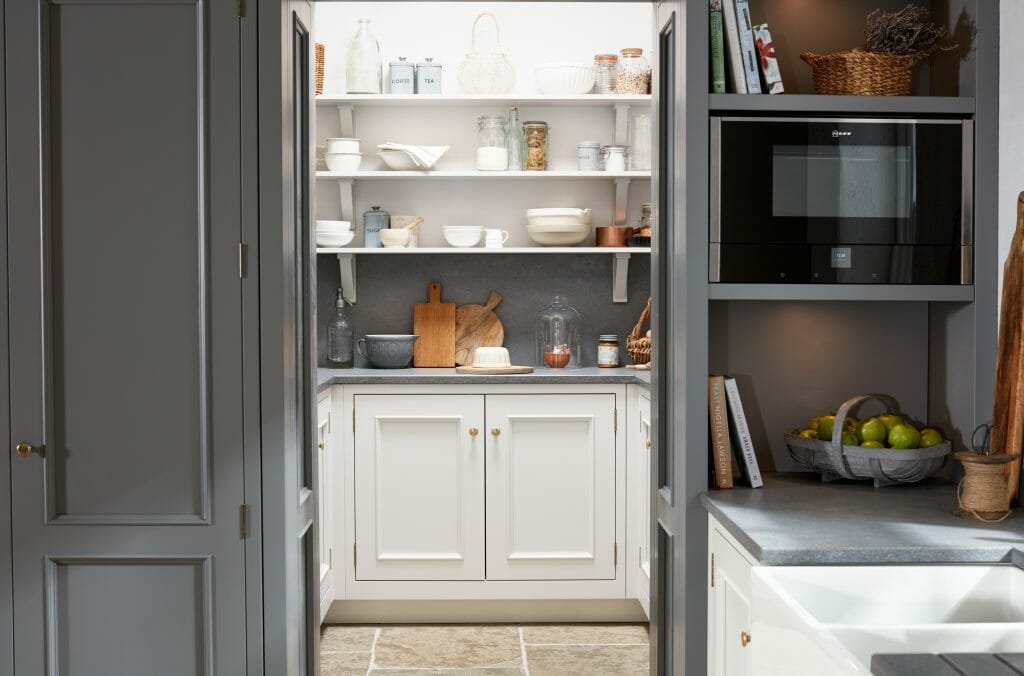 Every component of a Mastercraft kitchen is carefully considered and we're able to build into your design special features that make your kitchen different and unique to you. Discover our quality craftsmanship by arranging a free home design visit and let our designers recommend the right features to help make your kitchen your own.
Masterfully Crafted Cabinets
• Fully assembled hand-crafted cabinets –  not flat packs
• Blum® Soft close hinges and drawers
• Factory-fitted cabinet components
• 25 Year Warranty
Arrange a Home Design Visit
Why not request a free home design visit with one of our kitchen designers? We'll measure everything up for you and we can discuss your likes and dislikes. You'll get a fully rendered 3D design of how your new Mastercraft kitchen would look and receive a fully inclusive, competitive quote (and there's no obligation to buy).