Founded by Steven Croston in 1994, his family has a rich history of cabinetmaking and building stretching back to the early 1800s when Steven's great-great-great-grandfather, Richard Croston, was a master cabinetmaker and master clog maker based in Ormskirk, Lancashire.
Each generation since then has continued in the same family tradition in becoming a master craftsman.
Today, Mastercraft Kitchens continues in this proud heritage delivering innovative design, quality manufacturing and all-inclusive installations of beautiful, yet affordable, handcrafted kitchens for the home.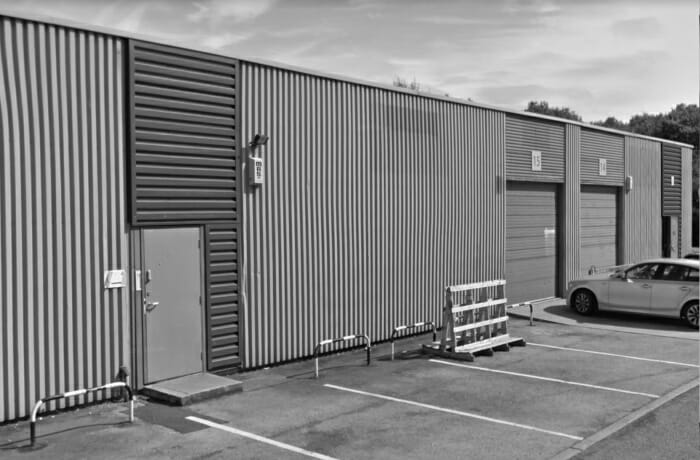 The Original Workshop Premises – April 1994
From Humble Beginnings – 1994
Our fitted kitchen story began in April 1994 when Steven, a time-served joiner and builder, began supplying made-to-measure kitchen cabinets from a small workshop at Trinity Court, Warrington.
Steven went out most evenings to measure-up clients' homes to plan and design great-looking kitchens. The business took off, so his half-brother Jonathan Butler soon joined the business to help with the ever-increasing workload.
The business became known for high-quality products and great value for money prices.  A succession of kitchen showrooms were opened in and around the north-west, each one offering a full plan, design, and installation service.
The First Showroom – 1995
Our first showroom was opened in the affluent area of Formby, Merseyside in July 1995 – famous for its red squirrels and the homes of footballers and sports personalities such as Steven Gerrard, Wayne Rooney and John Parrott.
Our showroom was designed to offer visitors an 'immersive' experience and featured working displays of the latest innovations of the day from the latest designs to a complete range of connected appliances.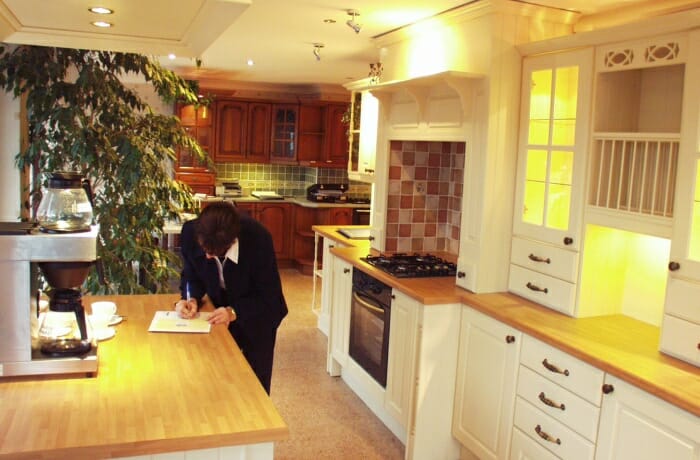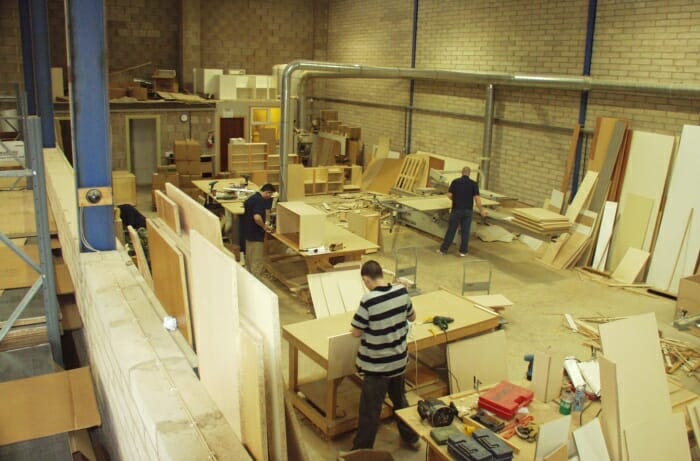 Aintree Factory Workshop Just Opened – Spring 2001
Bigger Workshop Premises – 2001
After opening another two showrooms in Warrington and the Wirral we moved to bigger purpose-built factory premises in Aintree, Liverpool.
Later the same year we invested in more specialist woodworking machinery and increased our factory workforce three-fold.
We also opened a logistics and distribution centre right next to the factory.
Purpose Built Head Office – 2002
In 2002 we moved our business management and customer support operations from Warrington to a new purpose-built head-office next door to our distribution centre in Aintree.
We installed twelve dedicated digital phone lines and the latest high-speed internet to handle the volume of enquiries and kitchen orders we were receiving.
By 2003 we were supplying and installing more than twenty-eight kitchens every single week.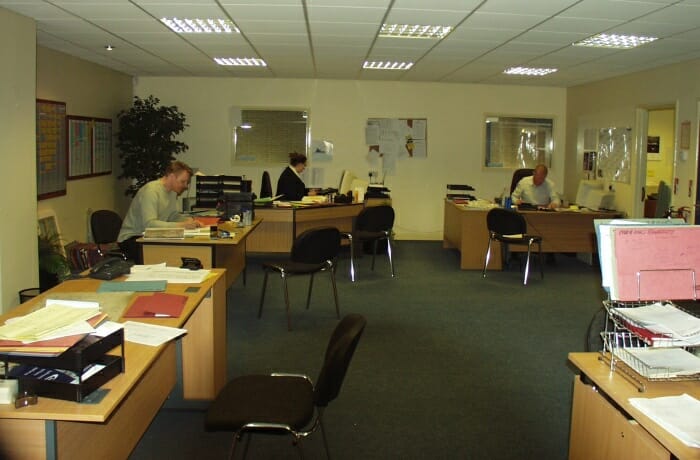 Newly Opened Head Office – 2002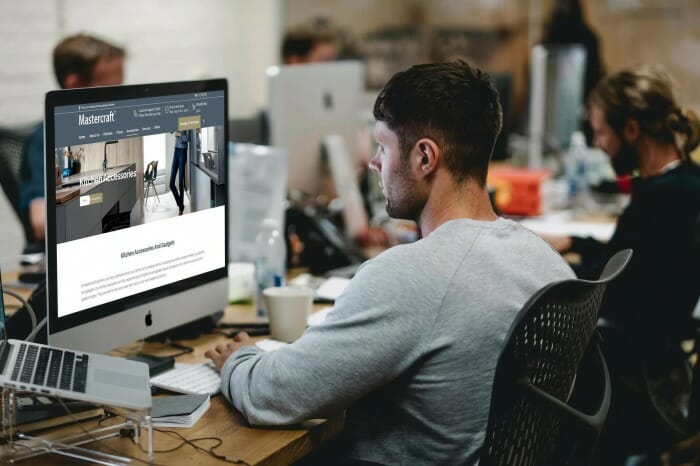 In-House Web Development Team – Present Day
Internet Development & Investment – 2005
In 2005 we invested and expanded our business using internet technology and brought all of our web development work in-house. We soon had enquiries for our kitchens arriving from all over the UK.
We were now becoming a national brand and rather than growing the business nationally with bricks-and-mortar showrooms, decided to invest in internet technology and online marketing instead. It was a bold move, but a clever one.
We were able to go from strength to strength throughout the banking crisis of 2008 as a series of well-known kitchen brands such as Moben, Tesco's kitchens, Kitchens Direct and many other household kitchen names disappeared.
We Supply and Install Nationally
We now comfortably supply and fit our kitchens nationally, yet we still like to keep everything in-house. Our dedicated team carry out an all-inclusive service and we look after every stage of your project, from start to finish, including the initial home consultation, creating an original design, manufacturing the furniture, sourcing and supplying the appliances and finally fitting your kitchen ourselves.
We can even carry out any associated building and structural work required.
Today almost all of our new business comes via word-of-mouth and online enquiries and we are the No.1 online supplier for quality bespoke fully-fitted kitchens in the UK.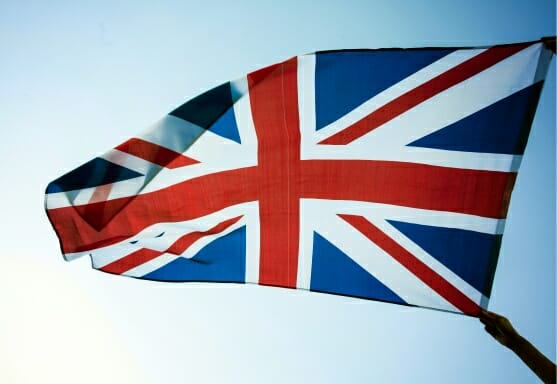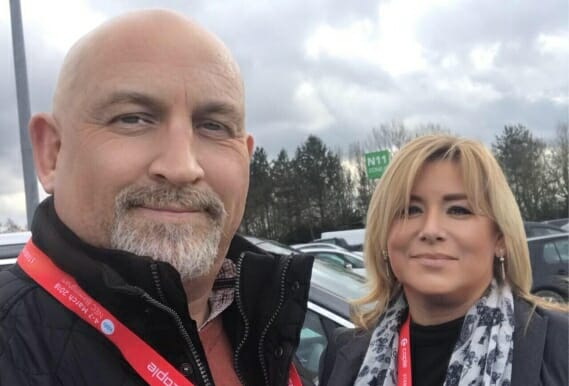 Directors, Steven Croston &  Andrea Cafferkey
We're Still a Family Run Business
We're still a family-run company and some of our staff from the early days are still with us today. We're very proud of our business, our workmanship and our service, supported by the fact that our satisfied clients frequently recommend us to their close friends and family.
Our founder Steven Croston is very hands-on in the business and still visits clients every week, to plan and design kitchens, a job he enjoys to this day.
Long Established
We've been supplying great kitchens since 1994

Finest Quality
Rigid built units with state of the art features

Best Designers
Award-winning, experienced kitchen designers

All-inclusive
We handle everything from the rip-out to tiling

The very essence of a Mastercraft kitchen is something you feel each time you look at one of our completed kitchens. Precisely designed and installed yet timelessly elegant and sophisticated; our kitchens blend iconic design, exceptional quality and unrivalled craftsmanship to create an unforgettable, emotional experience, each time you enter the room. Each kitchen is the essence of beauty, design and soul.
With the biggest range of kitchens to choose from, as well as hundreds of handles, 30+ different carcase colours and textures plus six categories of worktop materials in a whole spectrum of colours, you're sure to find the perfect combination for your dream kitchen.
With a mix of classic and contemporary kitchen styles available, along with professional help from our designers, all who have at least 30 years design and building experience,  your sure to find the perfect kitchen for you.
Browse for more kitchen styles
Our kitchen ranges have been featured in…