We've been designing, manufacturing and installing our own brand of stylish, bespoke kitchens since 1994.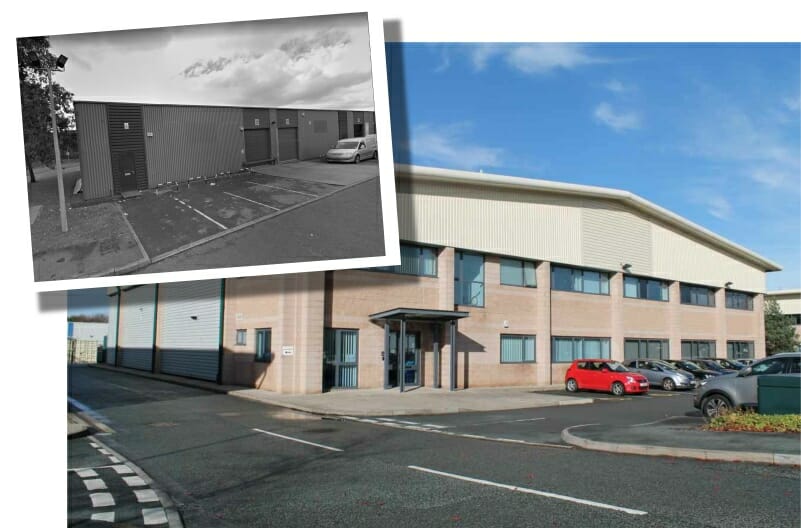 Our story began in April 1994 when started in business making made-to-measure kitchen cabinets from a small workshop at Trinity Court, Warrington. We quickly became known for our high-quality products and great value for money prices.  We were also one of the first kitchen companies to sell kitchens online and have done so since 1997.
As a family run firm, we take great pride in our workmanship and service, supported by the fact that our satisfied clients frequently recommend us to others.
When you ask Mastercraft® Kitchens to design and fit your new kitchen, you can be assured that you're dealing with a reliable team of experts who ensure that everything is done accurately to plan, and that every stage of your project is carried out by expert craftsmen who care about client satisfaction.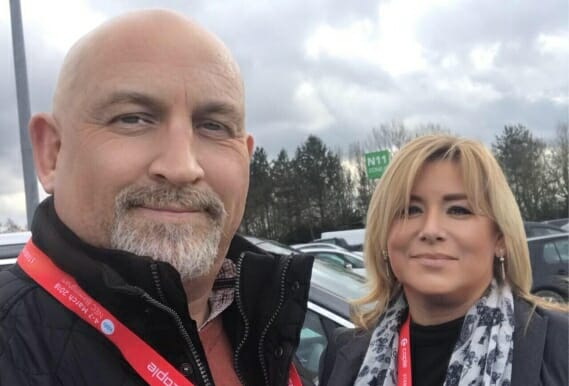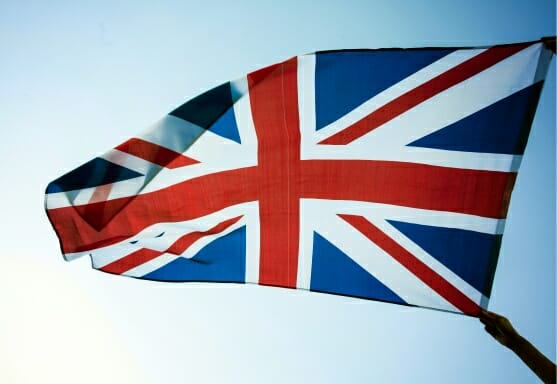 We supply and fit our kitchens nationally, yet we still like to keep everything in-house: our dedicated team carry out an all-inclusive service and we look after every stage of your project, from start to finish, including the initial home consultation, creating an original design, manufacturing the furniture, sourcing and supplying the appliances and finally fitting your kitchen ourselves – including carrying out any associated building and structural work that's required.
We take full responsibility for the project management of your kitchen installation and you are looked after all the way through by your designer and project manager, who performs the day to day running of your Mastercraft® kitchen project.
With one reliable point of contact throughout your project, you can be sure that any queries you have will be dealt with by a skilled person who fully understands your requirements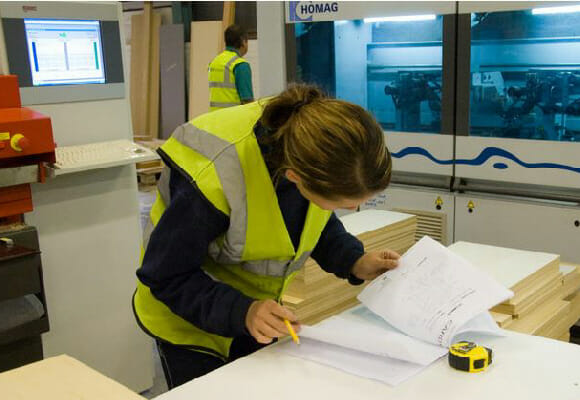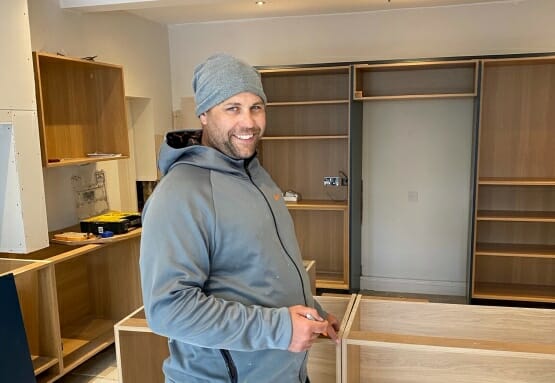 At Mastercraft® Kitchens, we pride ourselves on our team's comprehensive range of skills and experience. We are a business run by tradesmen!
We keep up with the very latest in design technology, so that you can view the designs for your kitchen in true virtual reality and get the results that you are truly looking for.
We keep at the forefront of the latest kitchen design trends so your kitchen design is always fresh and up to date.  Our modern kitchen designs are always created with practicality and ease of use in mind.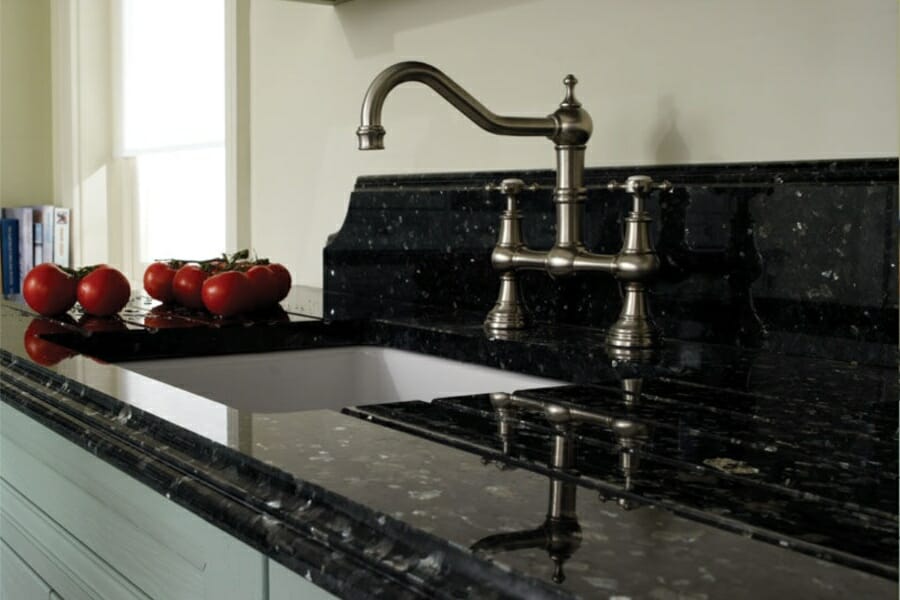 Work Surfaces
Choose from natural granite, stainless steel, quartz or durable laminate alternatives, each work surface is precisely cut and installed for the perfect finish.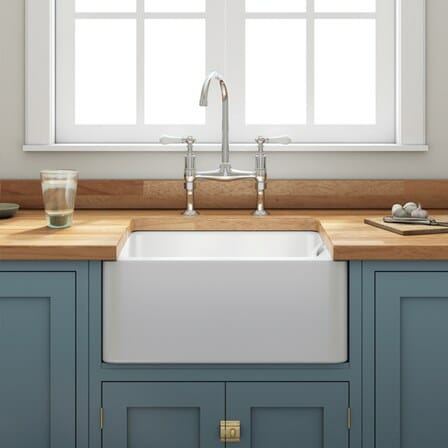 Sinks and Taps
The choice of sinks and taps available at Mastercraft Kitchens is simply amazing. We supply sinks and taps from any of the world's top brands so you can be sure of the best choice and highest quality.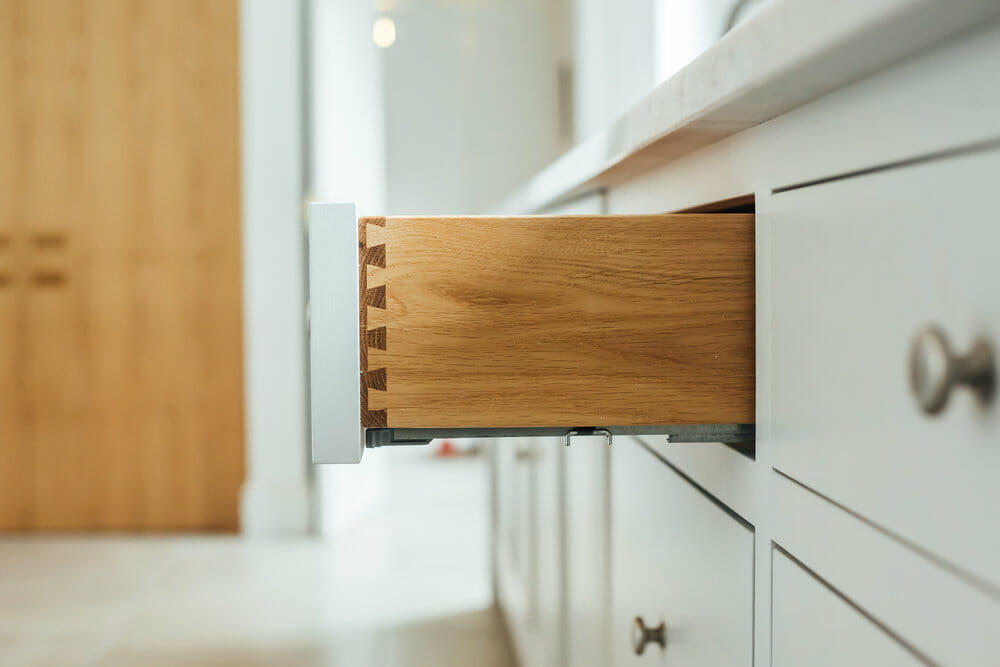 Dovetail Drawer Options
At Mastercraft Kitchens, we offer durable soft-closing Blum® drawers as standard. You can also upgrade to soft closing timber drawers with hand-crafted dovetail joints.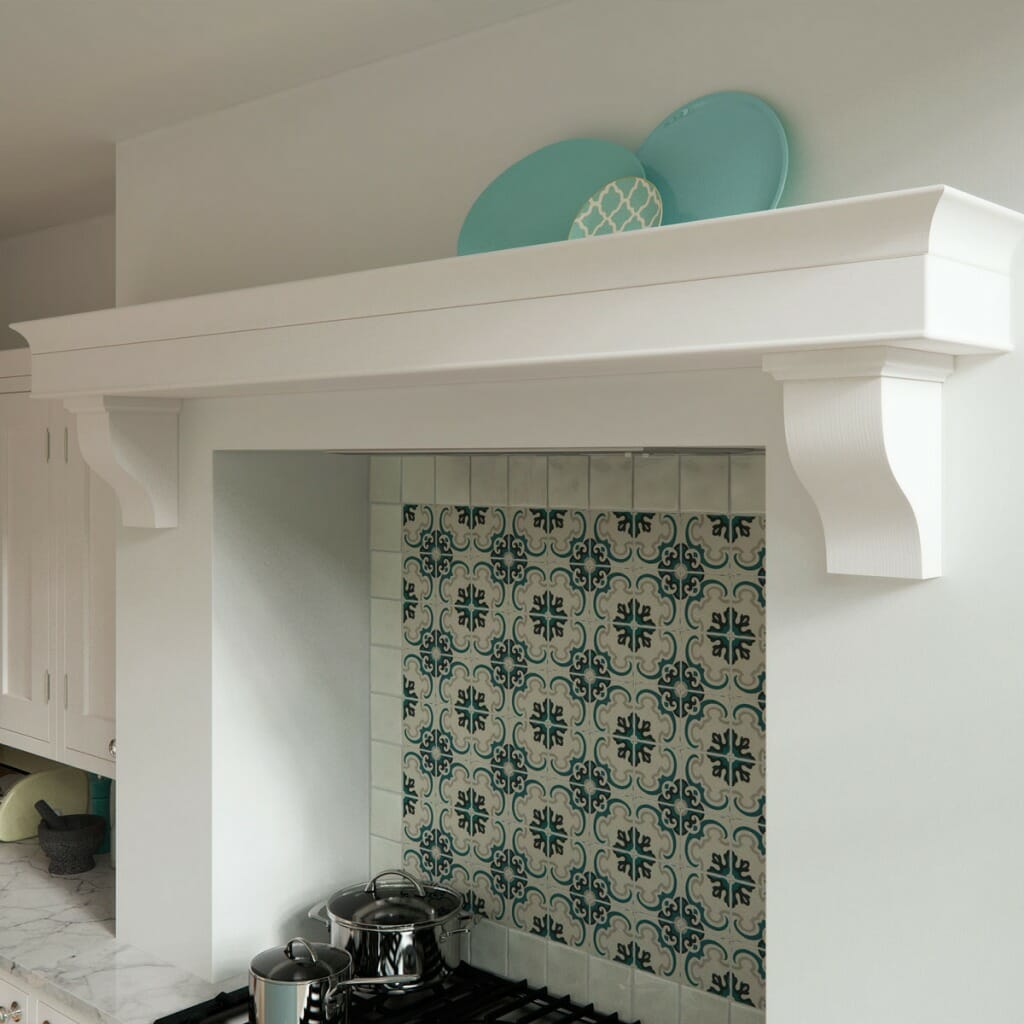 Chimney Mantles & Corbels
Make your cooker the focal point. Set a classic Aga into a chimney breast with a bespoke Mastercraft mantel shelf above to create the quintessential country kitchen. A panel of decorative tiles adds to the effect.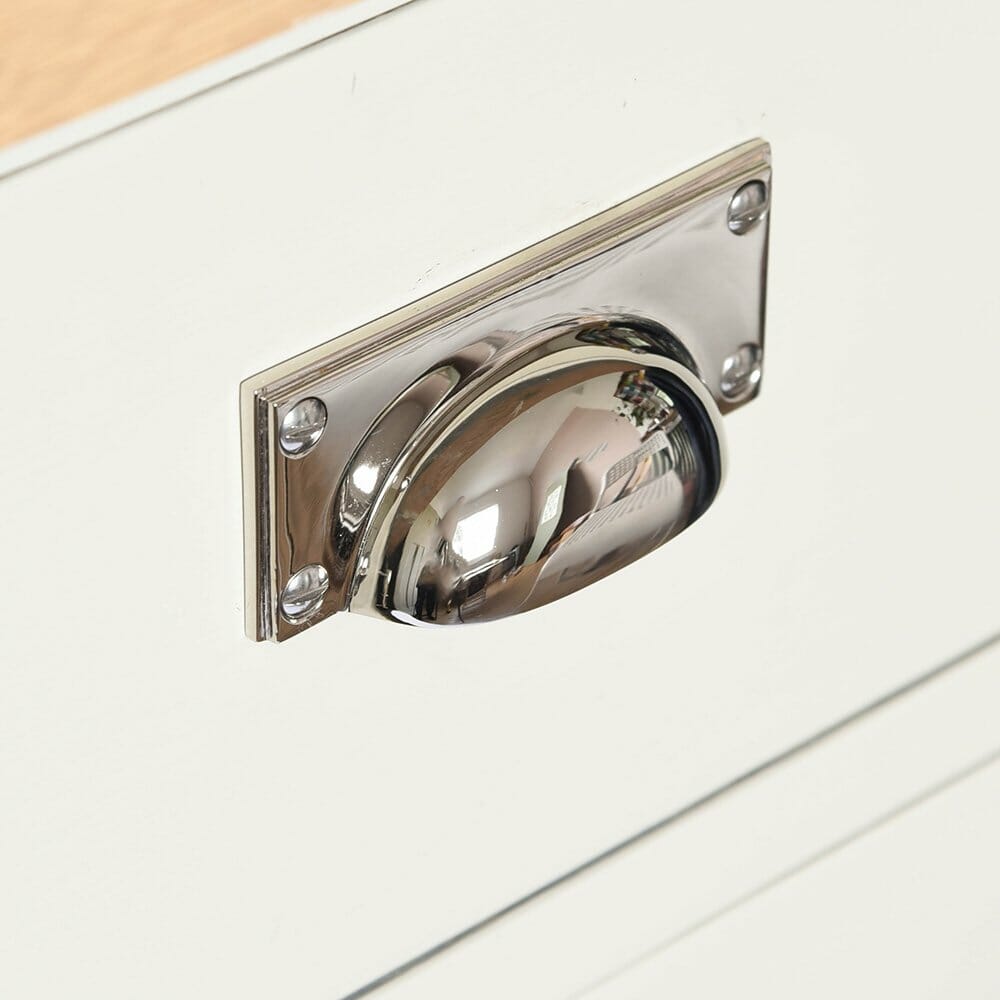 Beautifully Crafted Handles
We specialise in superb handles and fittings for our kitchen cabinets. Some of our quality finishes include aged or polished brass, polished or satin nickel, ceramic, traditional black beeswax, pewter coloured iron, cut glass and wood.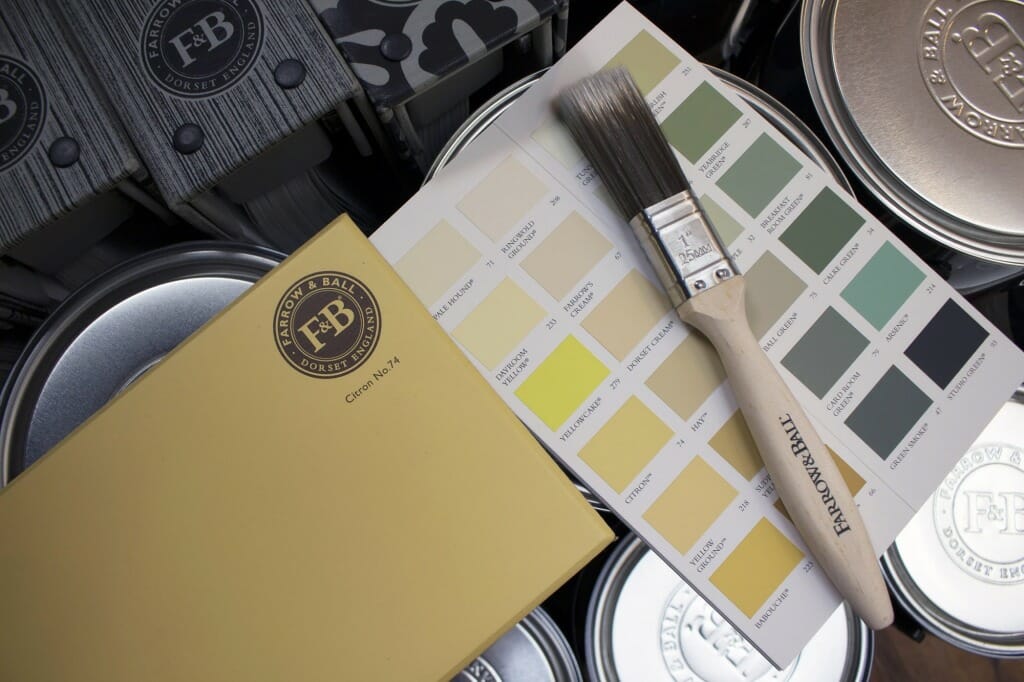 Bespoke Paint Colours
Personalise a hand-painted Mastercraft kitchen with a bespoke colour from the Farrow & Ball colour collection. Our designers work with you to select the right paints and finishes to suit your style and your home.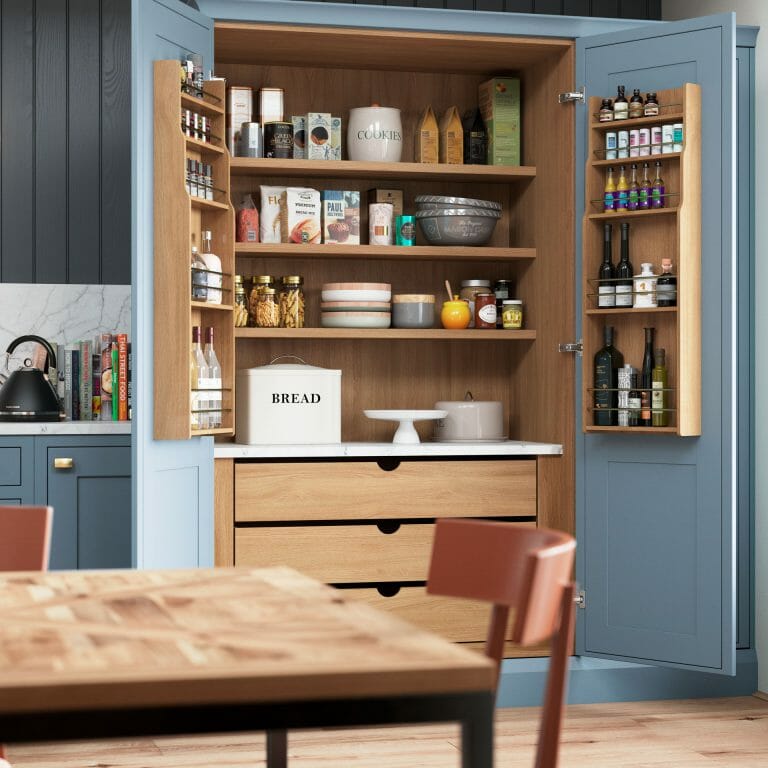 Butler's Pantries
Mastercraft bespoke Butler's pantries make finding kitchen essentials so easy. With personalised storage features such as oak door racks and spice racks, we can create the perfect pantry for your home.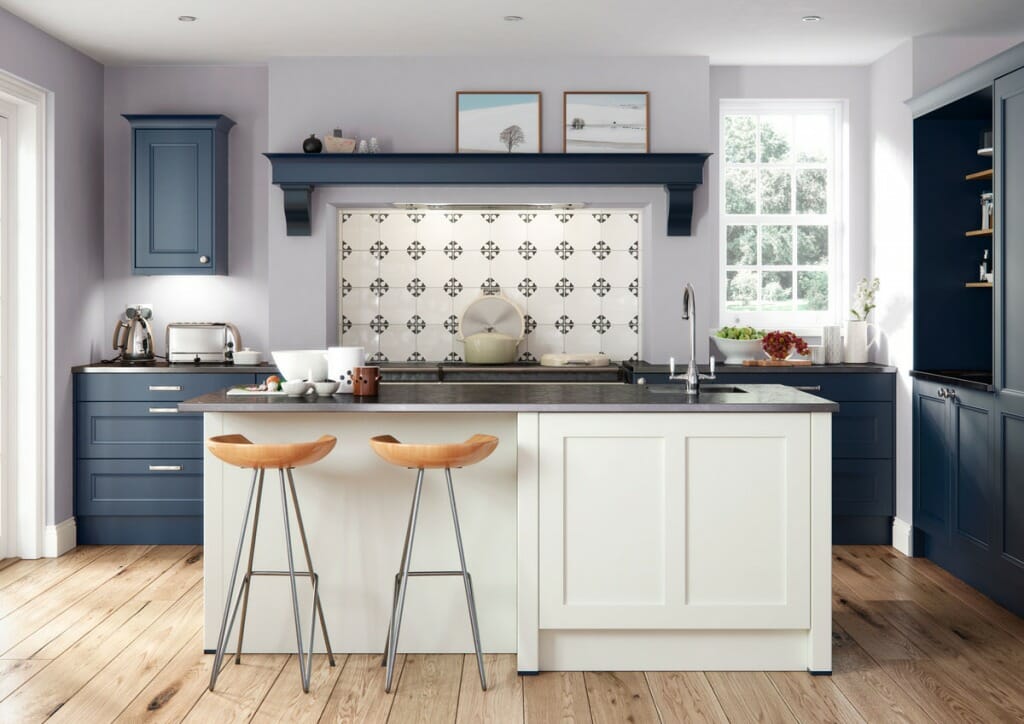 Kitchen Islands
If you have room, then a kitchen island is considered an essential part of a Mastercraft kitchen design. Whether it's a place to socialise at or to work at, the additional storage and workspace a Mastercraft island brings is a definite bonus.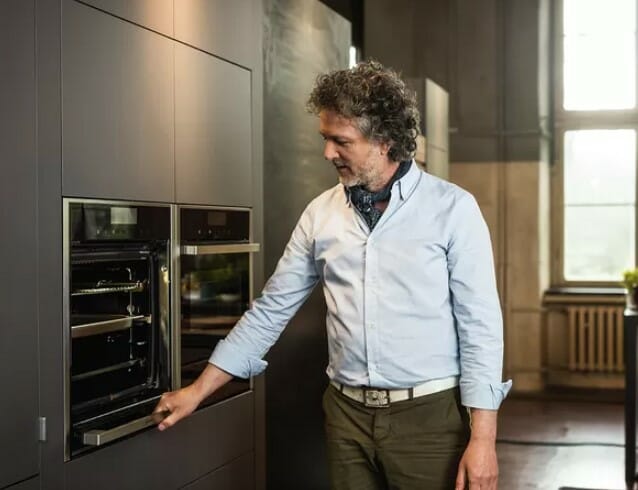 Appliances
A Mastercraft bespoke kitchen deserves the best in luxury appliances, which is why we've partnered with all the top-respected appliance brands such as Neff, Bosch, Miele and Siemens to name but a few.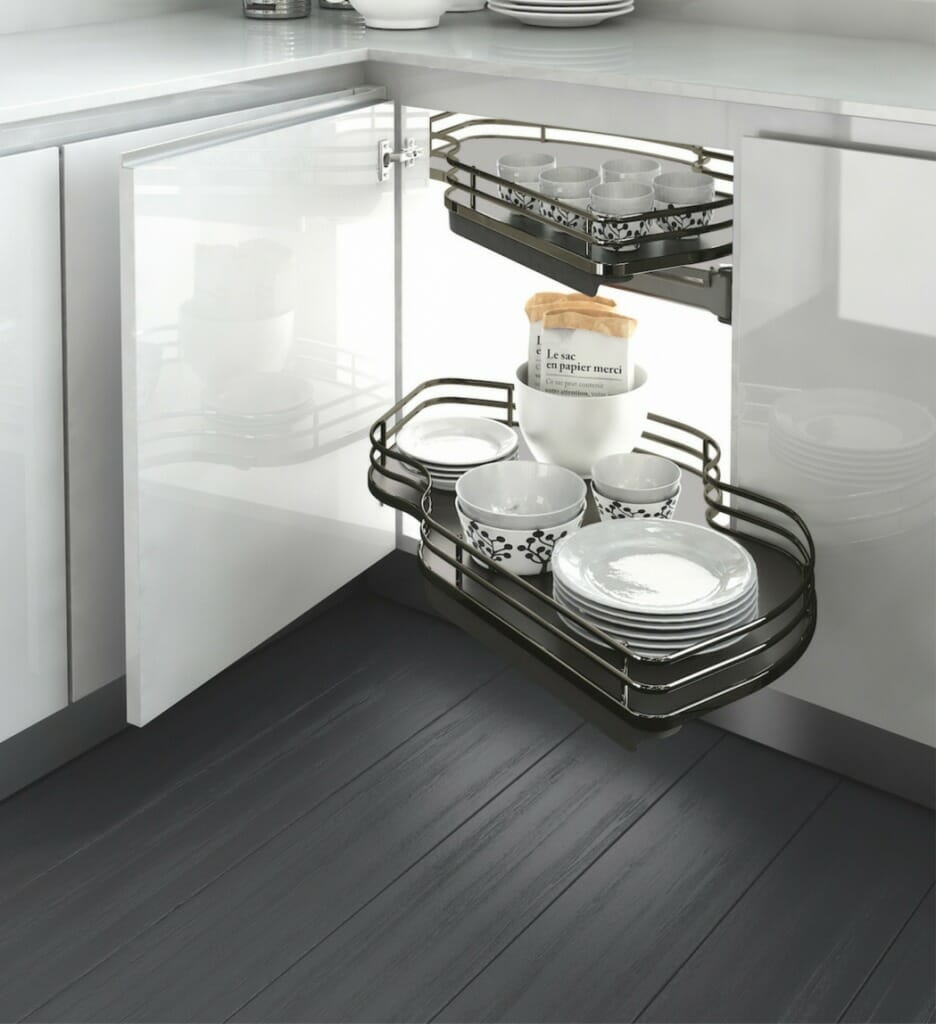 Clever Storage
Designed around your lifestyle, our clever storage solutions help to keep your shopping and accessories easy to find and clutter-free, no matter which cabinet you need to store them in.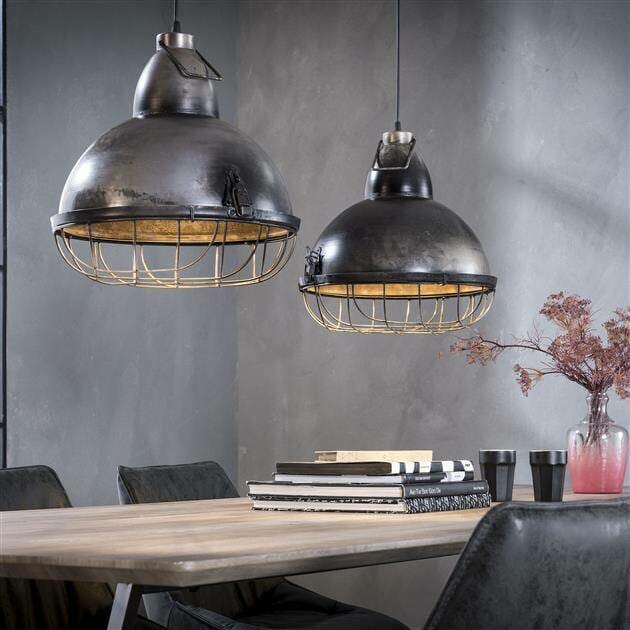 Designer Lighting
From ceiling lighting to floor lights, we offer beautiful lamps and light fittings to go with your Mastercraft kitchen. From robust concrete to softwood and metal. Our specialist kitchen designers will help you bring your kitchen to life.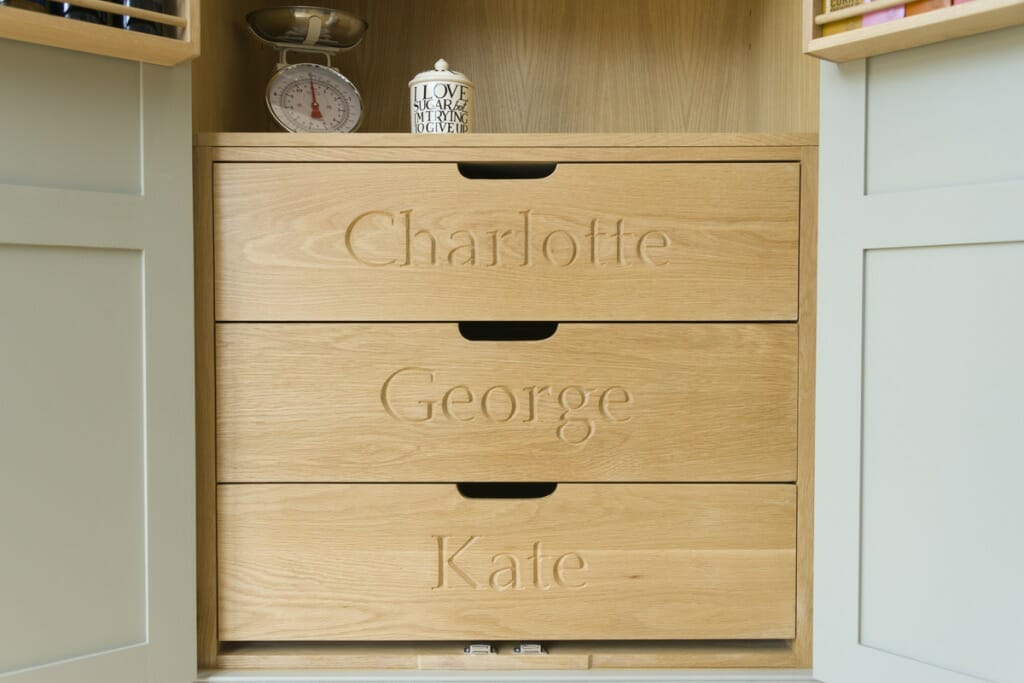 Personalise Your Kitchen
Add a personal touch to your beautiful Mastercraft kitchen, with our in-house engraving service and create a bespoke kitchen that is unique to you.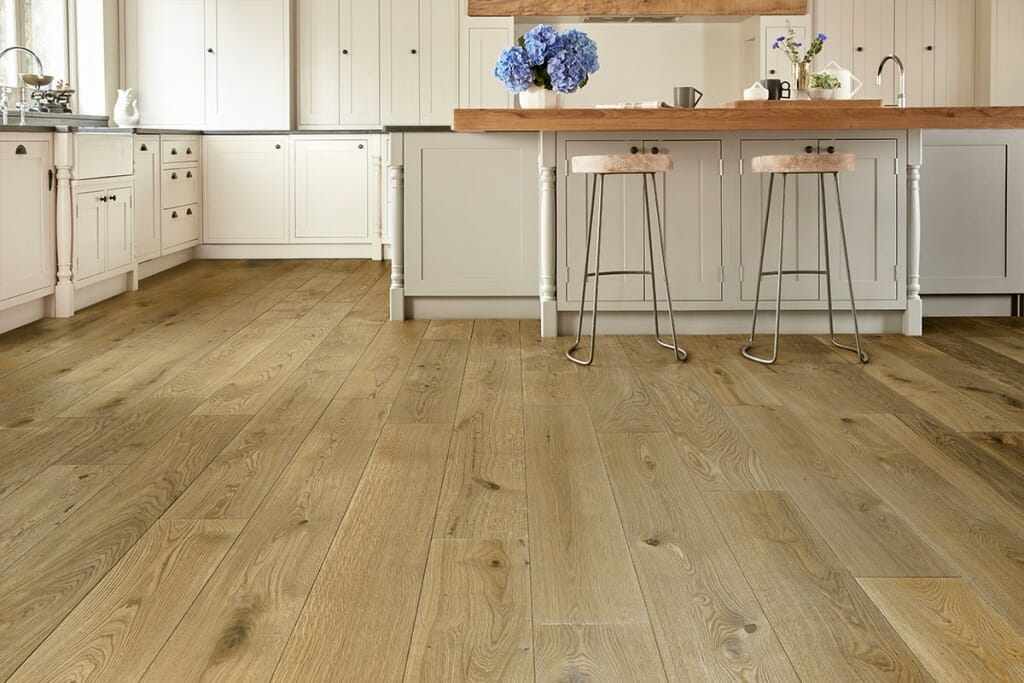 Real Wood Flooring
Packed full of character, real wood flooring by Mastercraft Kitchens brings an unmistakable feel of quality to any kitchen.
Well Established
We've been supplying great kitchens since 1994

Best Quality
Rigid built units with state of the art features

Best Designers
We boast award winning kitchen designers

All-inclusive
We handle everything from the rip-out to tiling

The very essence of a Mastercraft kitchen is something you feel each time you look at one of our completed kitchens. Precisely designed and installed yet timelessly elegant and sophisticated; our kitchens blend iconic design, exceptional quality and unrivalled craftsmanship to create an unforgettable, emotional experience, each time you enter the room. Each kitchen is the essence of beauty, design and soul.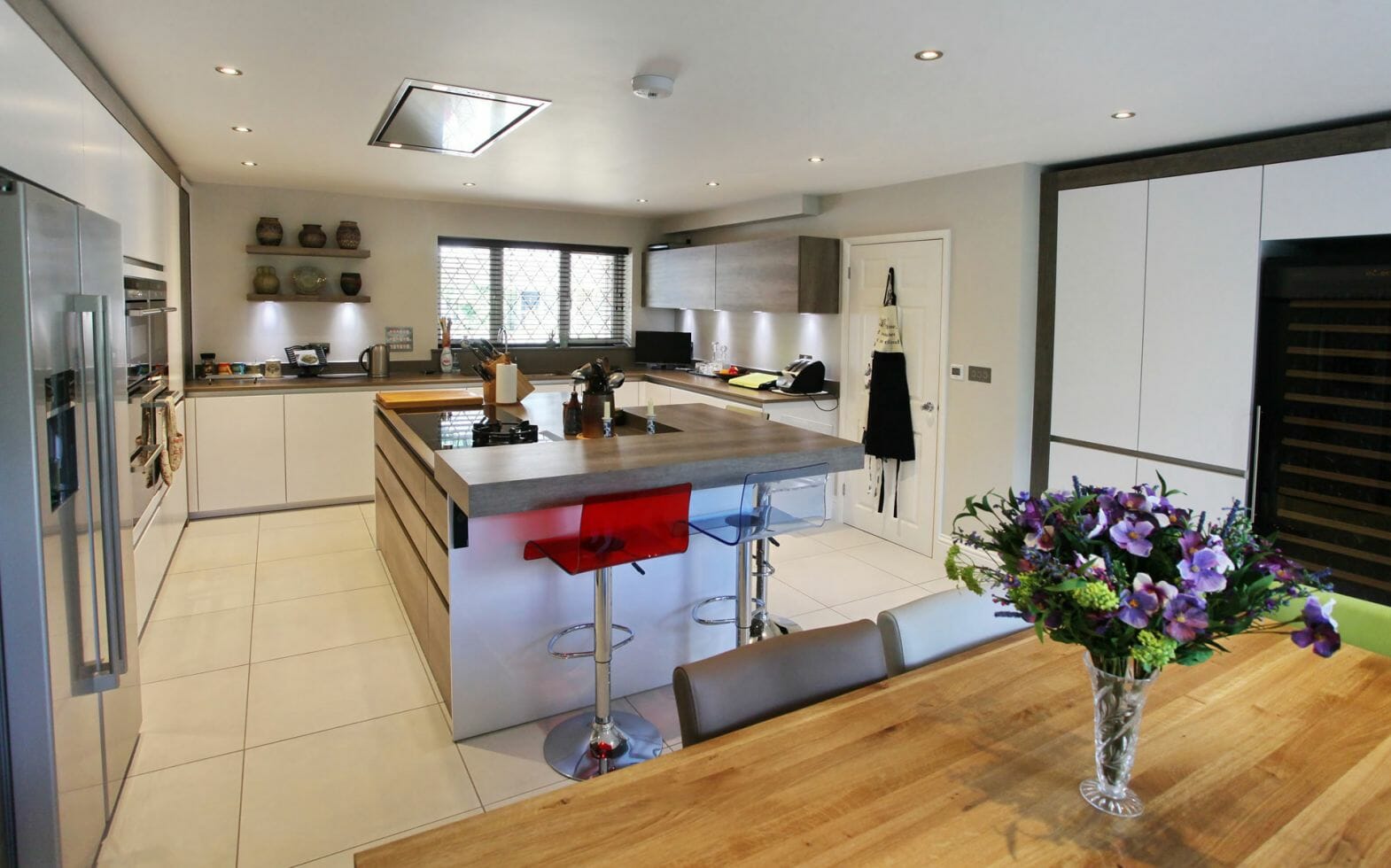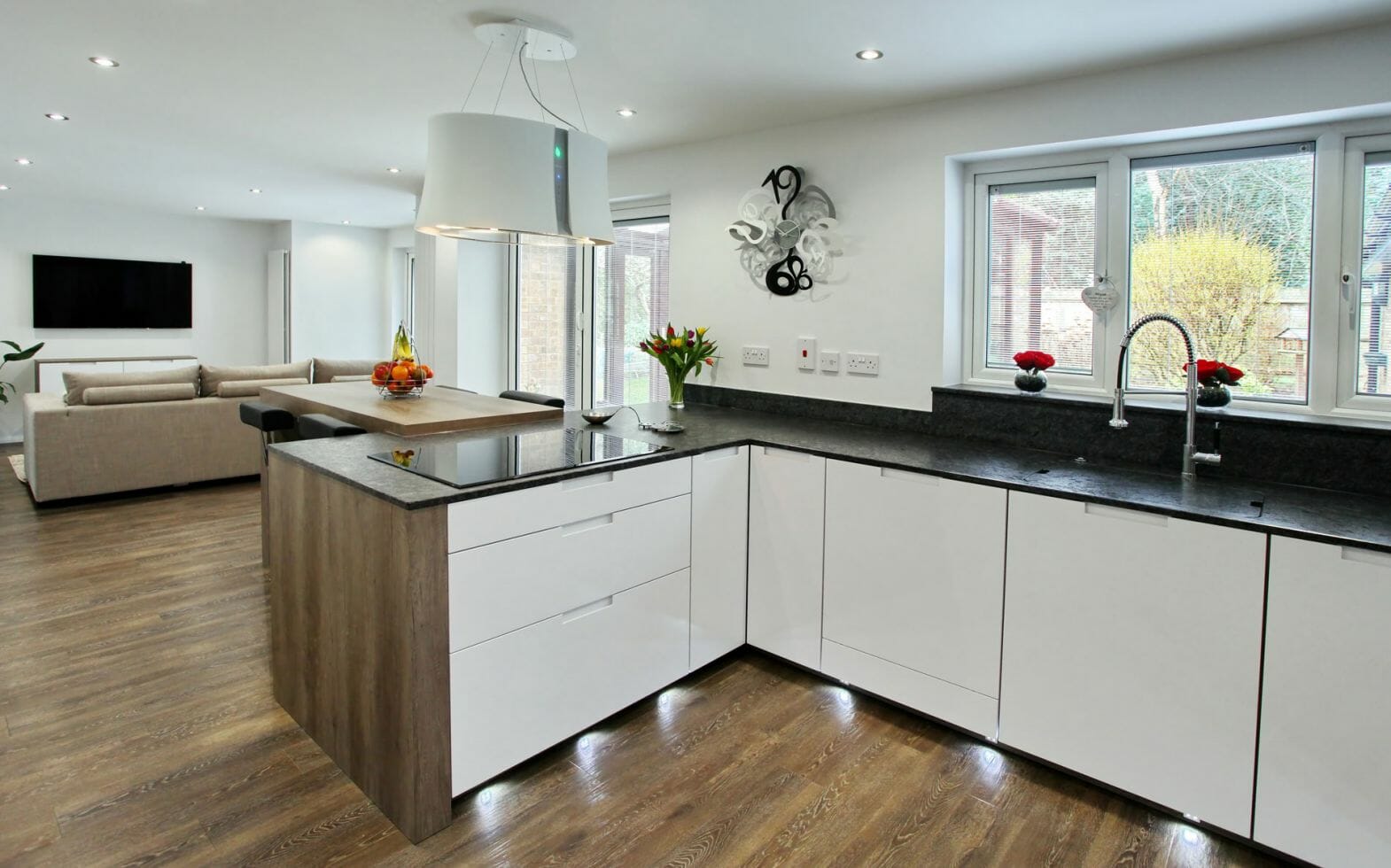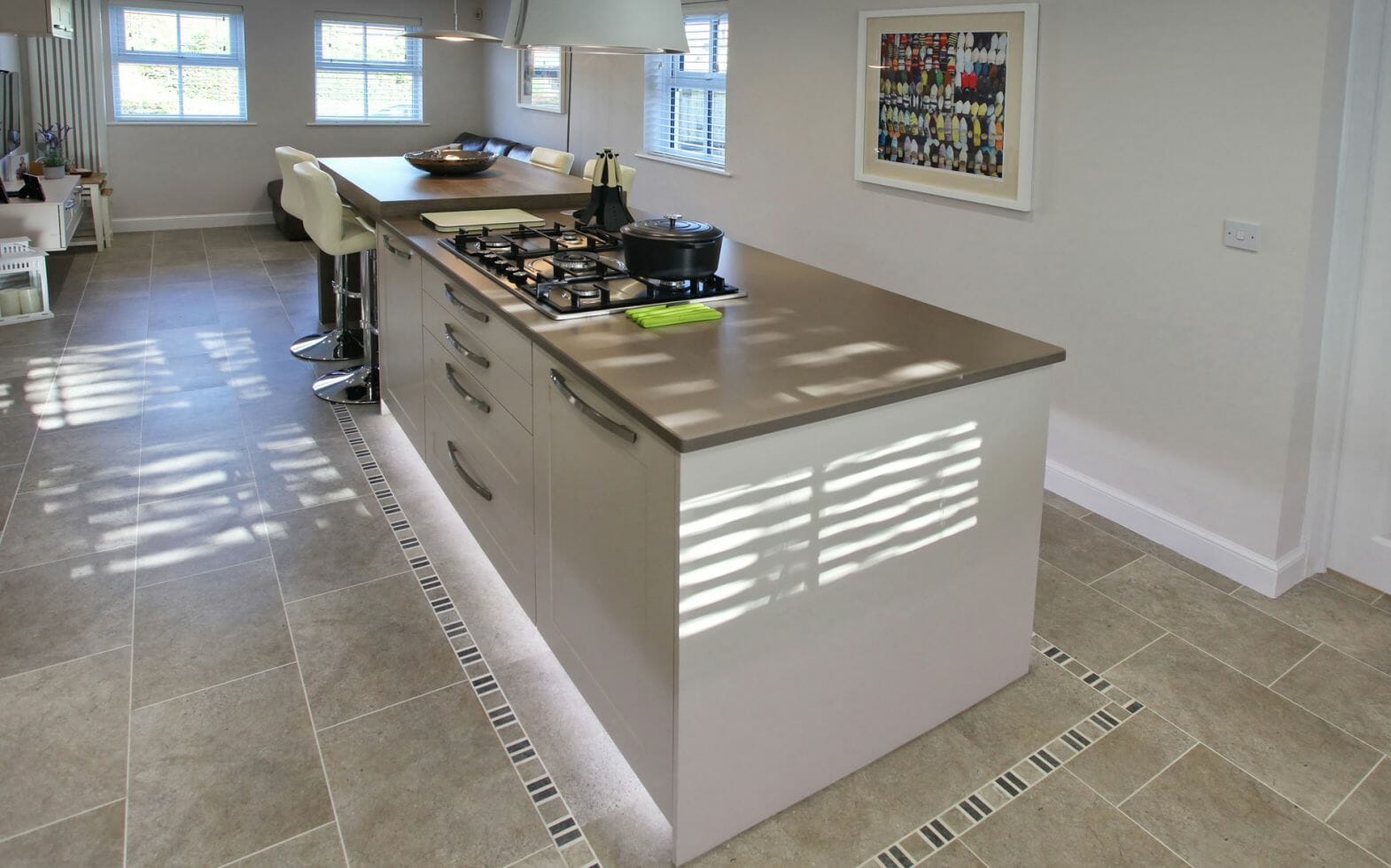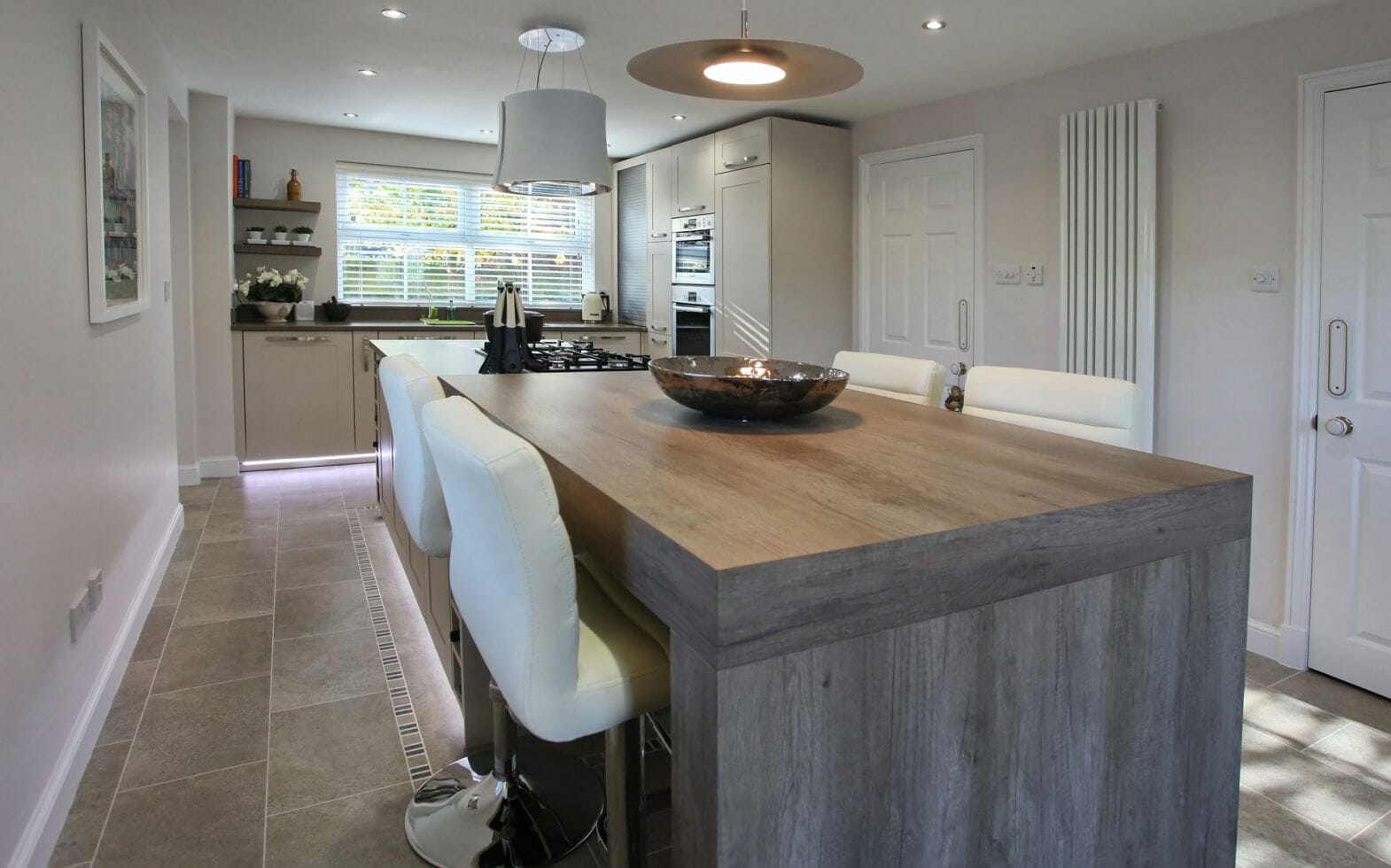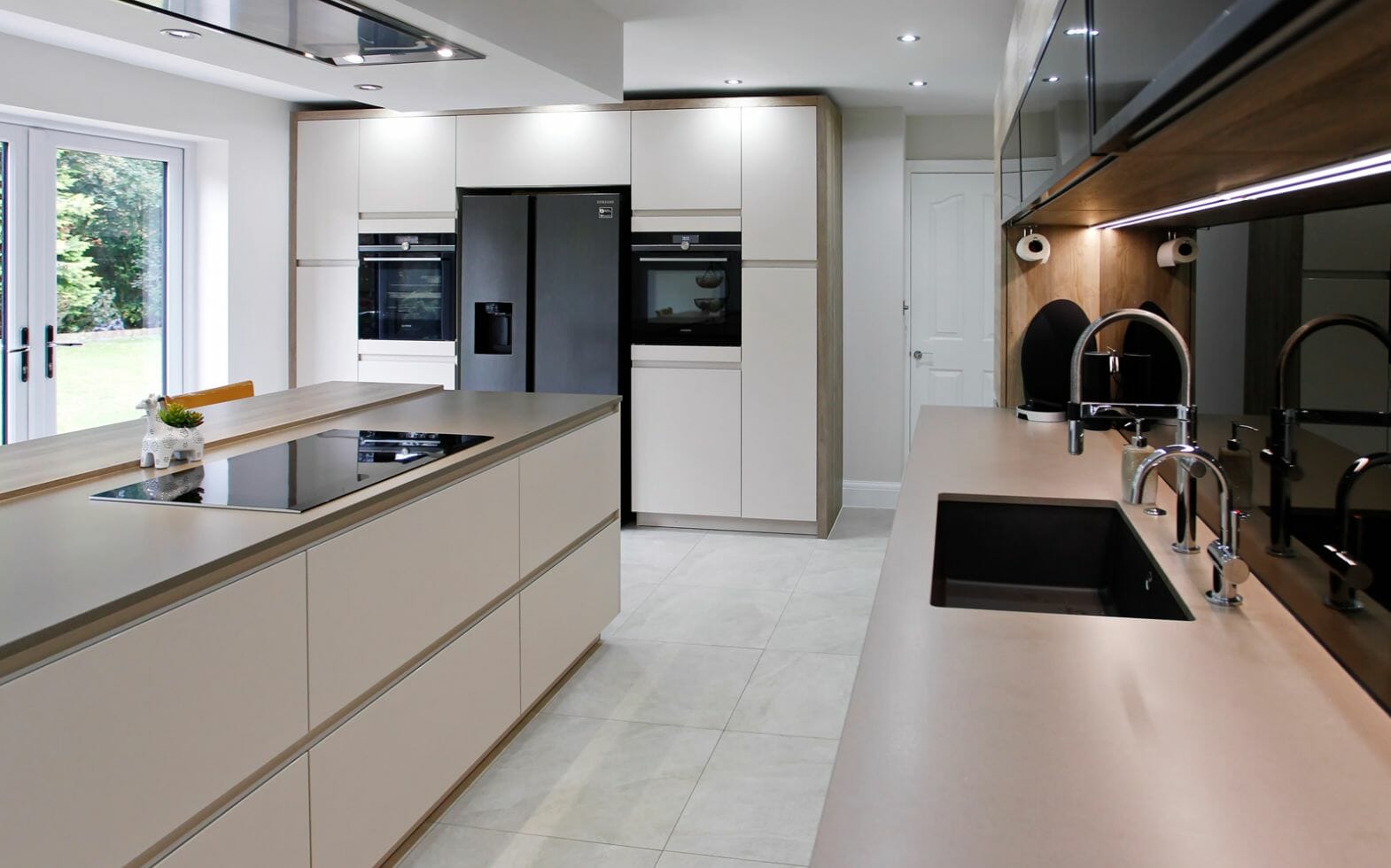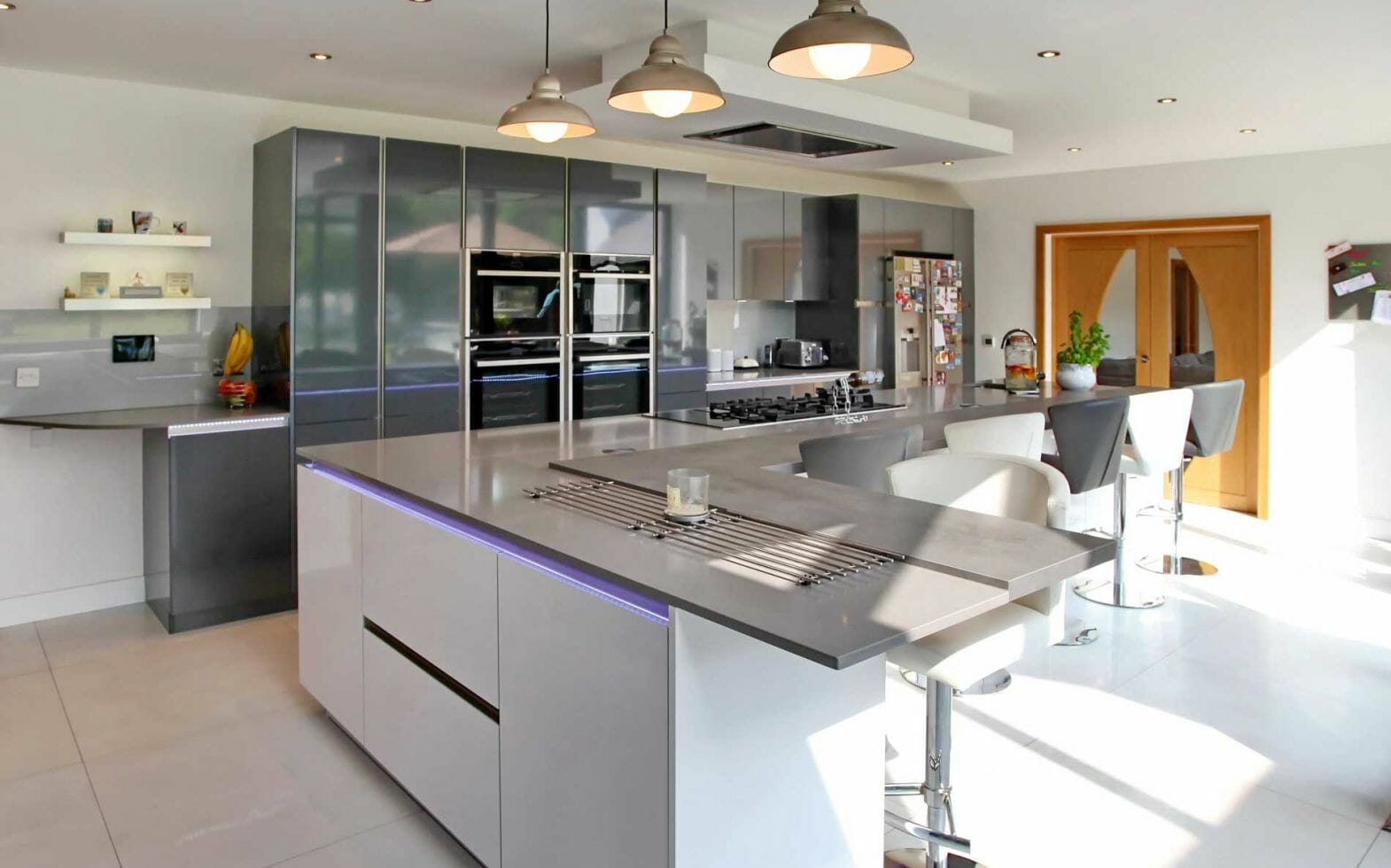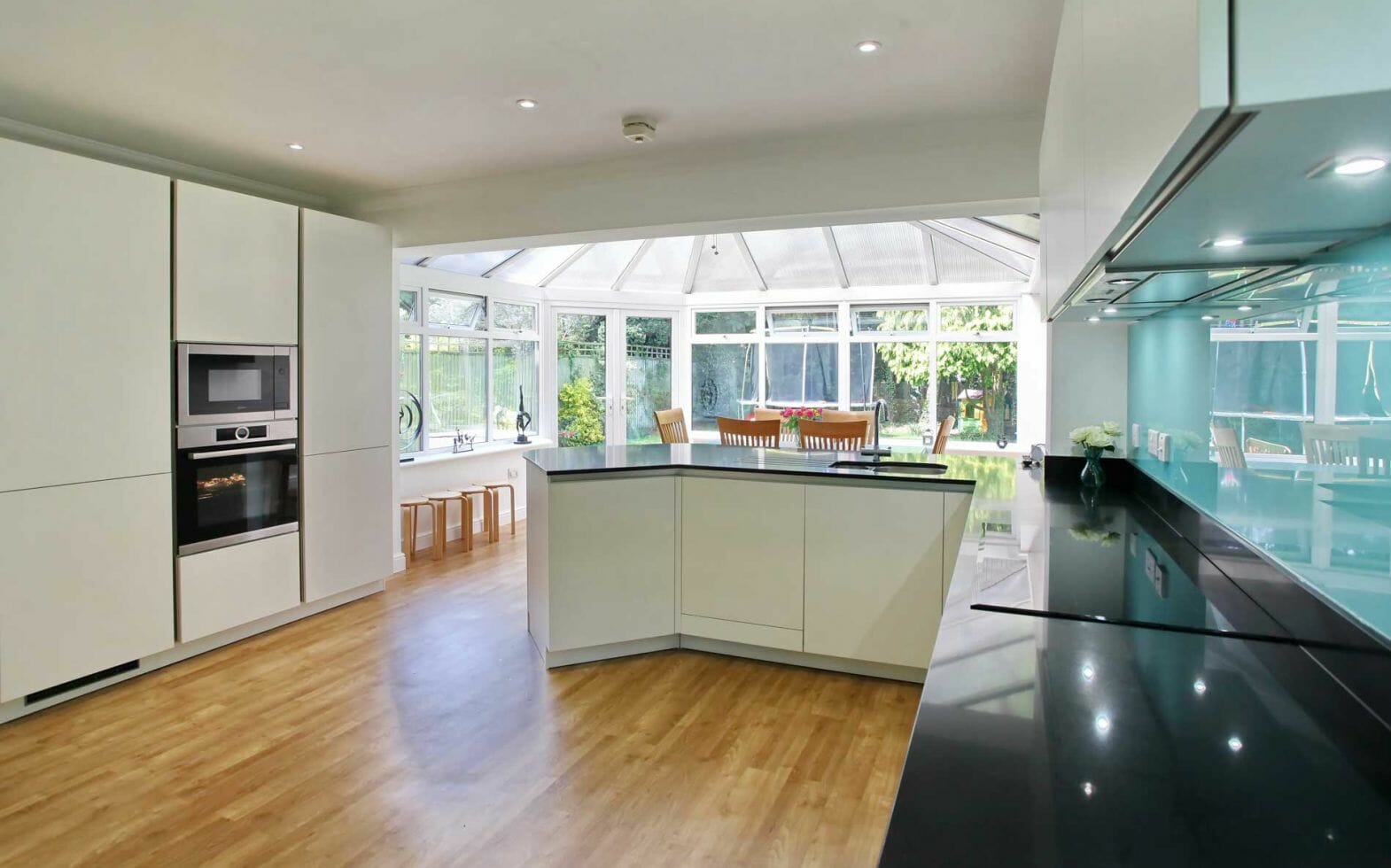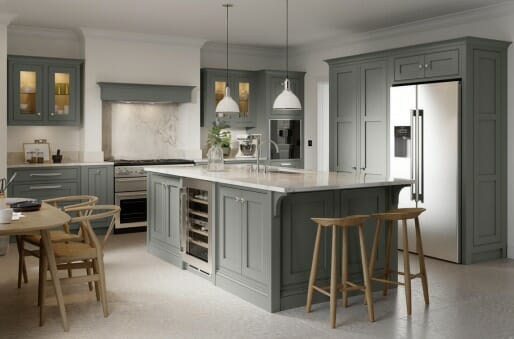 With the biggest range of doors to choose from, as well as hundreds of handles, 30+ different carcase colours and textures plus five categories of worktop materials in a whole spectrum of colours, you're sure to find the perfect combination for your dream kitchen.
With a mix of classic and contemporary kitchen styles available, along with professional help from our designers, all whom have at least 30 years design and building experience,  your sure to find the perfect kitchen for you.
Browse for more kitchen styles

"Mastercraft fitted the bill perfectly"
"We wanted a company that could come in and do everything which meant knocking a wall through, bricking up a doorway and other alterations. Mastercraft fitted the bill perfectly as other companies only wanted to price for the kitchen units, not the building work."
Mr & Mrs Wilikinson, Northampton

"The best fitted kitchen experience we have ever had "
"We are very impressed with the service we received from Mastercraft Kitchens. Everyone has been very pleasant to deal with and nothing has been too much trouble. We can honestly say this is the best fitted kitchen experience we have ever had and would highly recommend anyone in the process of shopping for a new kitchen to try Mastercraft Kitchens, you won't be disappointed"
Stephen Cooper, Solihull

"We're very, very happy with everything"
"Well, I can say again, we're not disappointed as yet another Mastercraft Kitchen has been successfully completed to a very high standard. The speed of service, the ease that everything went together and the quality of the finish is superb. Thanks again to everyone at Mastercraft, from the guys in the factory to the aftersales staff, Lee's fitting team and to Steve our long suffering kitchen designer and project manager. A great job by all, we're very, very happy with everything."
Adam Owens, Property Developer

"Amazing service. Would definitely recommend"
"The whole service was wonderful from start to finish. The workmen were a friendly lot and they all did a fantastic job. Although my kitchen is only small, the design is very practical and the finish and quality of the units are noticeably better than a lot of the showrooms I looked around.  Best of all was that on the last day the guys cleaned and polished everything up for me. Amazing service. Would definitely recommend."
Mrs C Quinn, Manchester

"I'm a very happy customer"
"The workmanship, service and quality of the products supplied have all been and still are excellent.

We are particularly impressed by the friendly, cheery attitude everyone has in their work and would recommend anyone to use Mastercraft Kitchens for their kitchen project. I'm a very happy customer."
John Vine, Wakefield

"Above and beyond what we expected to get"
"Having traipsed around expensive kitchen showrooms as well as the usual B&Q and Wickes, and being disappointed at the prices being quoted we decided we would try something a little more up to date and used the internet to shop around for our new kitchen. We are so glad we did...the level of service we received was far above and beyond what we expected to get for the price."
Mrs Pam Jones, Sheffield

"A great service, great price and brilliant quality"
"All in all a great service, great price and brilliant quality.  You only do a quality kitchen once every blue moon so I would seriously recommend you go with Mastercraft Kitchens if you are about to make that all important decision."
Mrs Elaine Sumner, Wirral

"Exceeded our expectations"
"We love our new Mastercraft kitchen. Everyone who has visited has been wowed by the style, colours and tones. Exceeded our expectations and we have no hesitation in recommending Mastercraft to our family and friends."
Mr Graham Hall, Worksop

"Our only regret was not calling them in earlier"
"Full marks to Mastercraft Kitchens for all their help in our recent project.  Our only regret was not calling them in earlier. The out of business hours support and quick replies when we had any questions was very reassuring.
The kitchen is now the best room in our house and all our friends and family love it.  We would highly recommend anyone thinking of getting a new kitchen to get a quote from Mastercraft Kitchens."
Mrs Helen Shaw, Lancaster

"The quality is outstanding"
"The quality is outstanding and we had great service. There have been no issues with it since. Love the design and stone grey door colour. Our next door neighbour has just ordered theirs from Mastercraft too after getting several other quotes to compare prices. Would highly recommend Mastercraft to anyone looking."
Mr Alan Davies, Llandudno

"Nothing was too much trouble"
"Cannot speak highly enough about this company and everyone involved in bringing our kitchen to life. Steve did the most amazing design and he simply couldn't have been more helpful, friendly and professional.
Lee who fit the kitchen was amazing, hard working and did a superb job, nothing was too much trouble.
Everyone else, electrician, plasterers and floor fitter did such a good job"
Karen Illingsworth, Cleckheaton
Our kitchen ranges have been featured in…