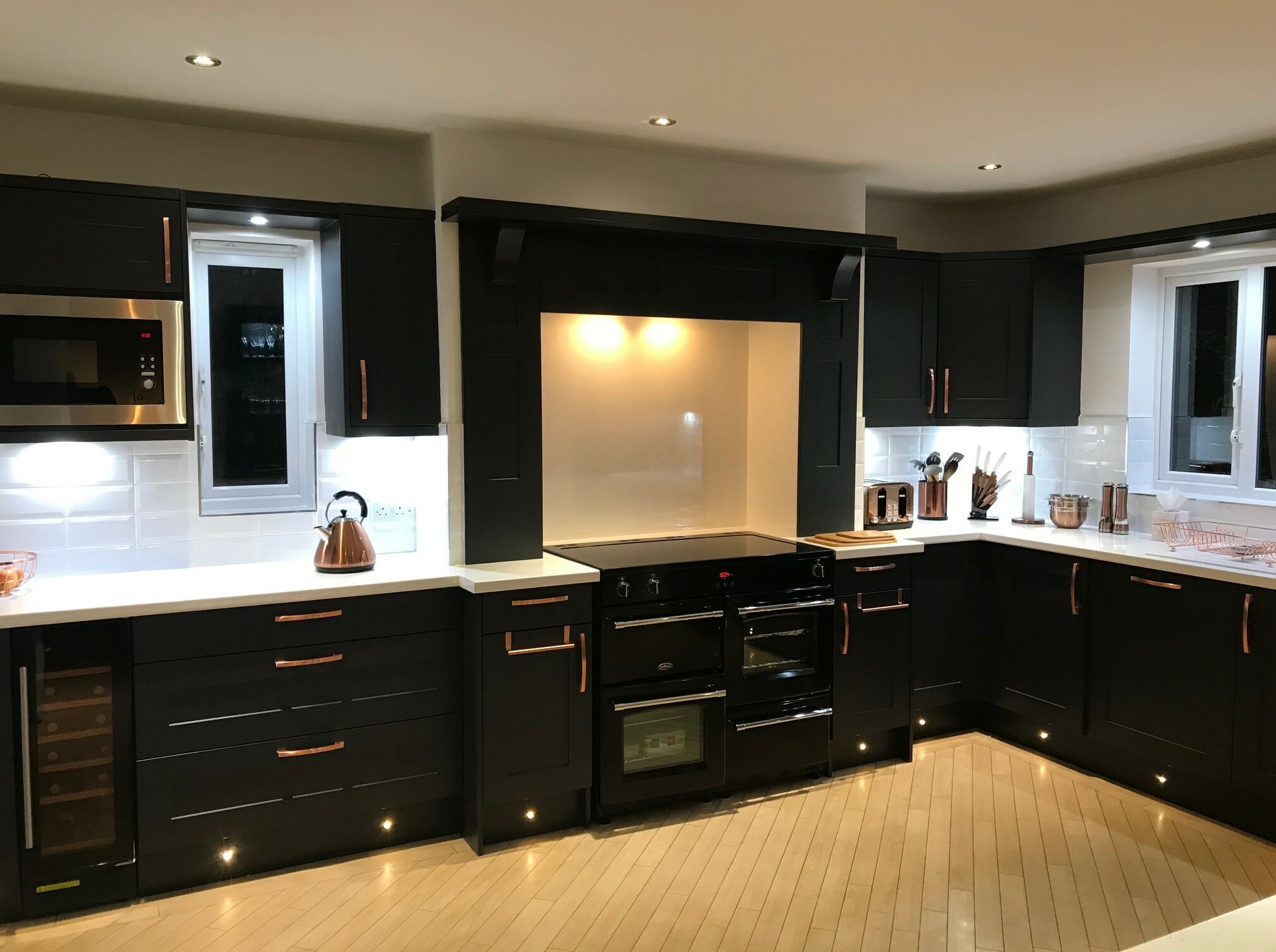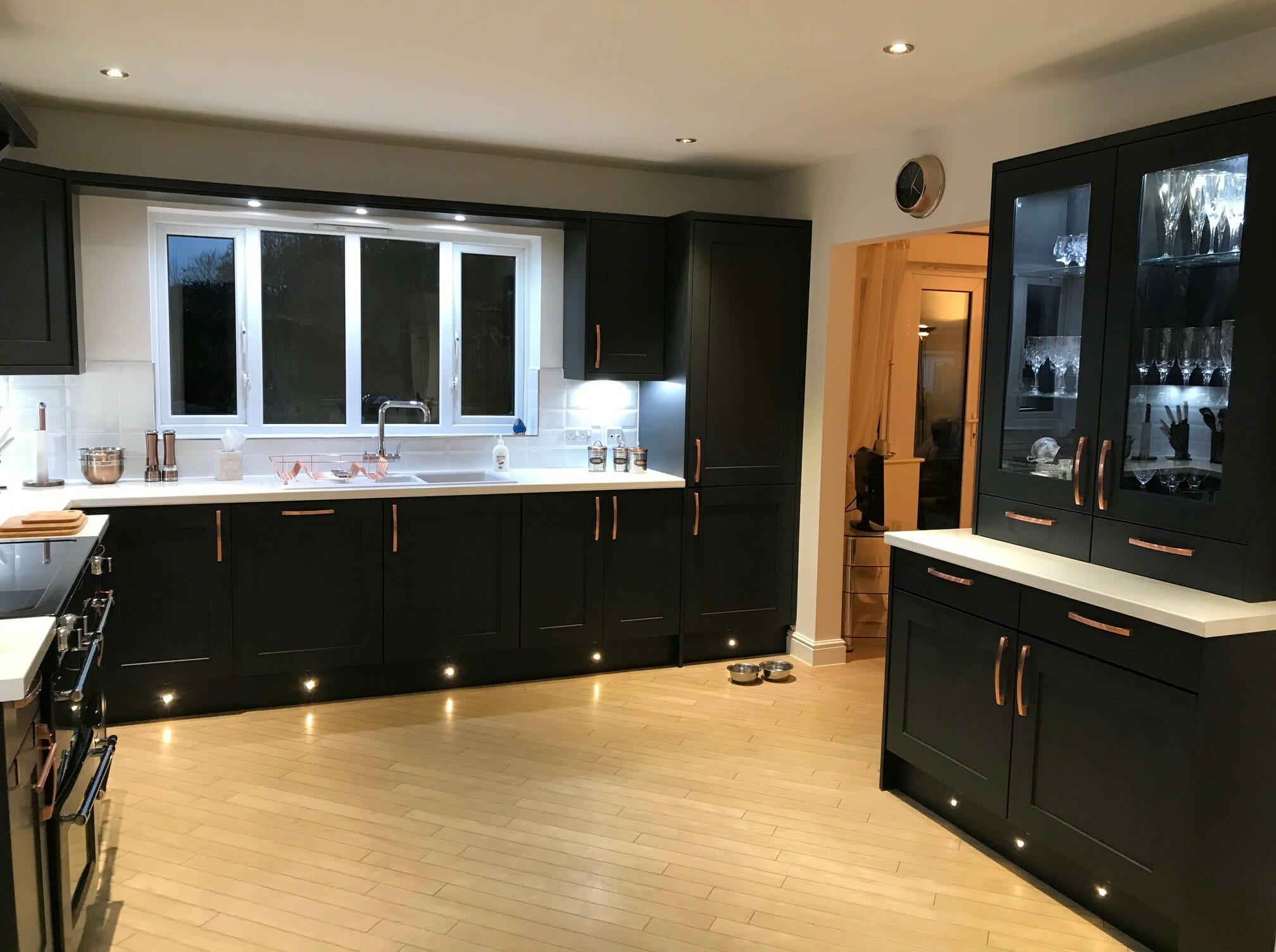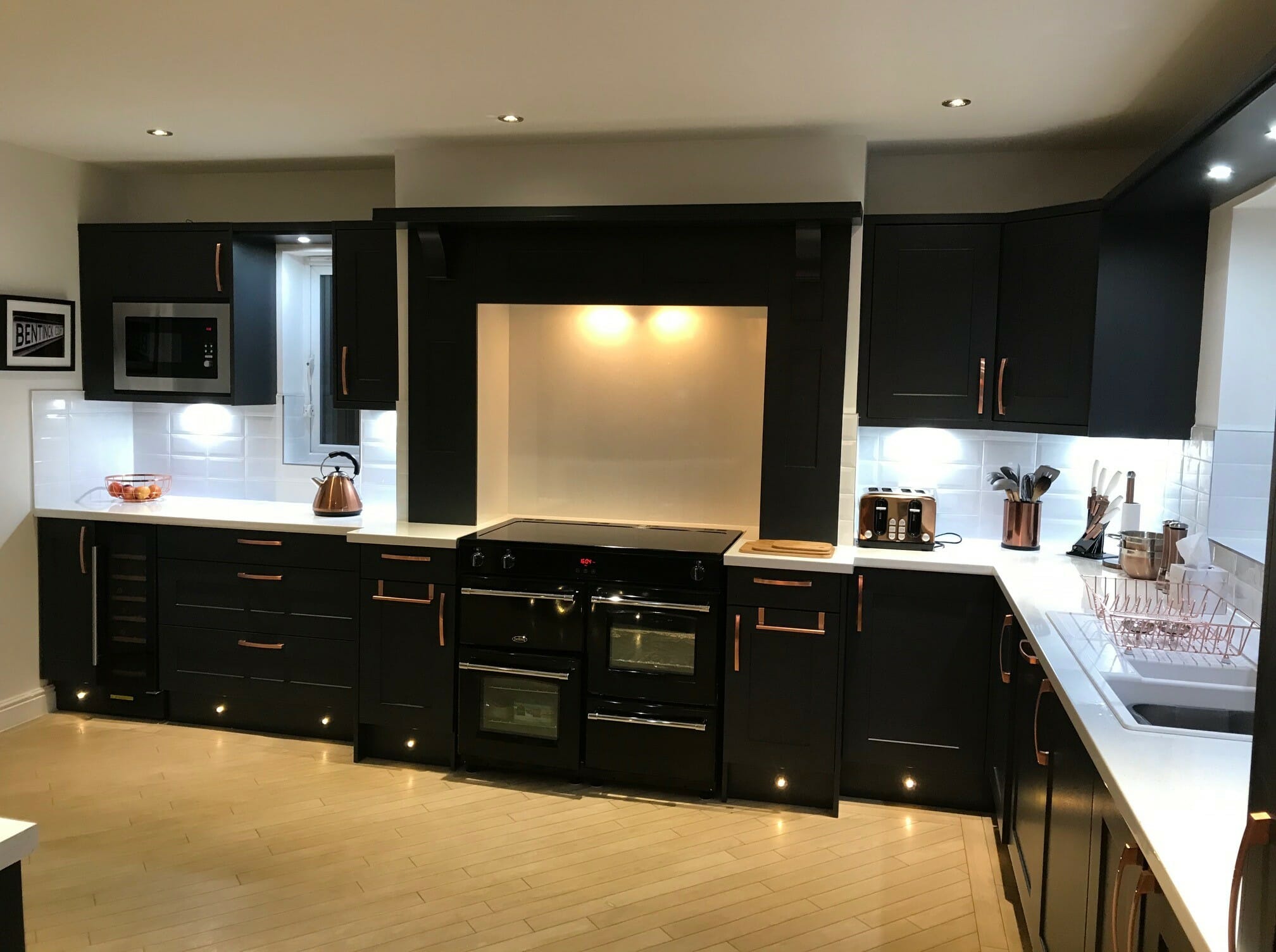 We love our new Mastercraft kitchen. Everyone who has visited has been wowed by the style, colours and tones. Thanks to Steve C for the inspiration and guidance to start with and for Mike M who did most of the work.
He wanted to make us proud of our new kitchen by the quality of his workmanship. He certainly did. Exceeded our expectations and we have no hesitation in recommending Mastercraft to our family and friends.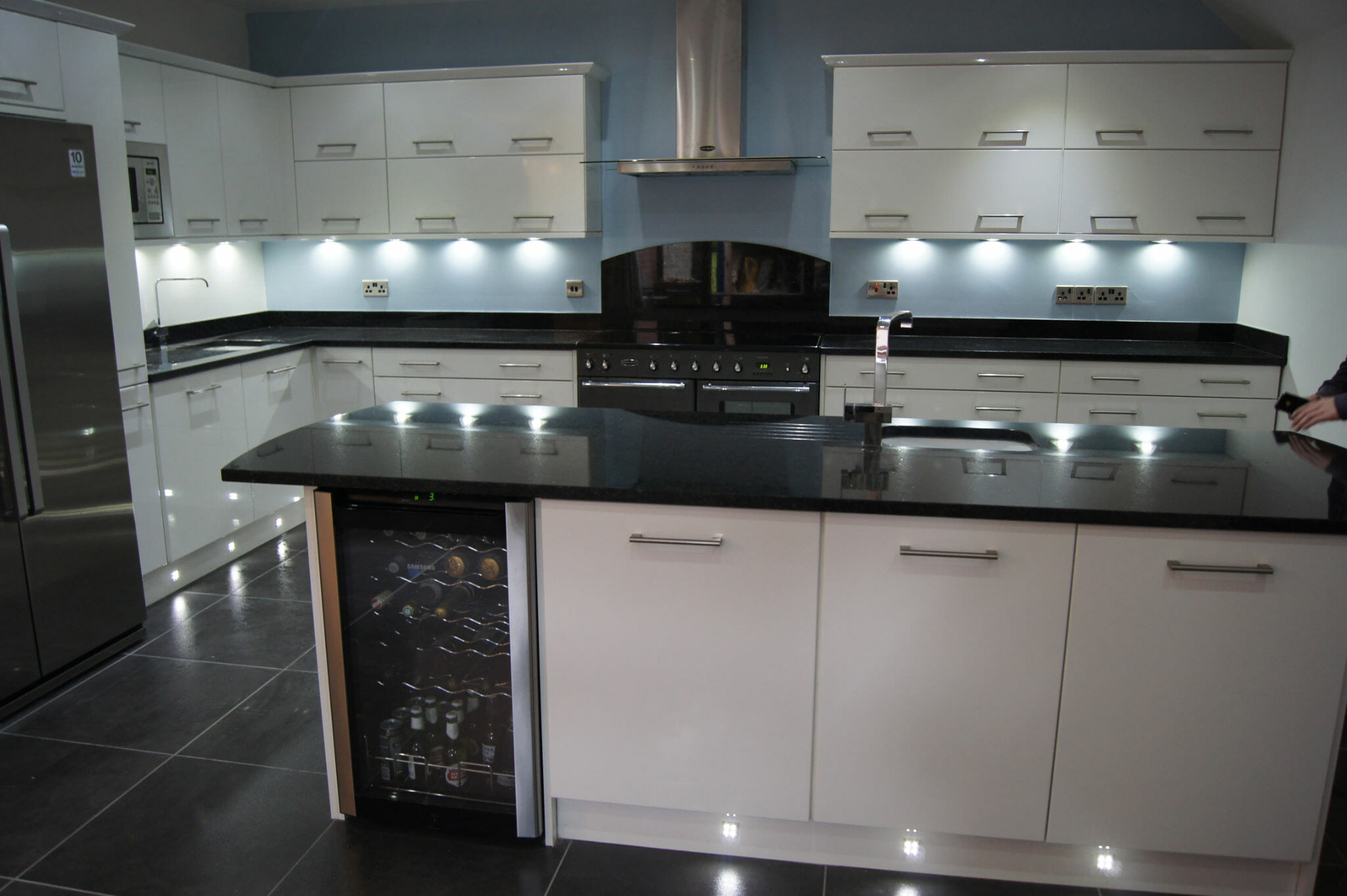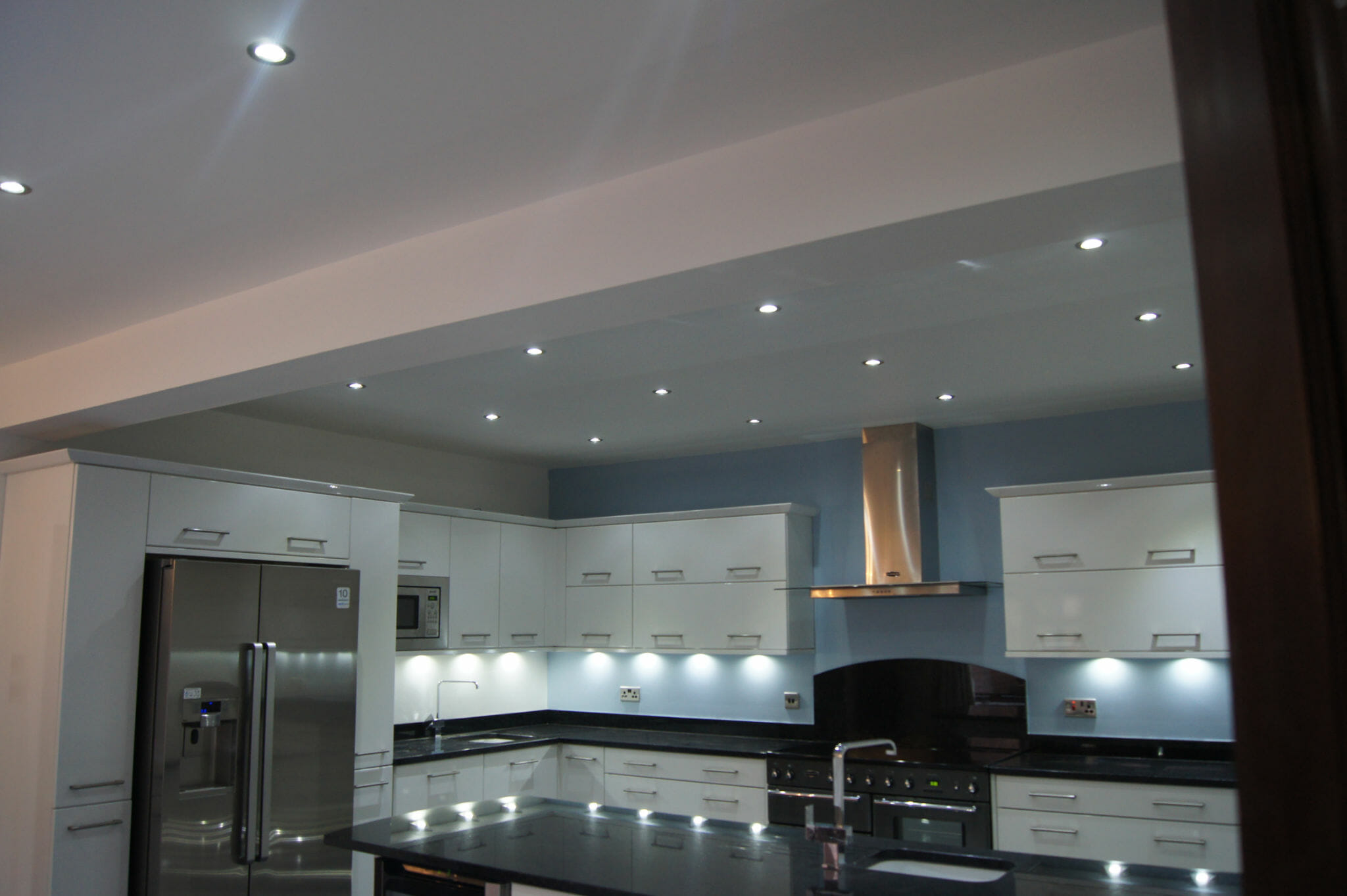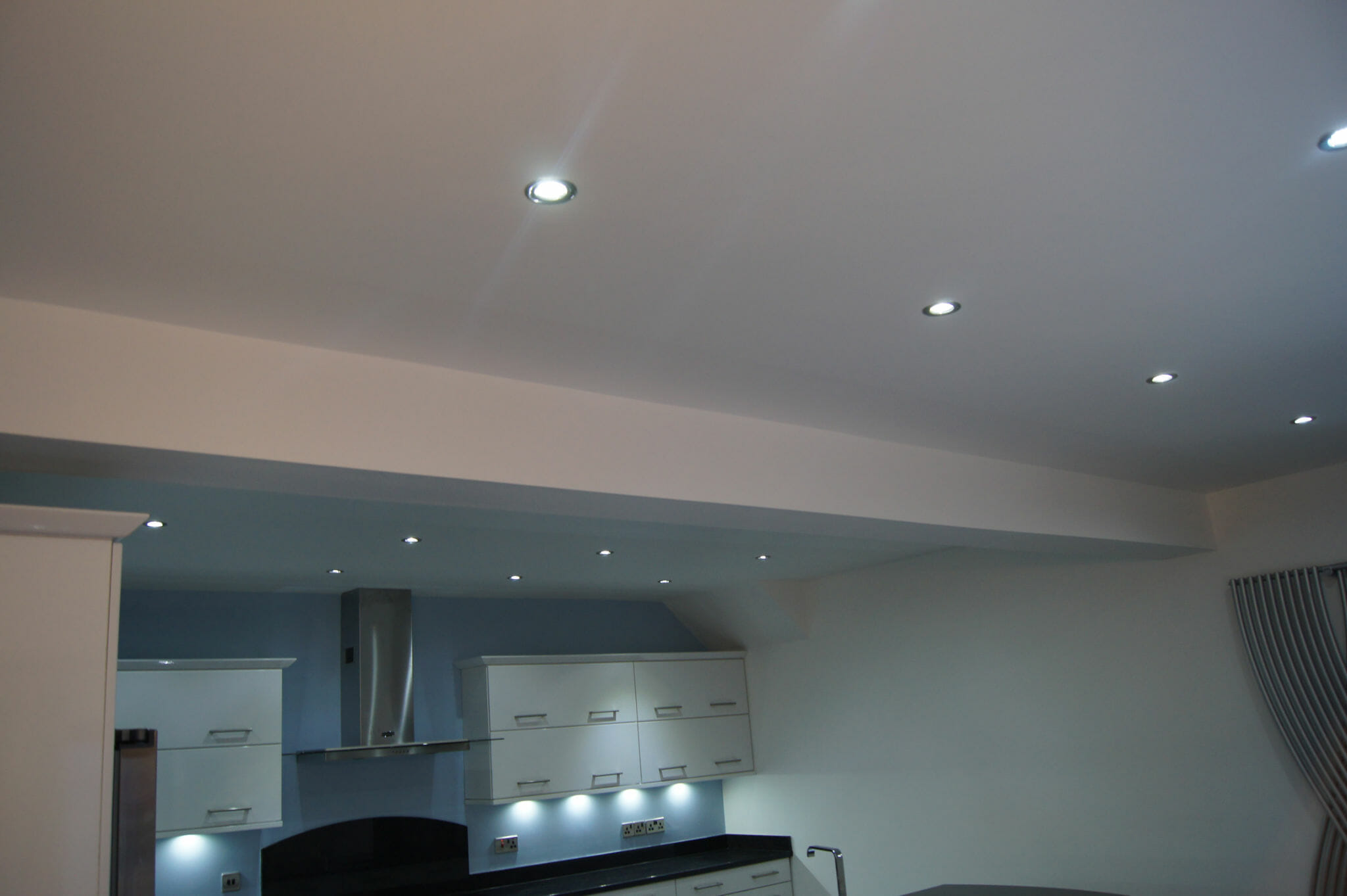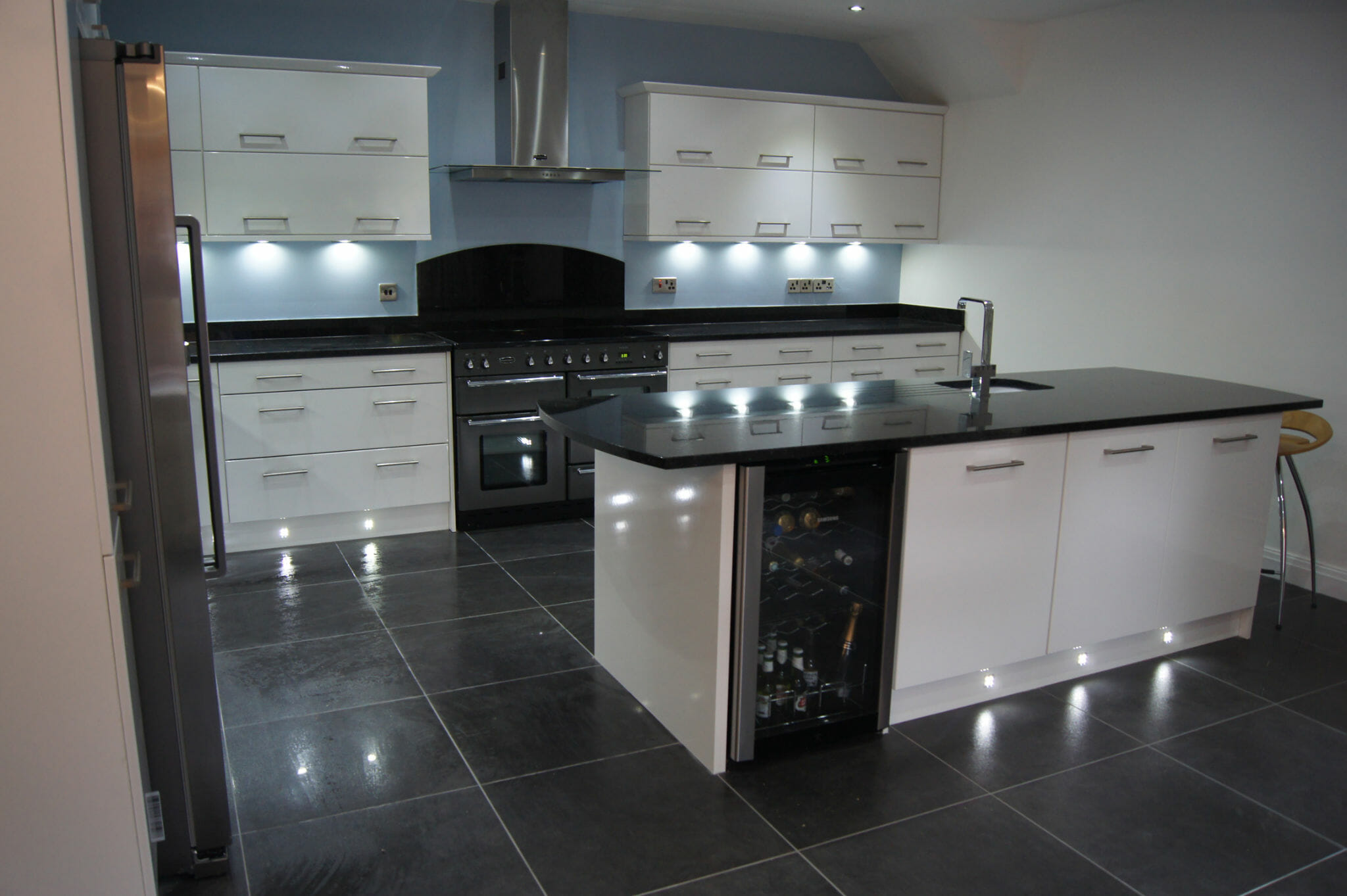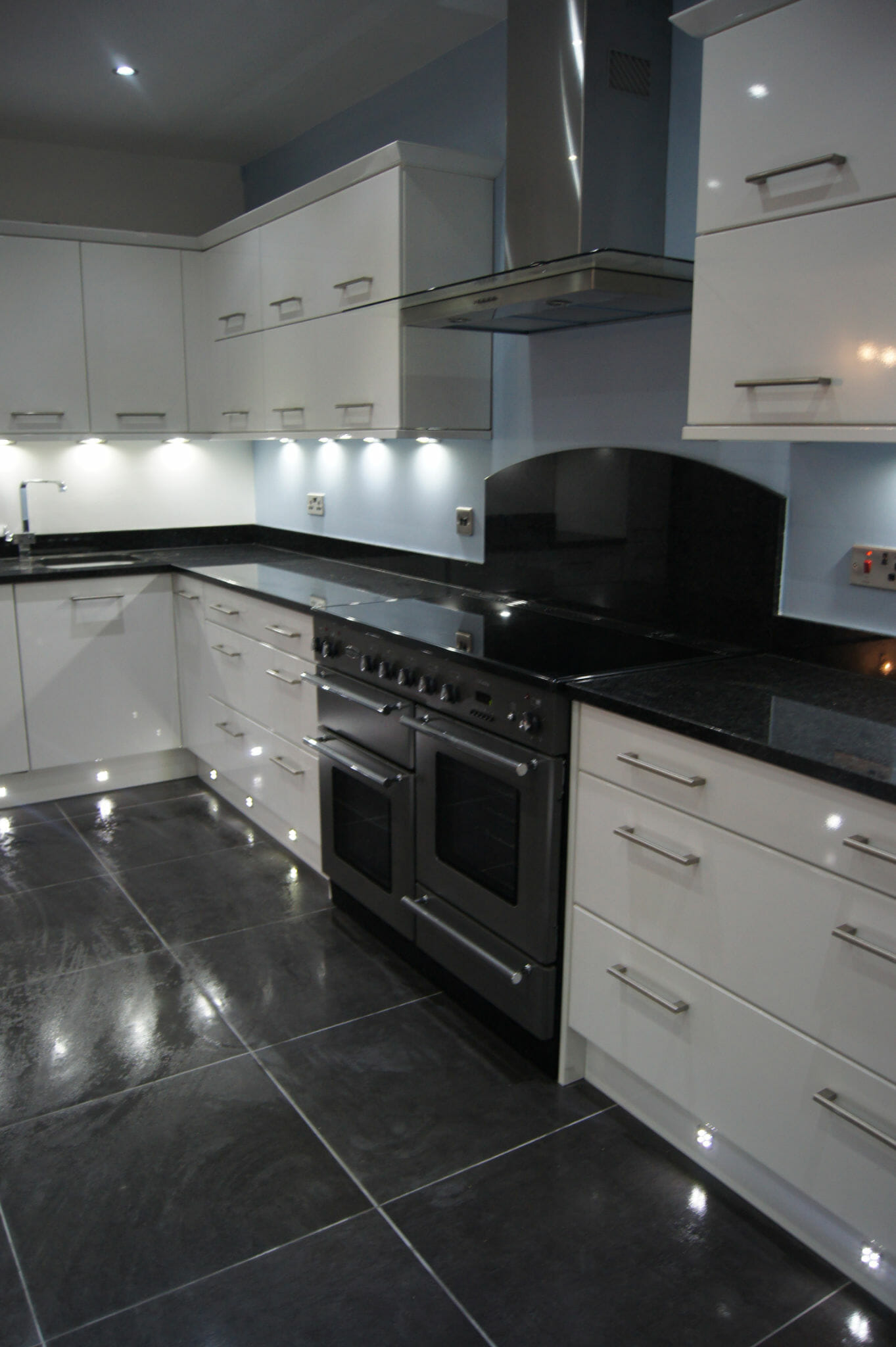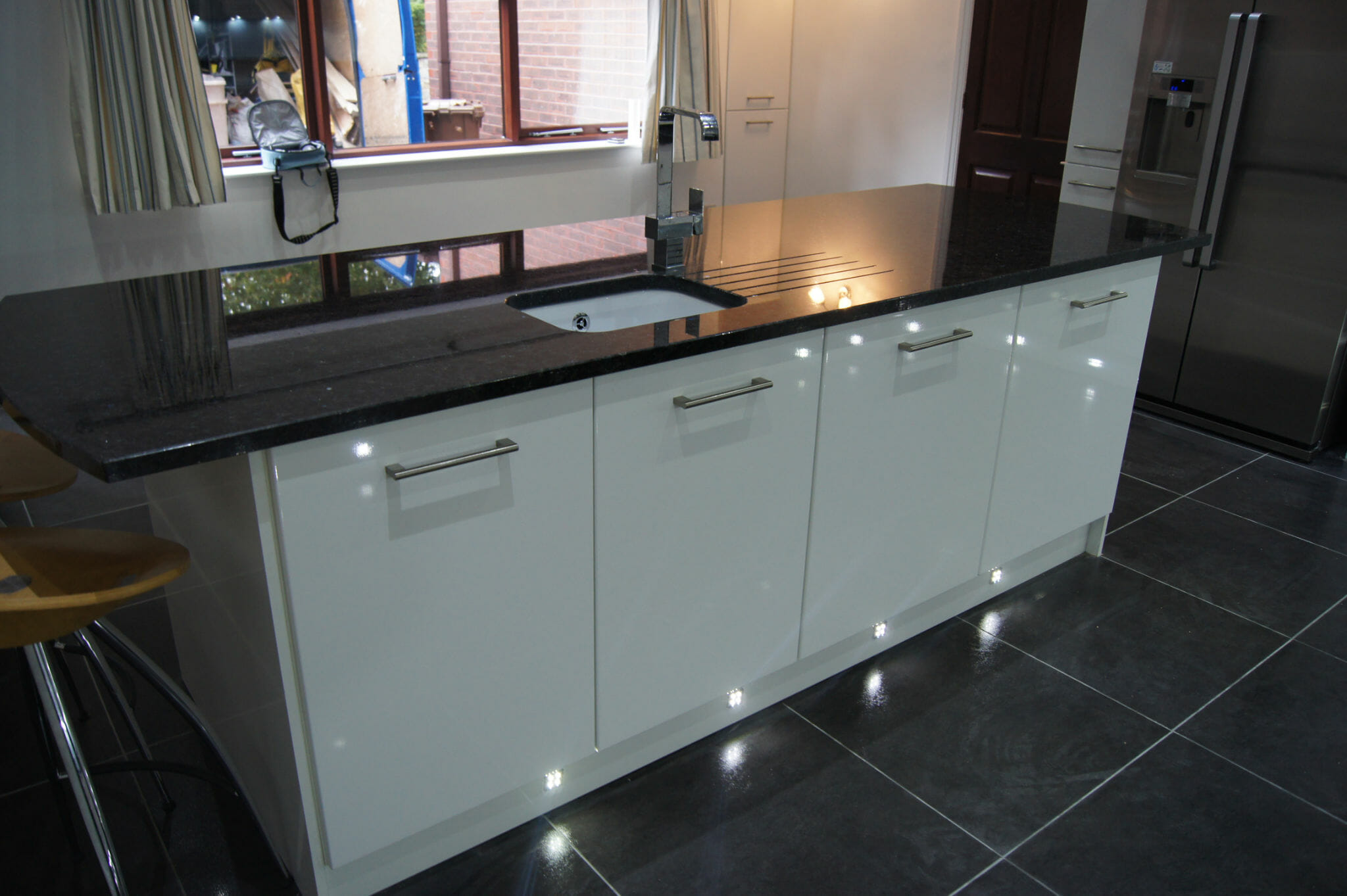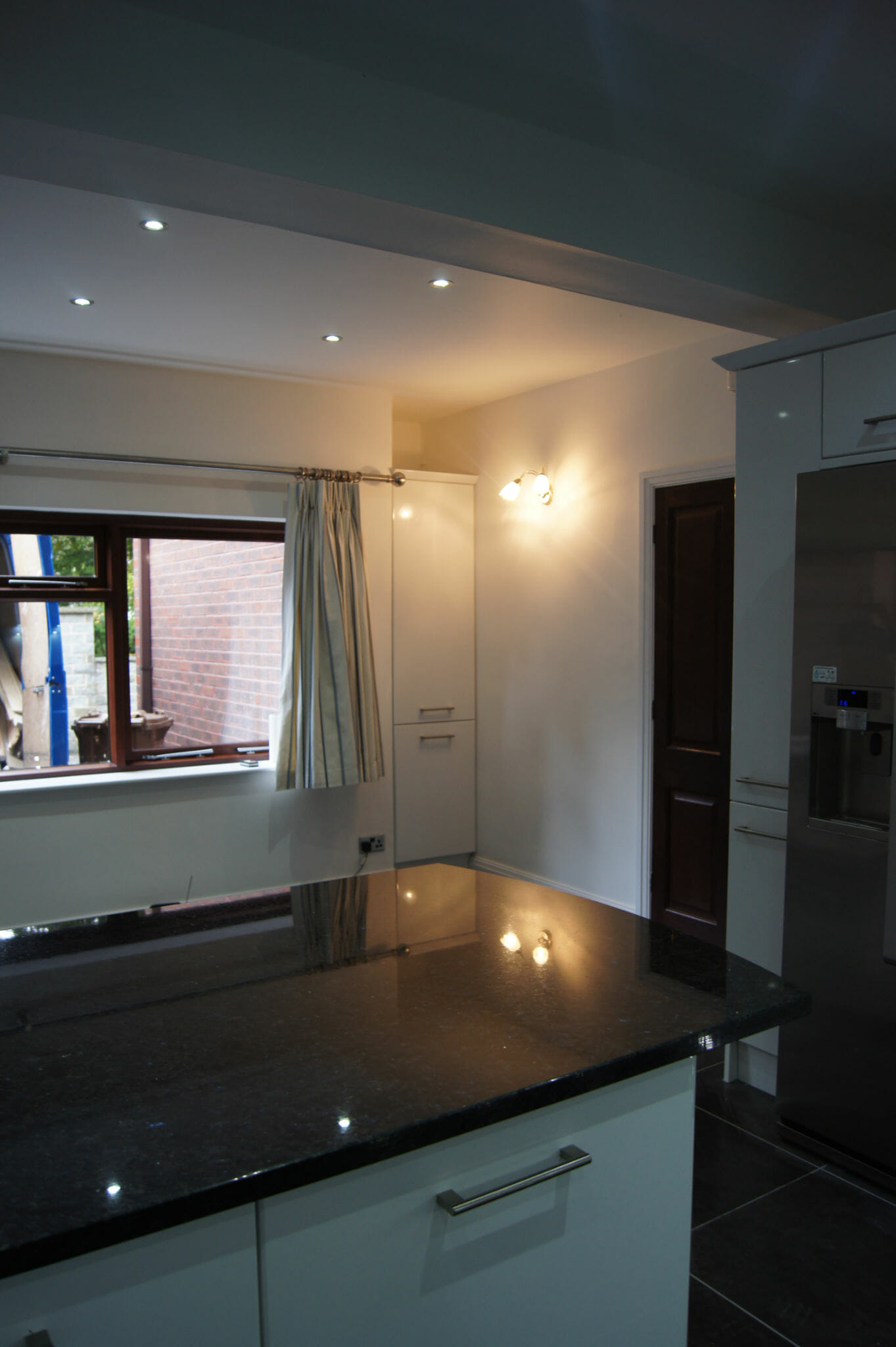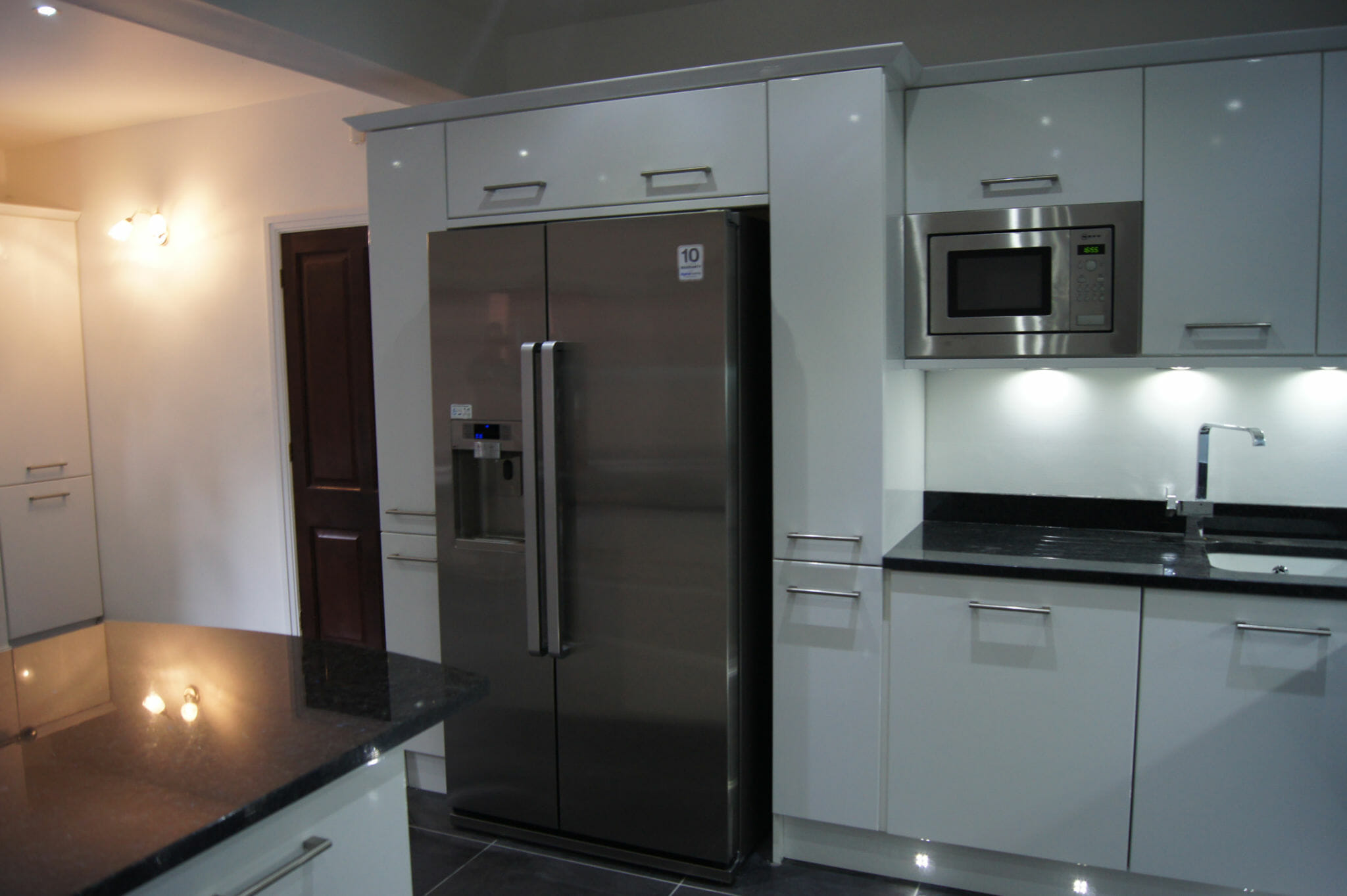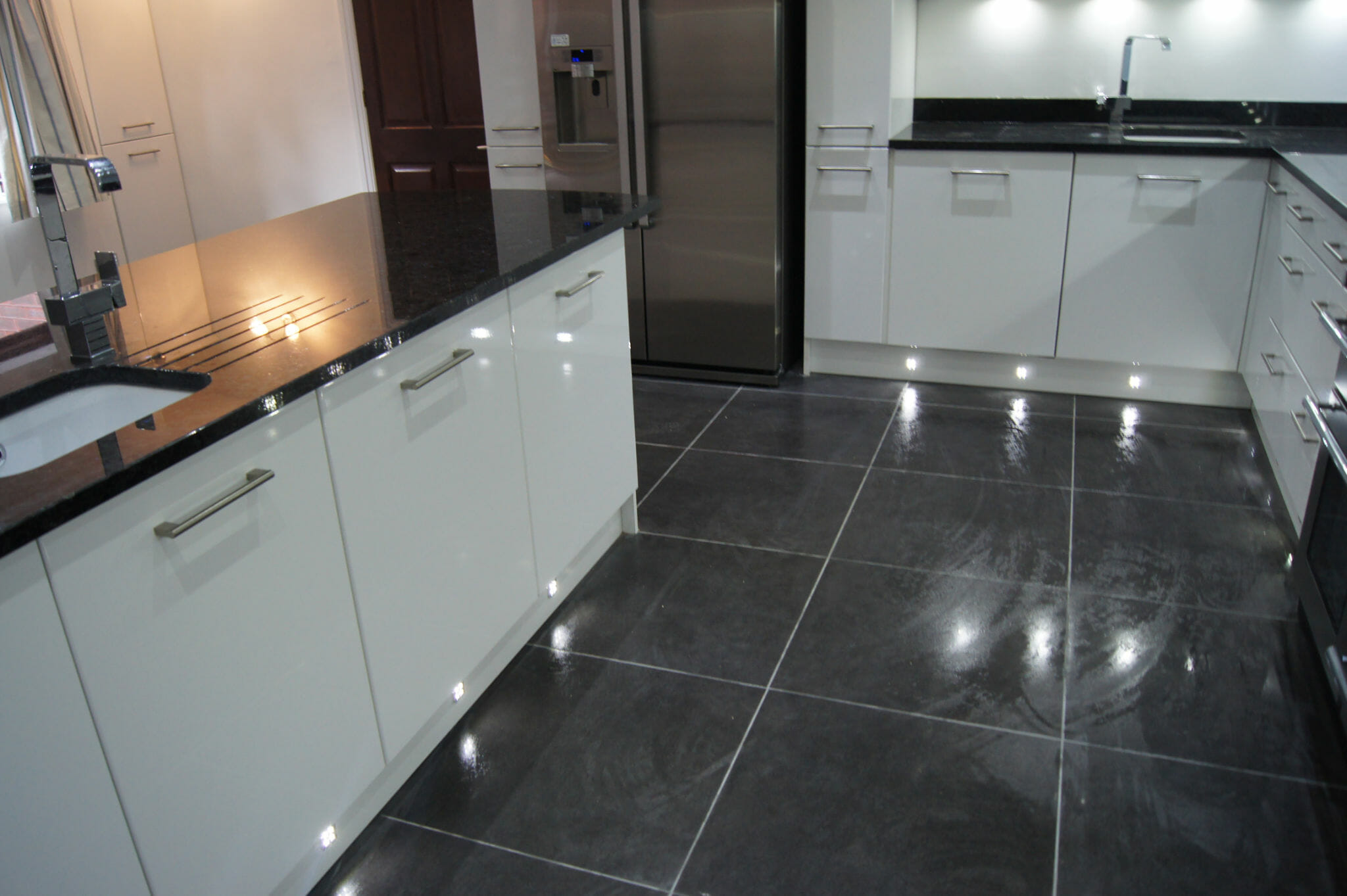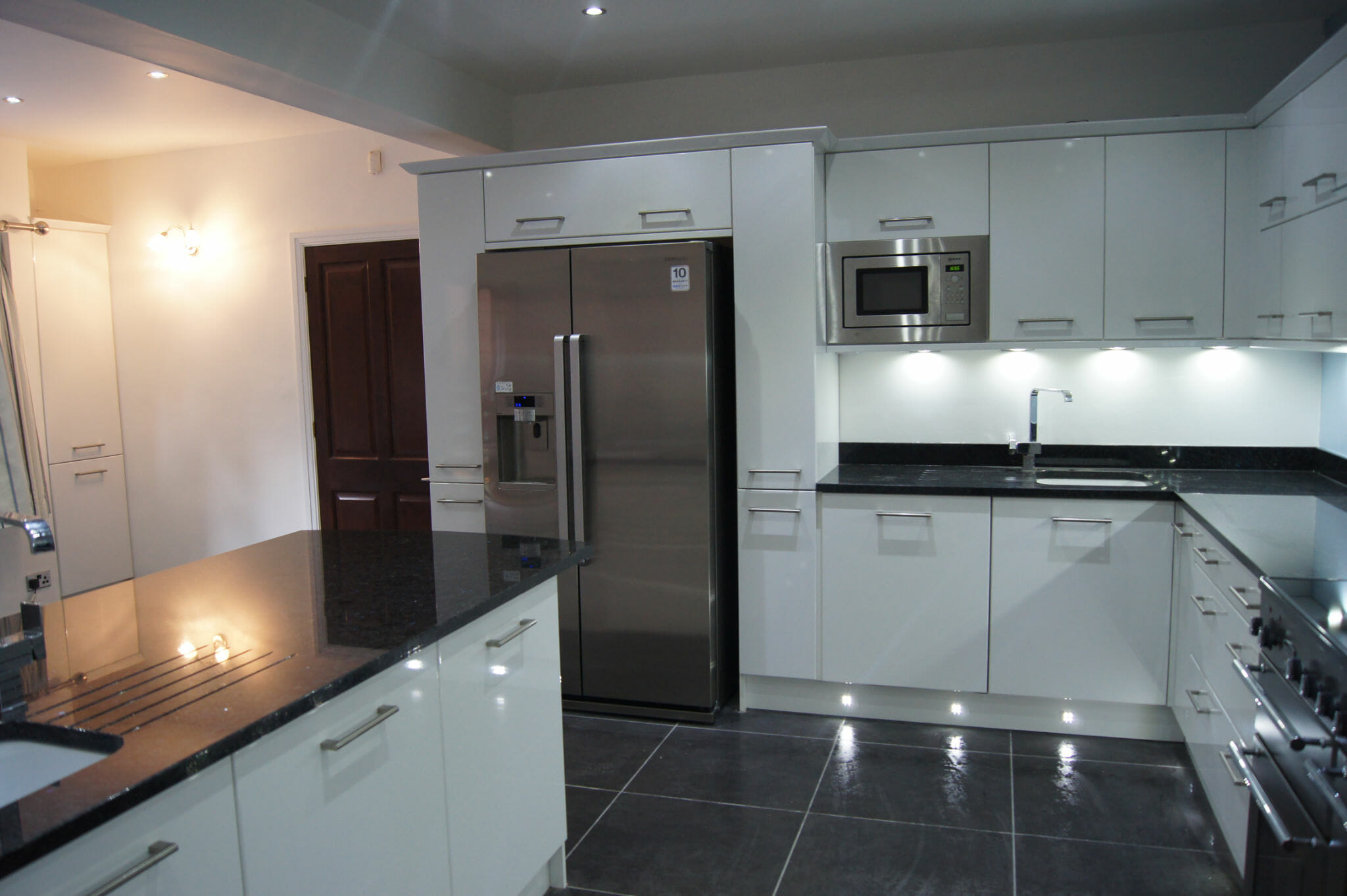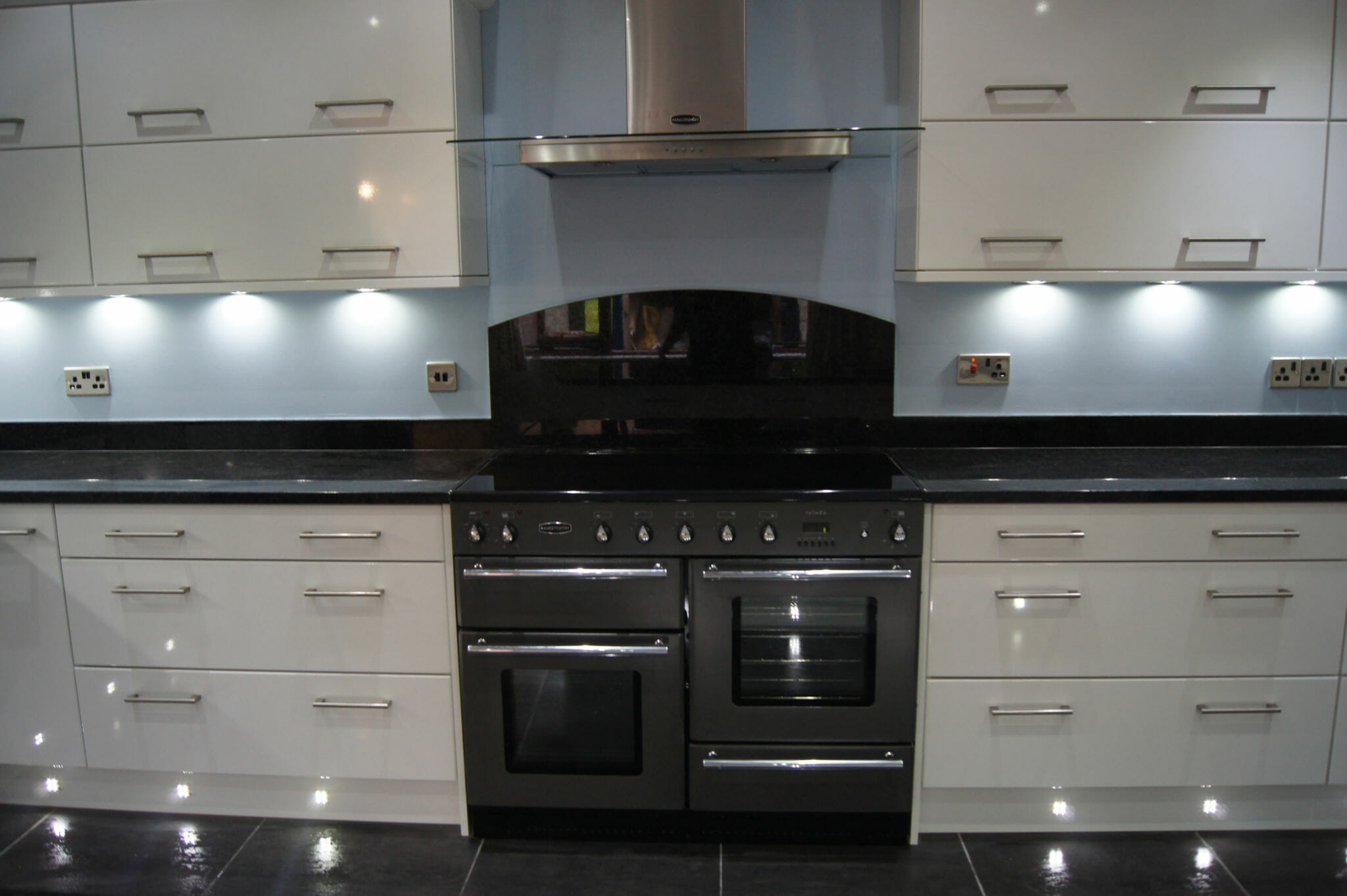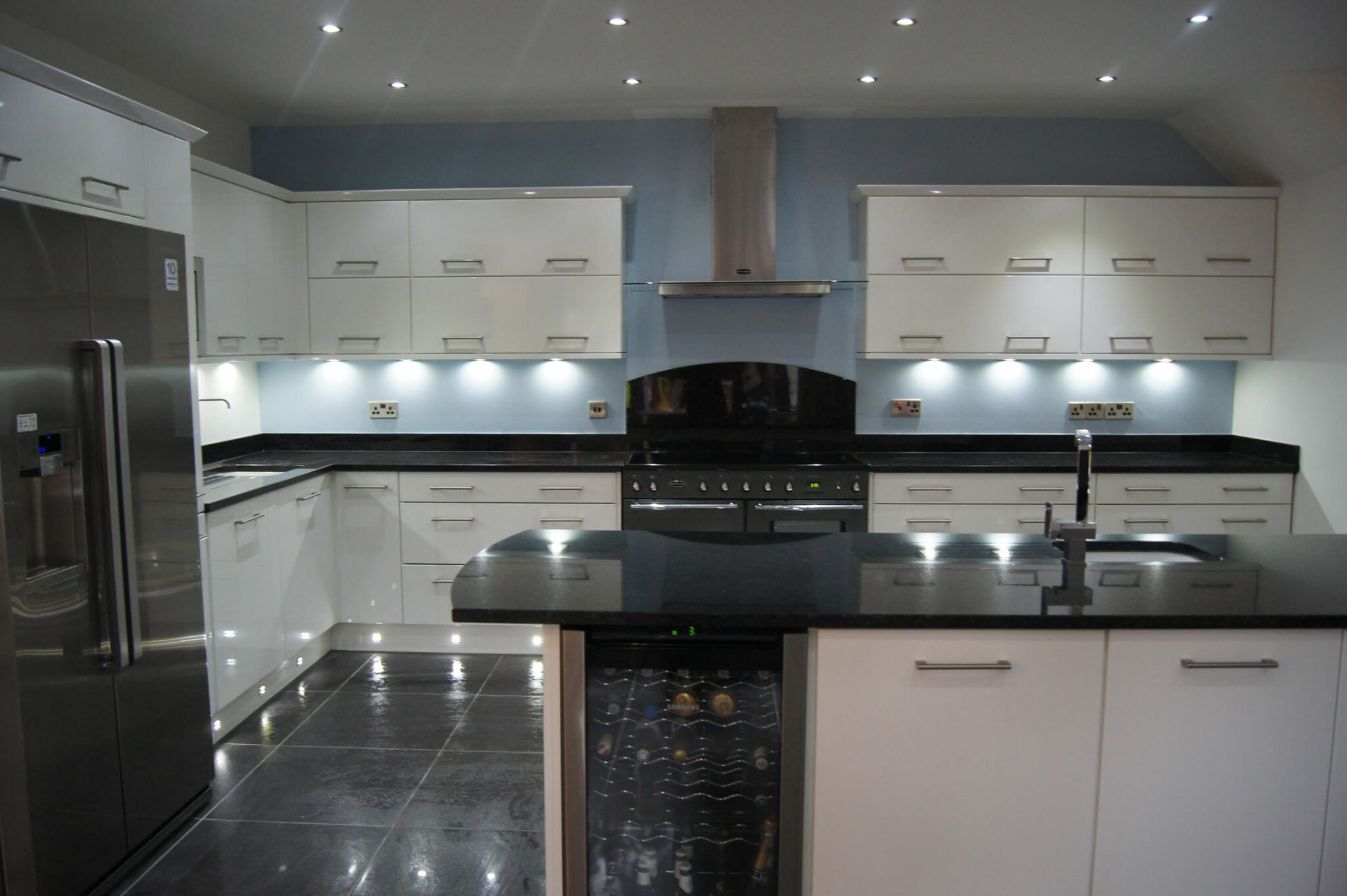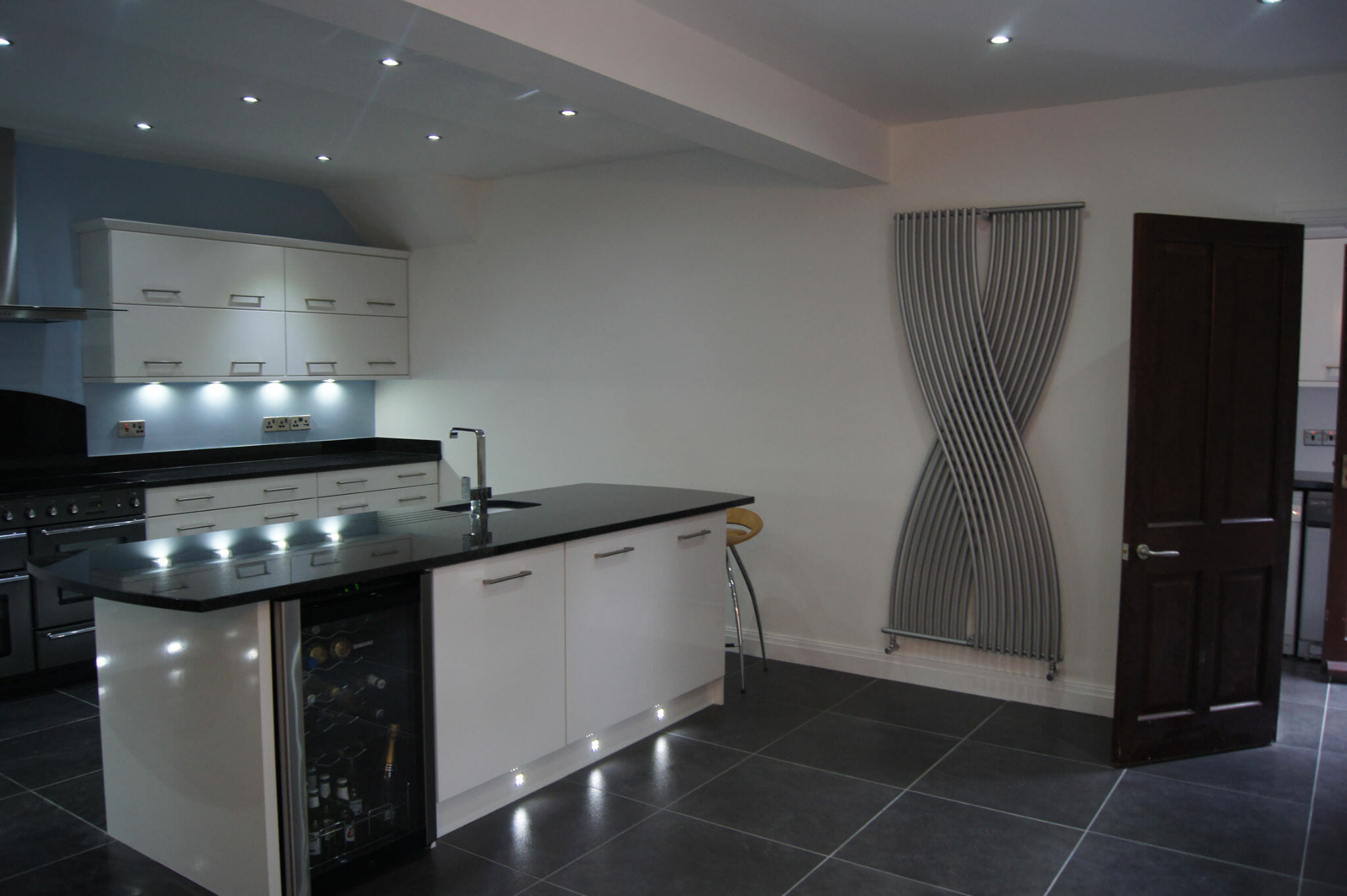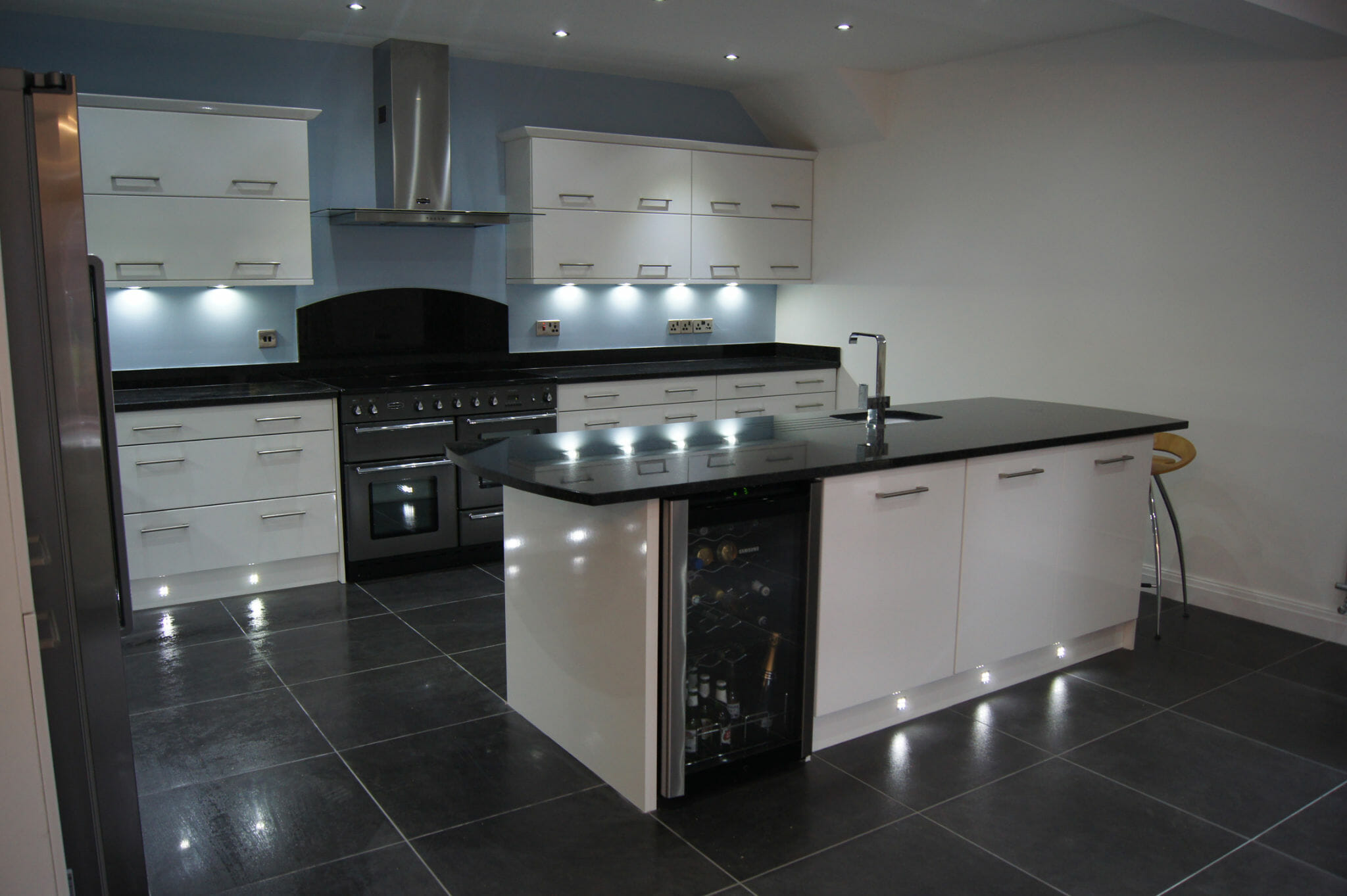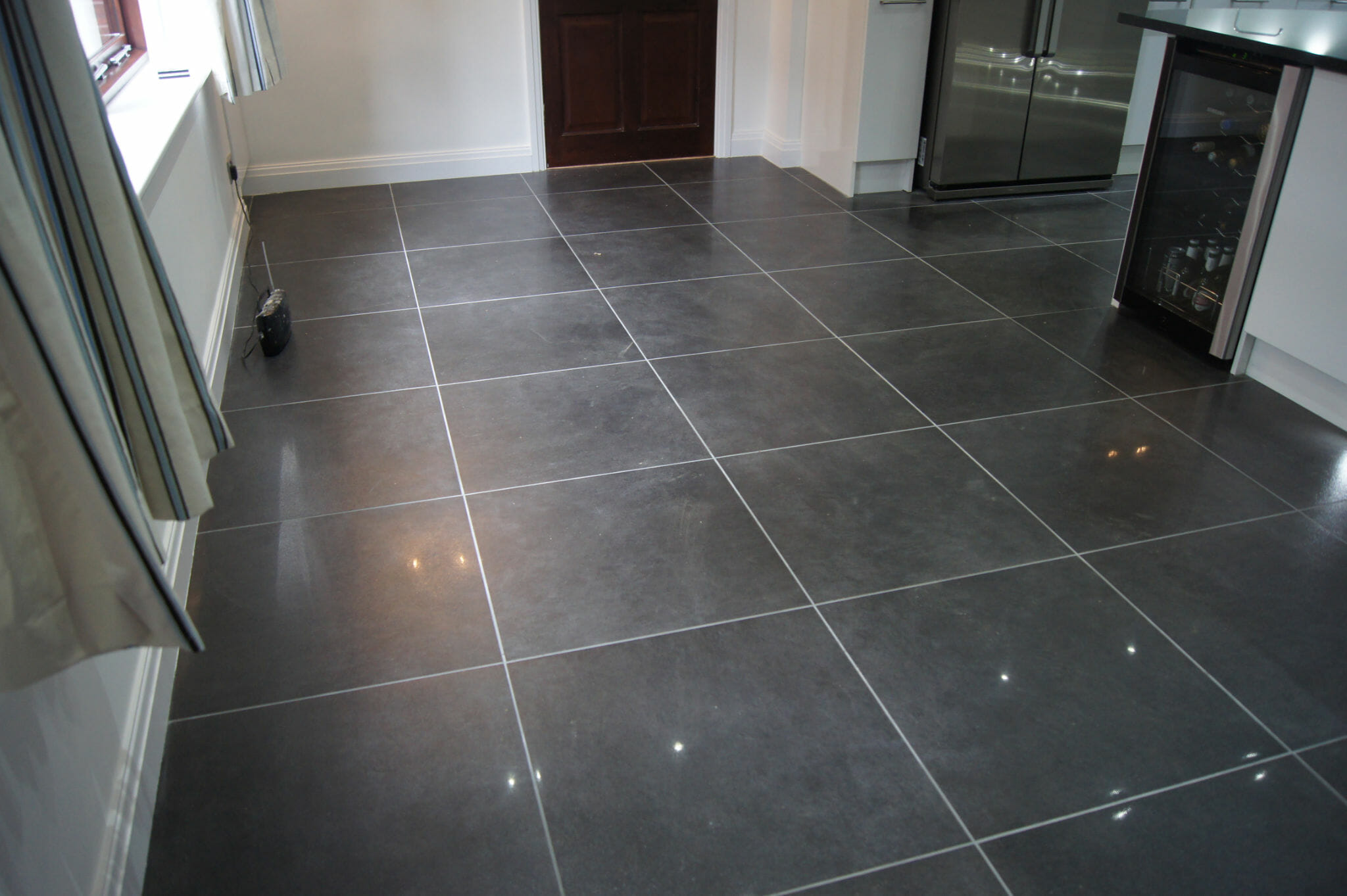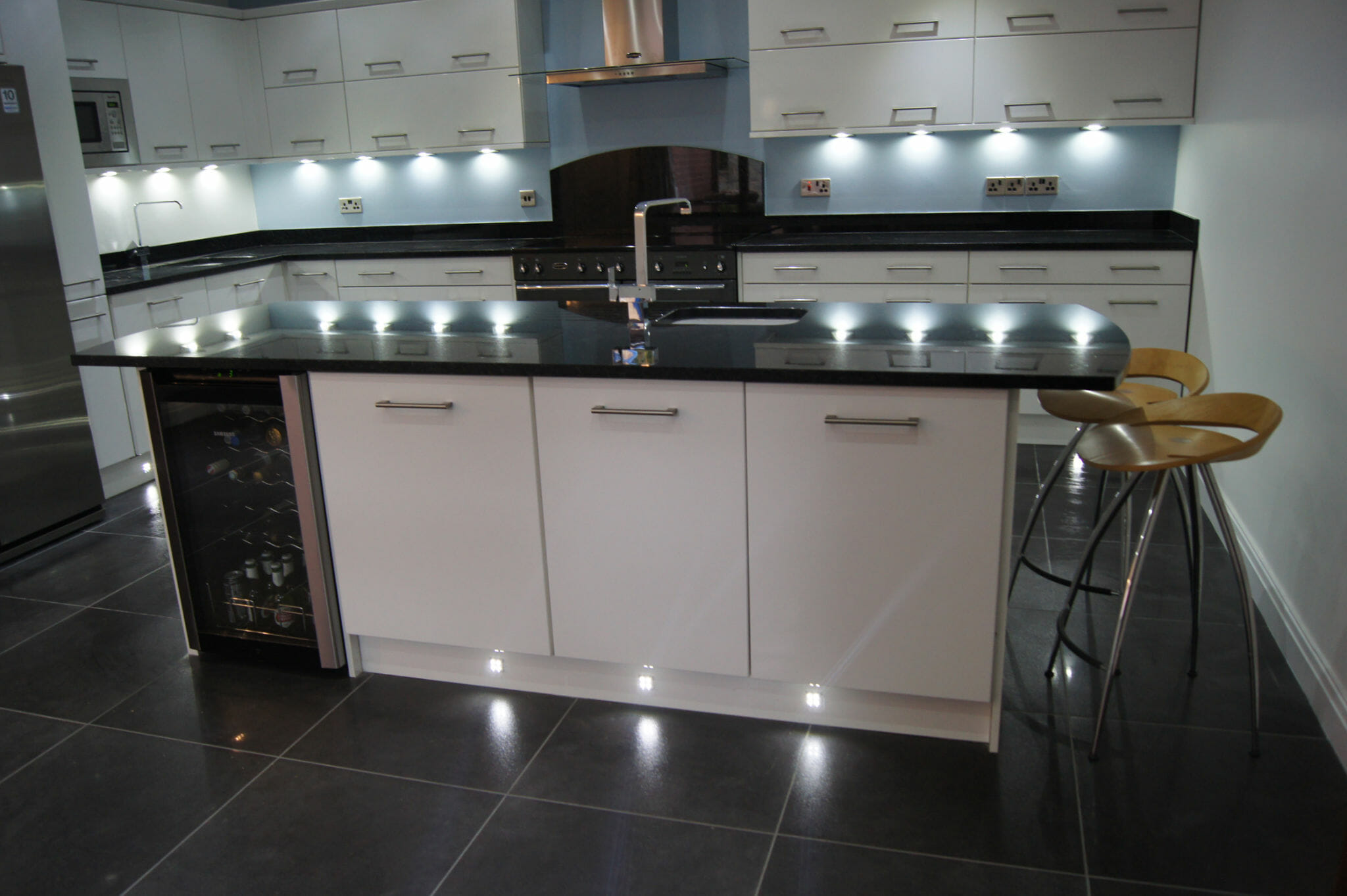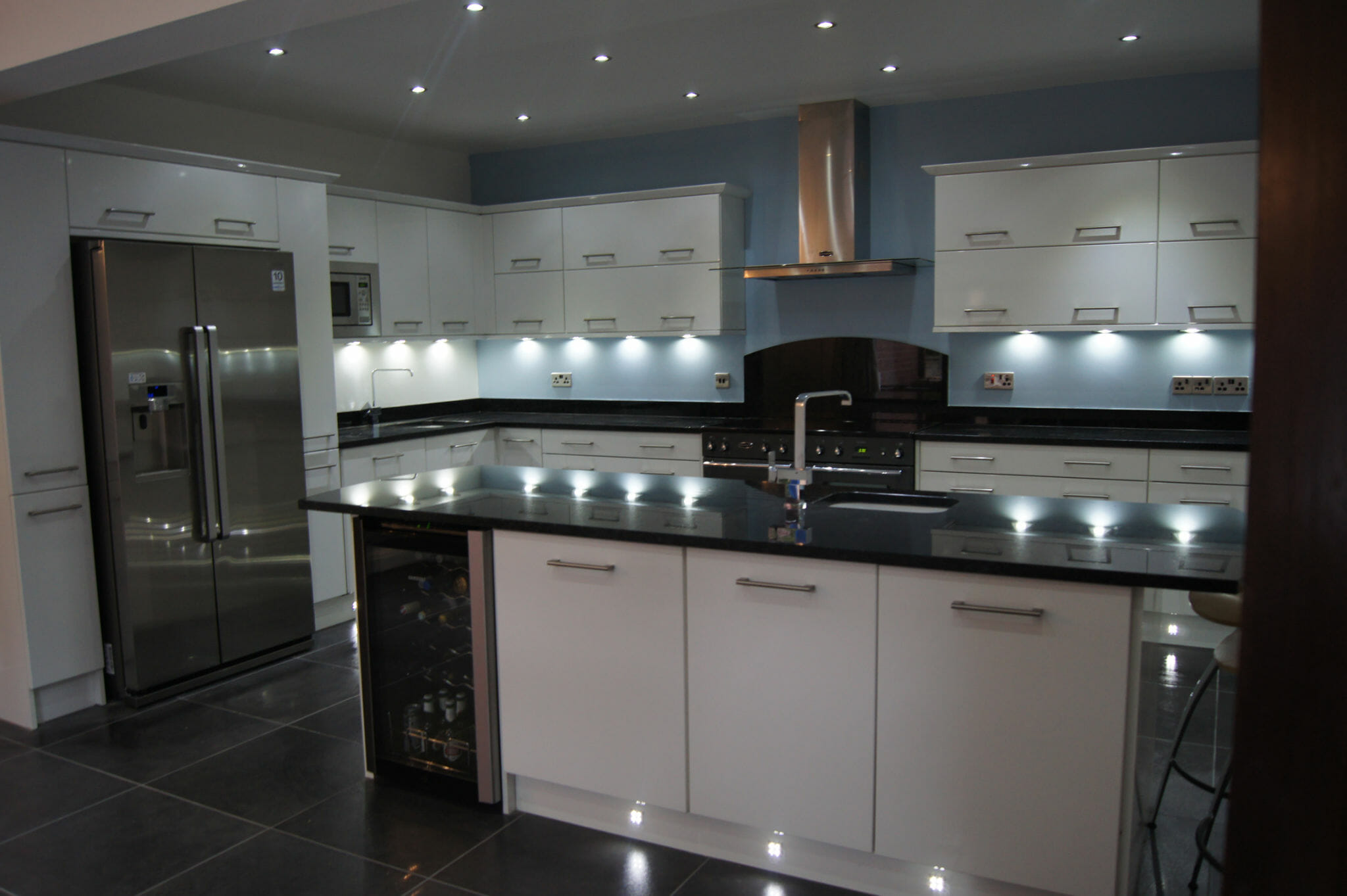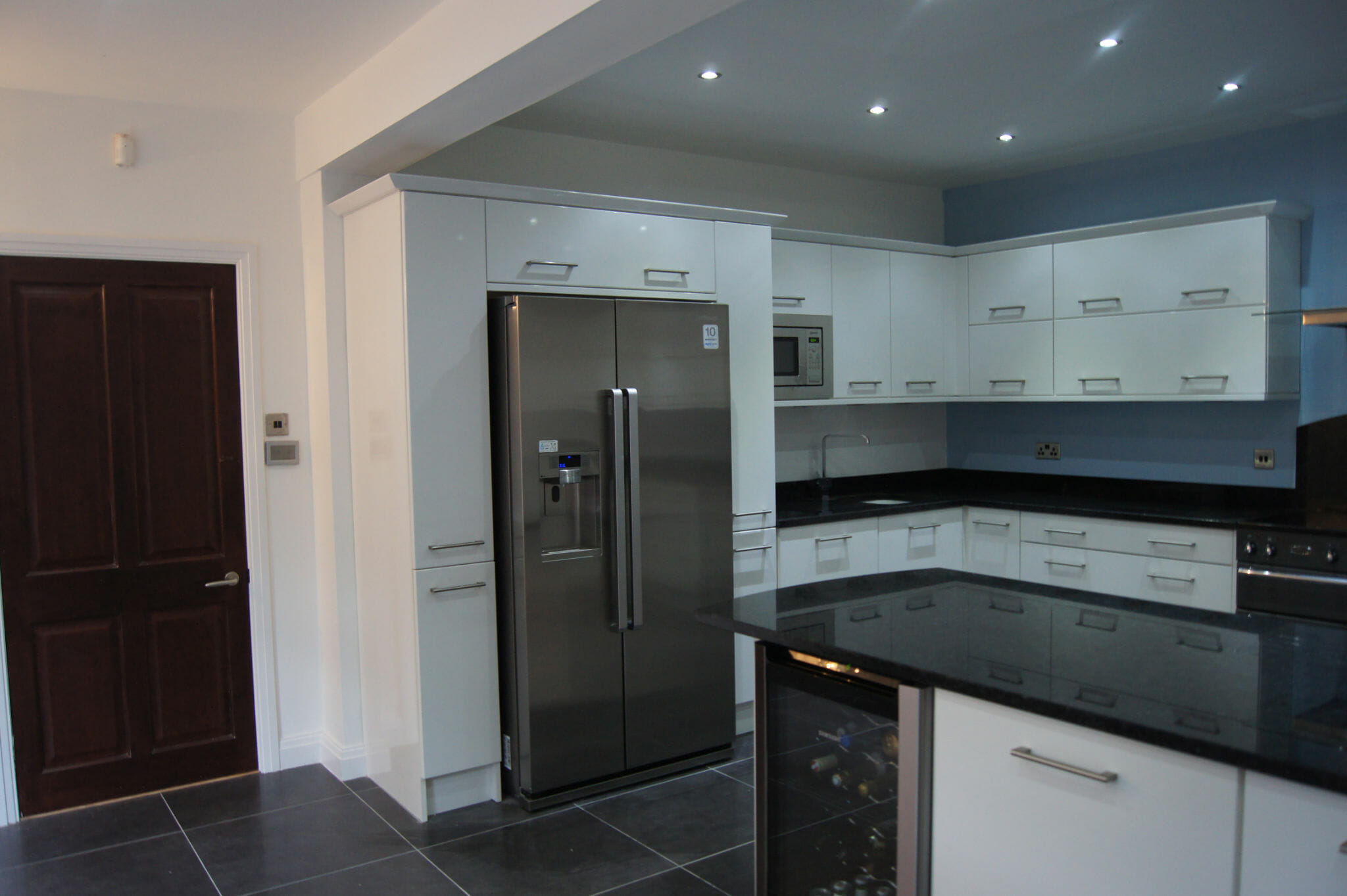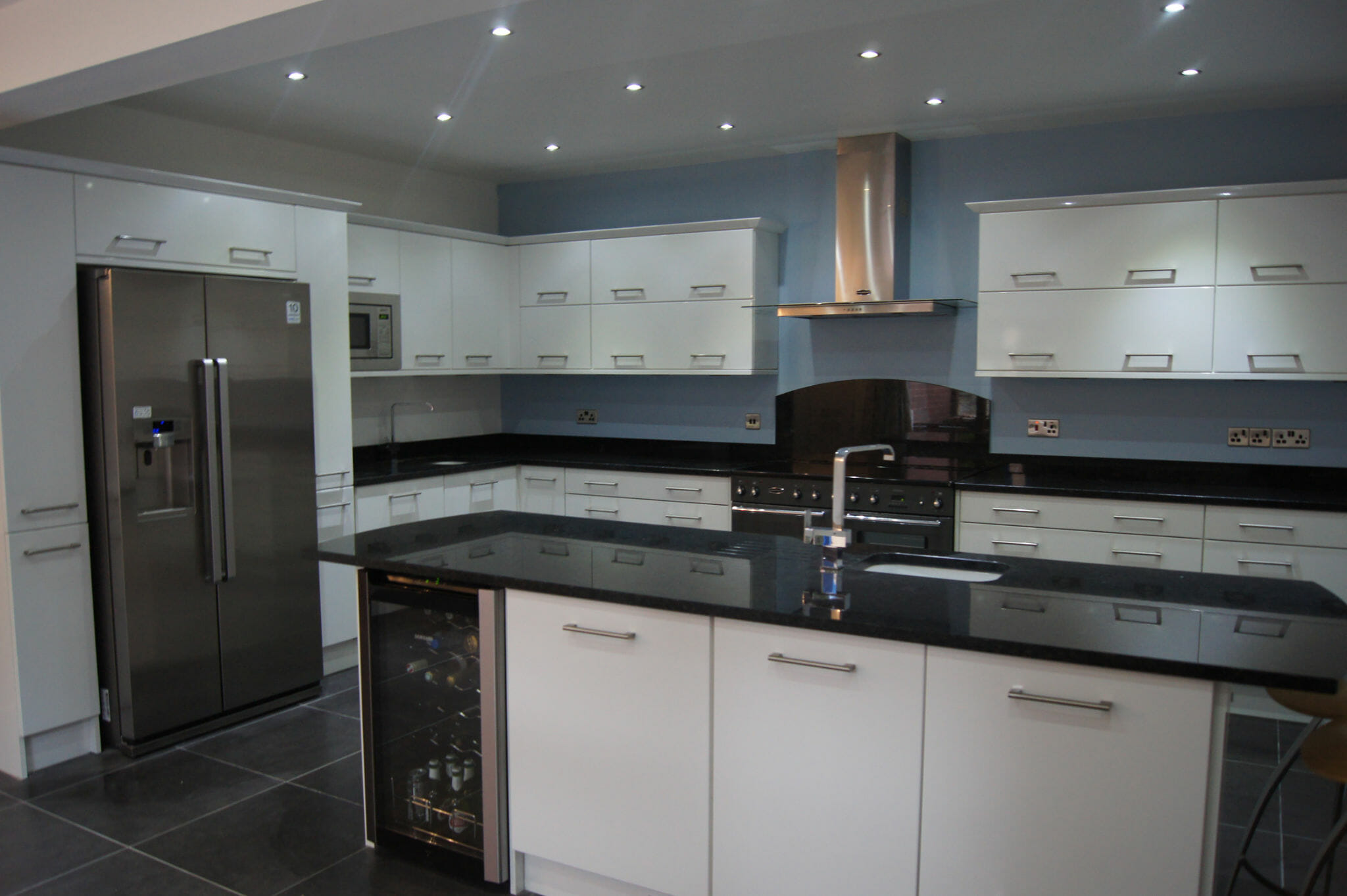 Ours was quite a mammoth job and we wanted someone who could come in and just do everything.
There was an old fashioned limed oak Magnet kitchen in before that was really badly planned with units of all different heights and sizes and the layout didn't work at all. We also had a  ceiling with wooden beams and hardly any lighting.
We wanted the whole lot ripping out and re-planning from scratch.  After several companies quoted it was Mastercraft that we felt most comfortable with, the designer really got to the crux of what we wanted and produced several versions of the layout until we got to the one we liked best.
Everything was completed within three weeks, including the utility room, the rip-out, plastering, electrics, ceiling, under-floor heating and granite worktops.
The finished kitchen is to die for and we are totally happy with all the work, the quality and the service.
We would highly recommend Mastercraft.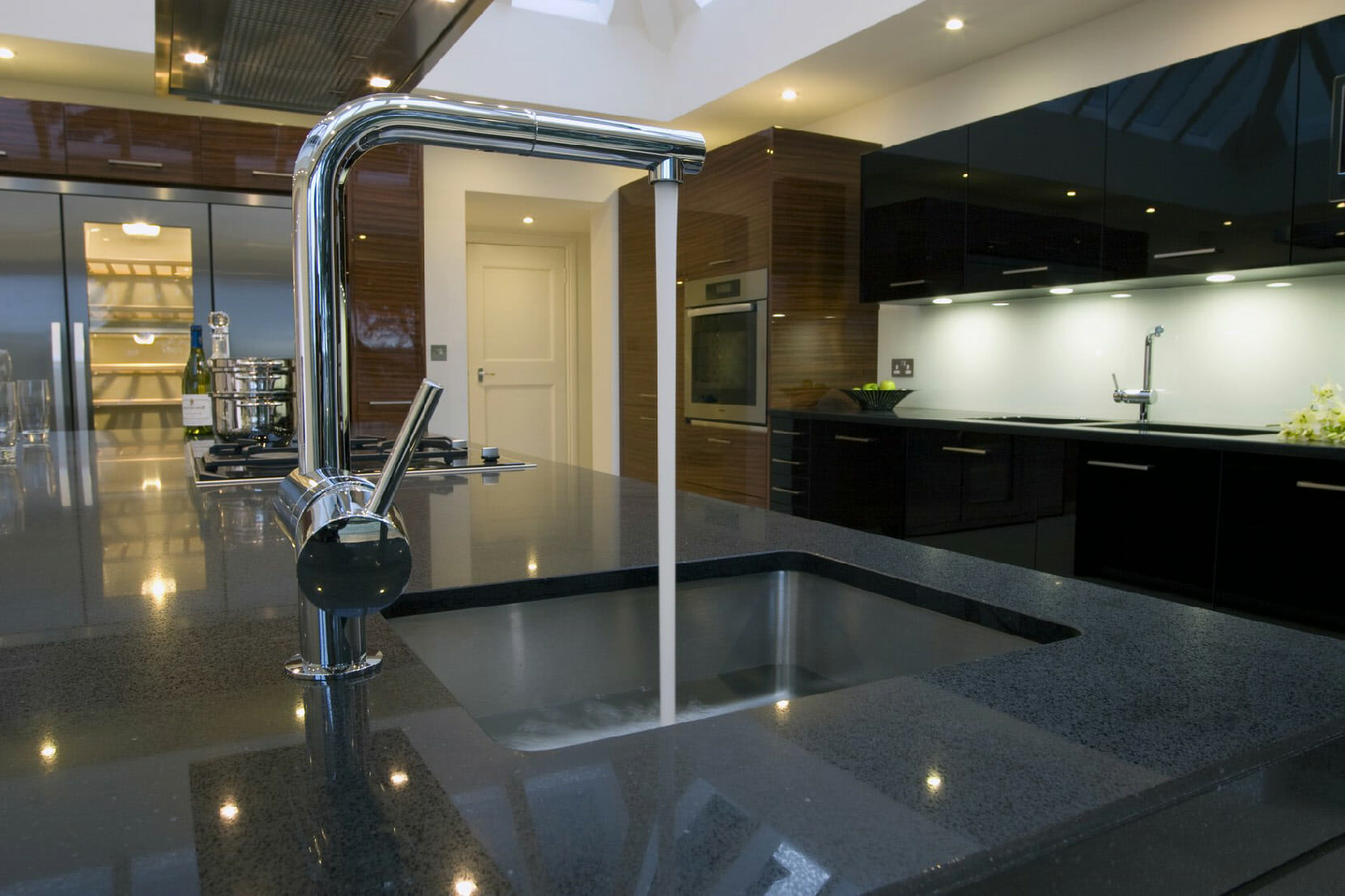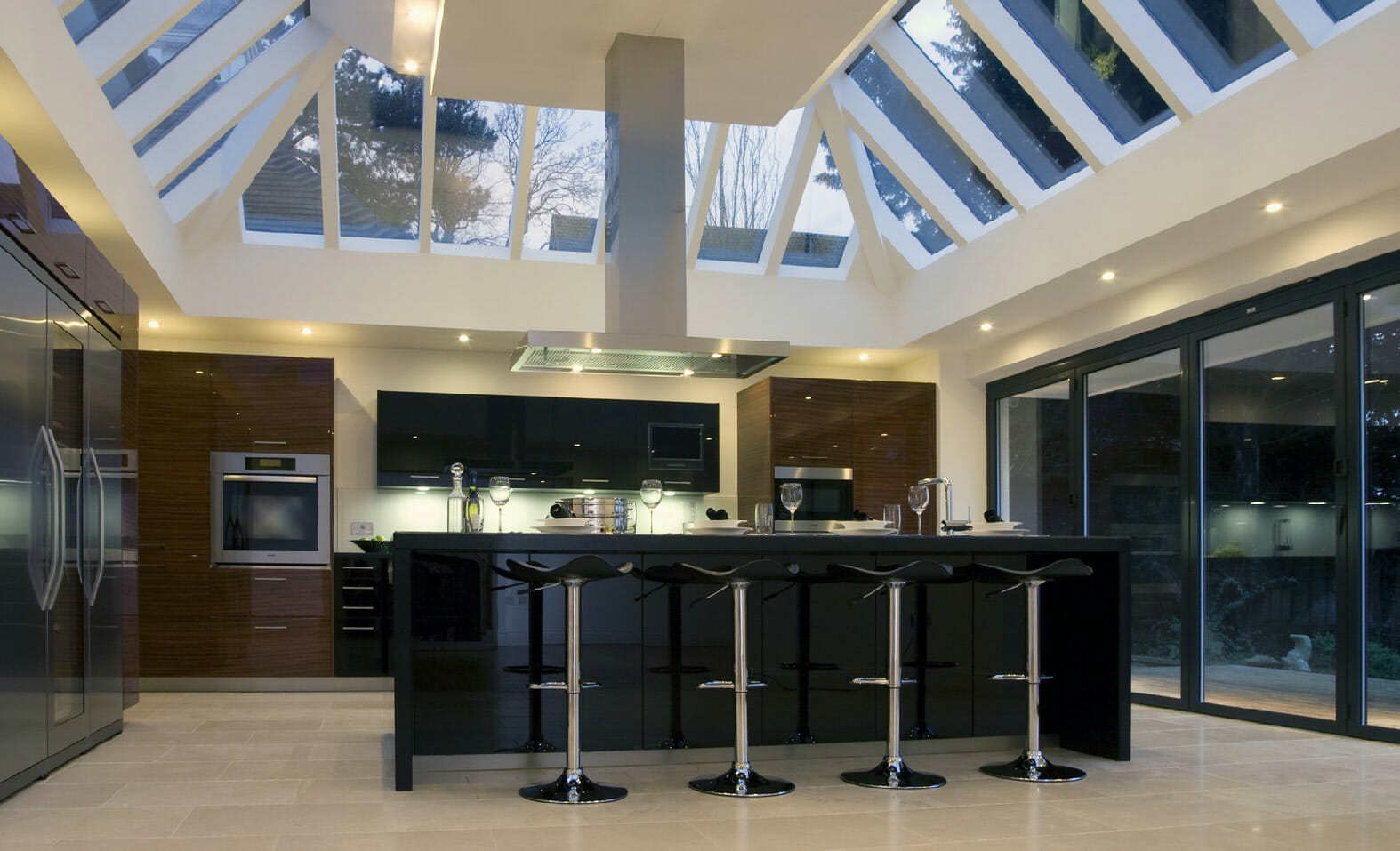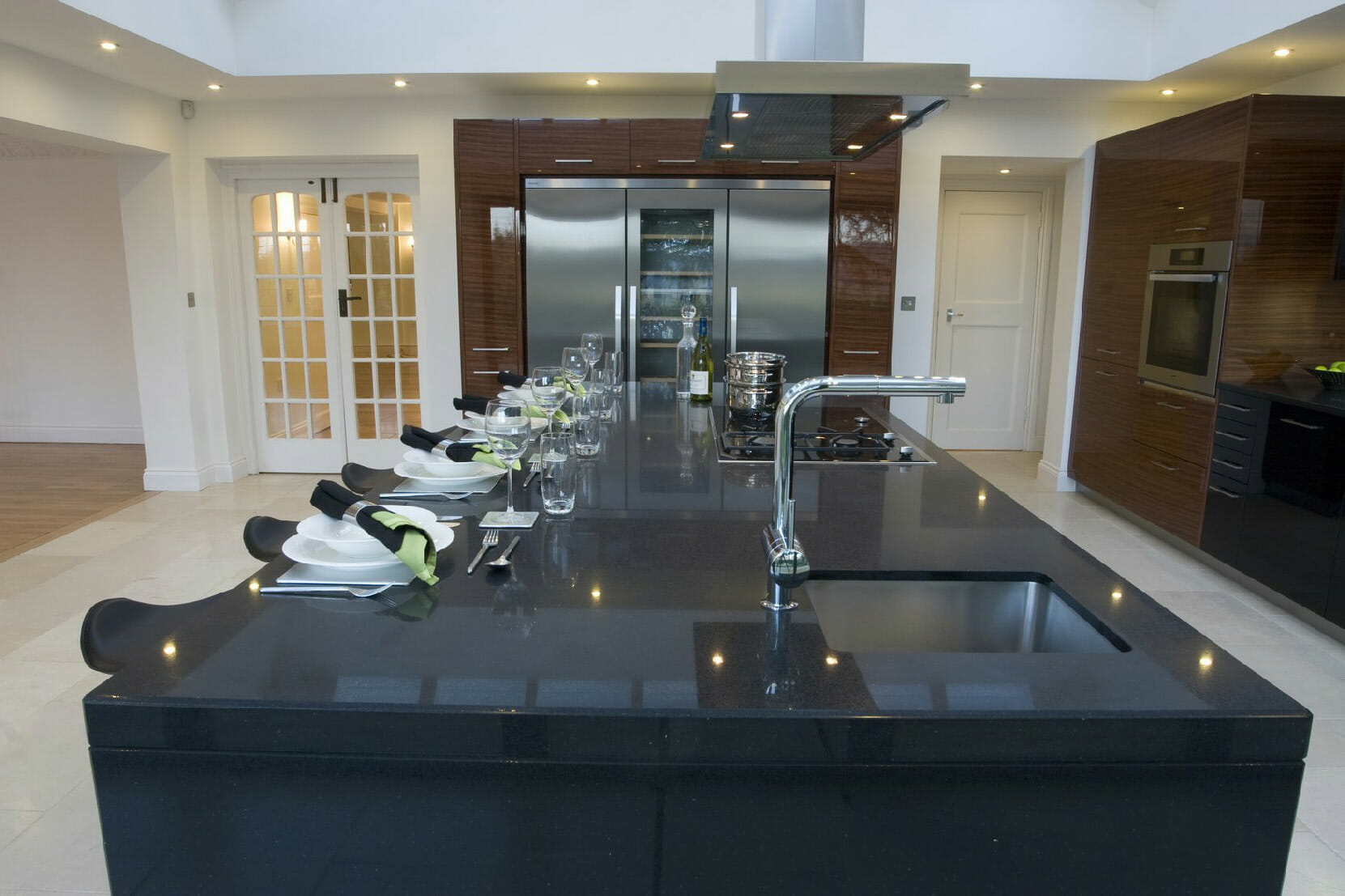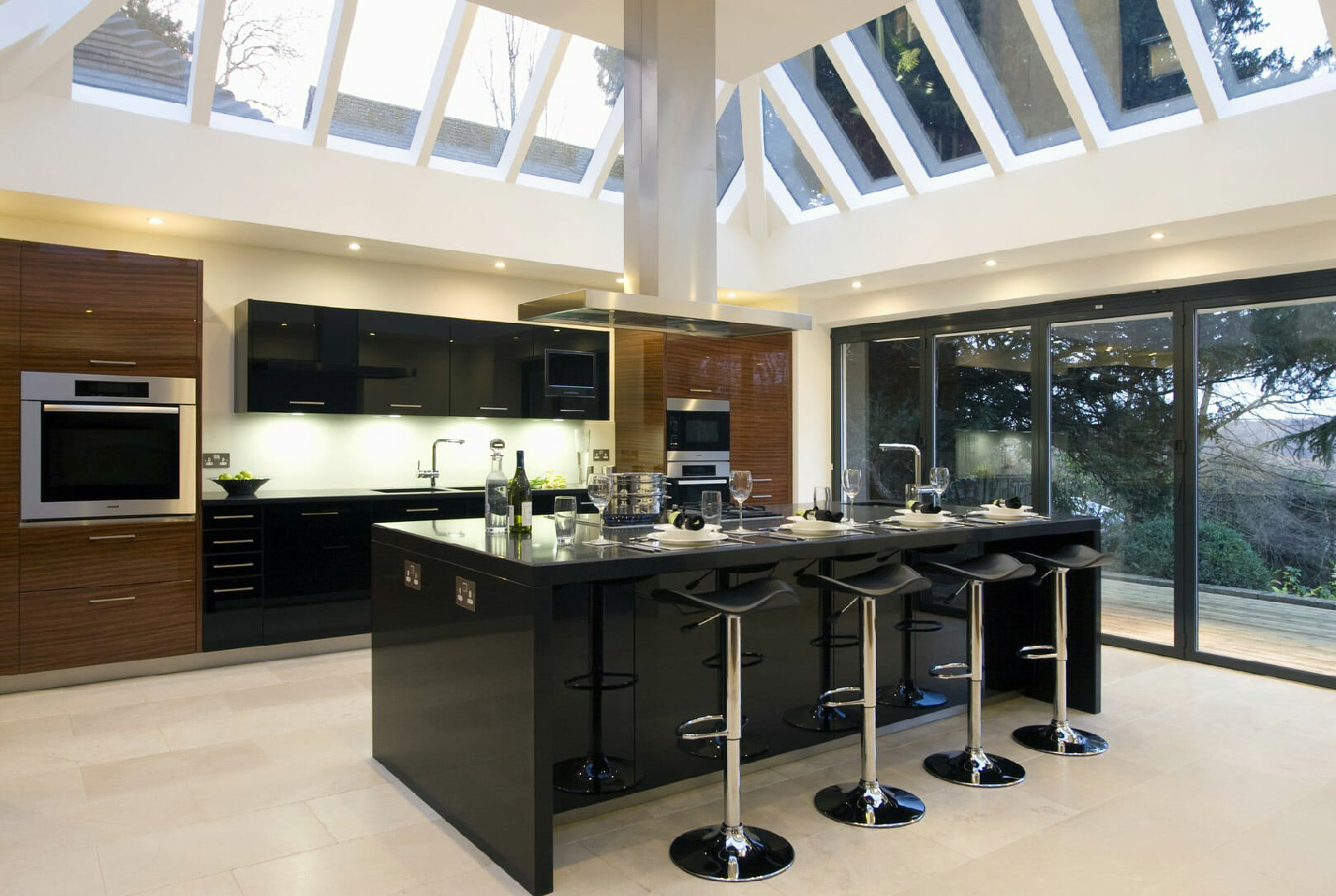 We had spent over twelve months renovating our property and the kitchen was one of the last things to complete and was to be the showpiece of our home.
We have known Mastercraft Kitchens for a number of years and have used them several times before on other property projects. We are in the property business. This was to be, as we put it, a show-stopper as this is the kitchen, for the house, in which we live.
Well, I can honestly say, again, we are not disappointed as yet another Mastercraft Kitchen has been successfully completed to a very high standard. The speed of service, the ease that everything went together and the quality of the finish is superb. Thanks again to everyone at Mastercraft, from the guys in the factory to the aftersales staff, Lee's fitting team and to Steve our long suffering kitchen designer and project manager. A great job by all, we're very, very happy with everything.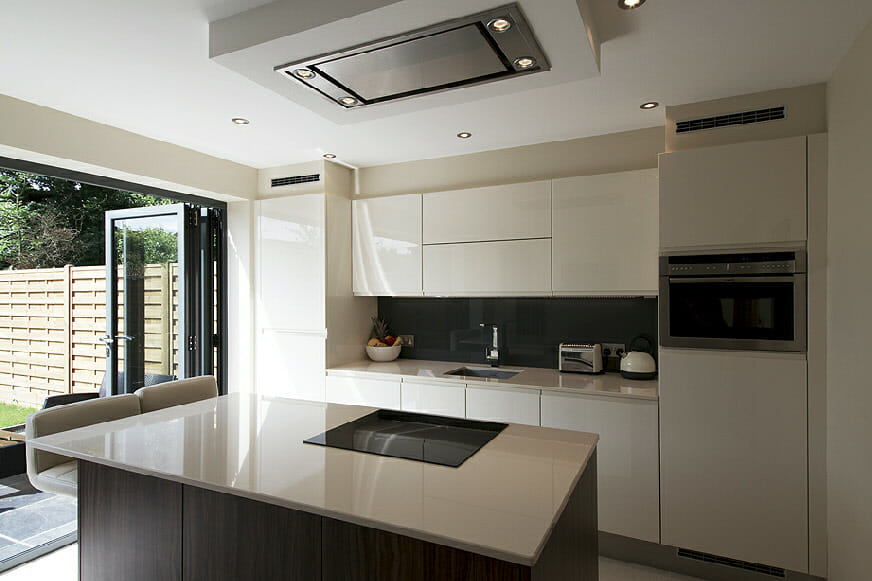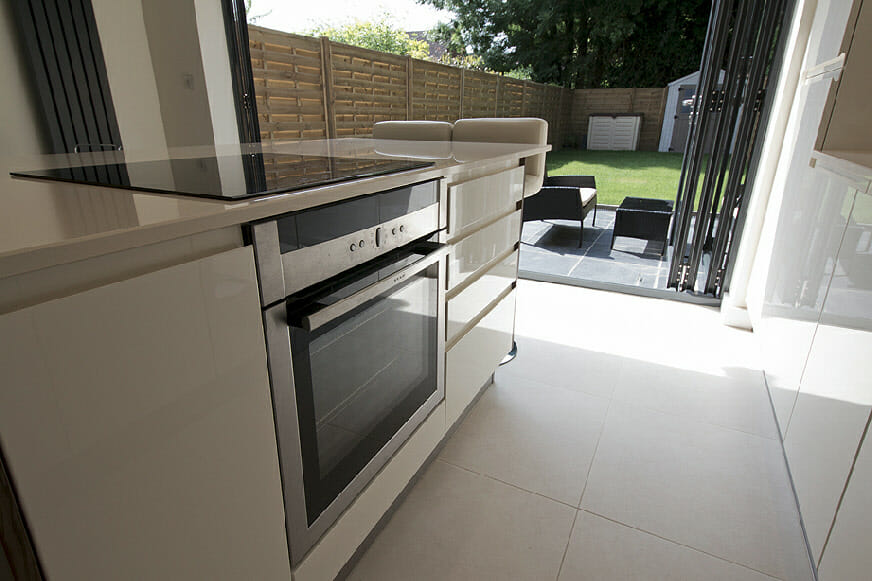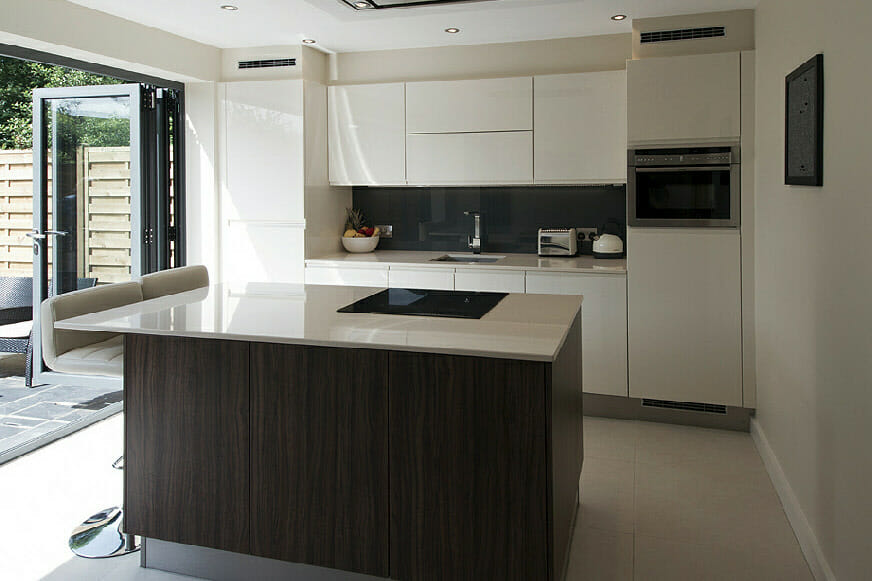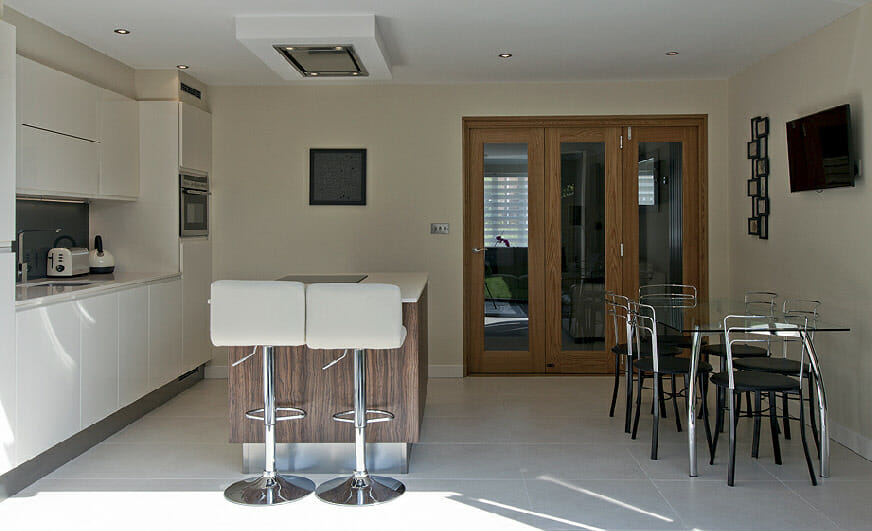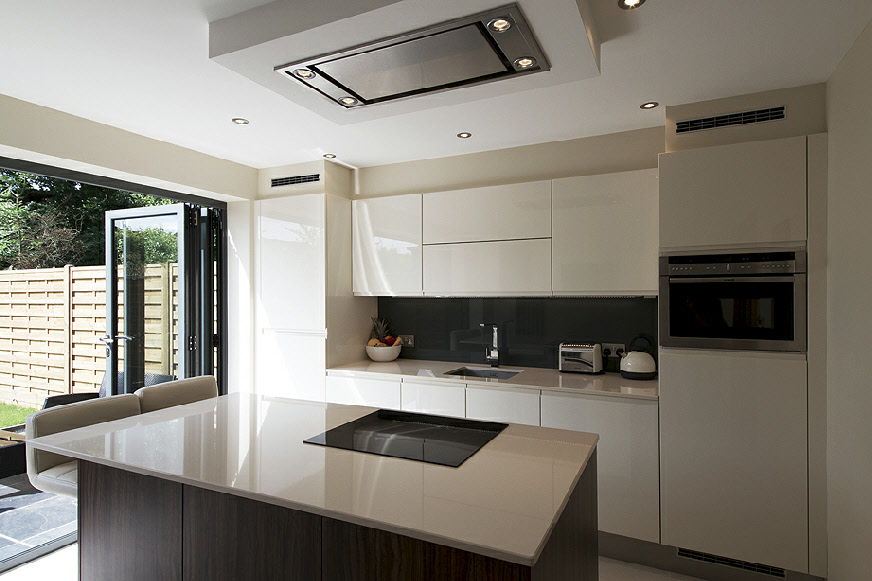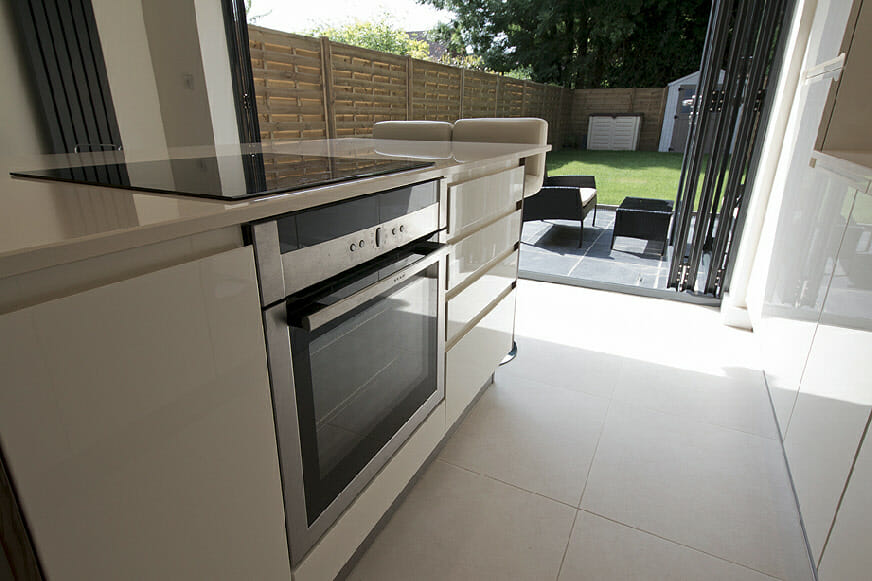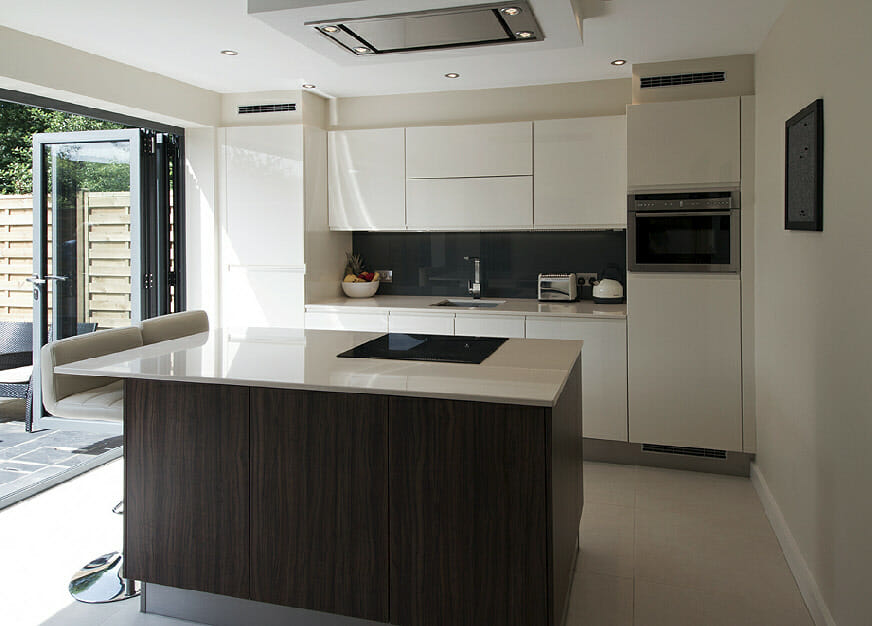 Mastercraft Kitchens have just fitted our high gloss handleless kitchen and I am very impressed with the quality, the service and value for money.
The designer was prompt, friendly and very helpful without being at all pushy. All our kitchen furniture arrived on time and everything was there with no missing items.
Lee and Lee our fit team did an excellent job fitting the kitchen. They are obviously perfectionists!  The finish on the kitchen is flawless, and they both worked long hours without hardly a break to complete the job in such a short time scale.
Everybody at Mastercraft has been very accommodating to our requests and any queries we had during the process were answered very quickly.
I would highly recommend this company without any hesitation.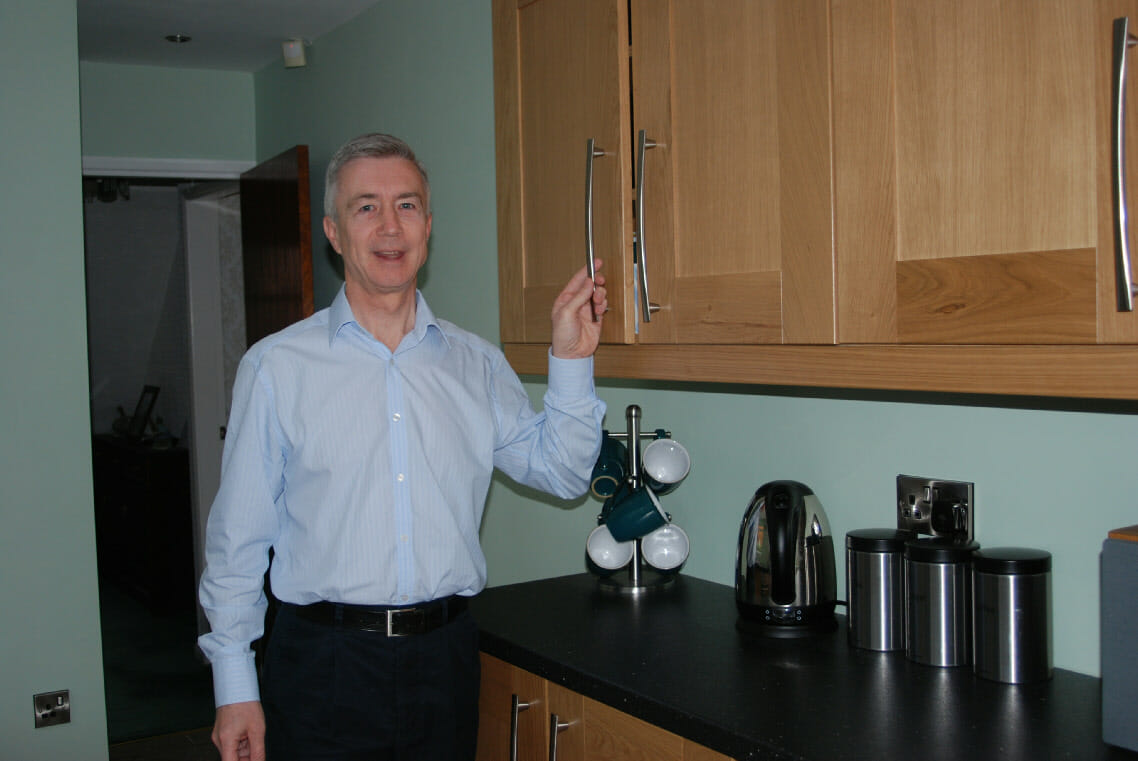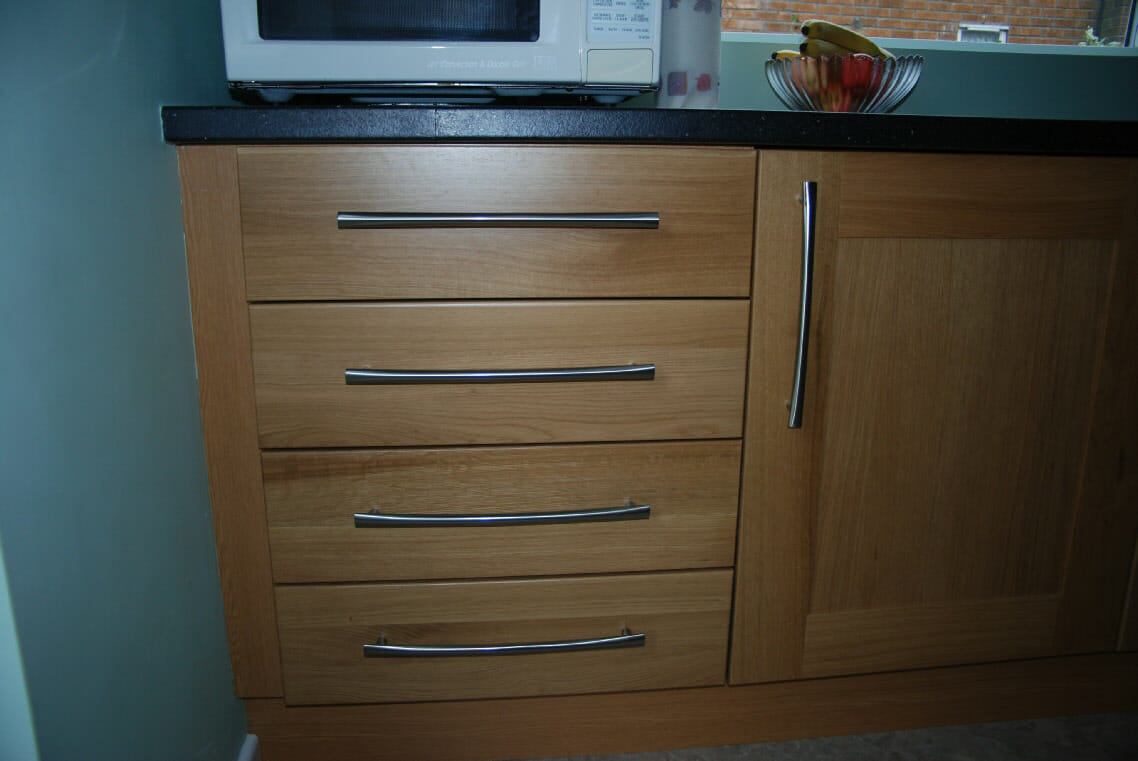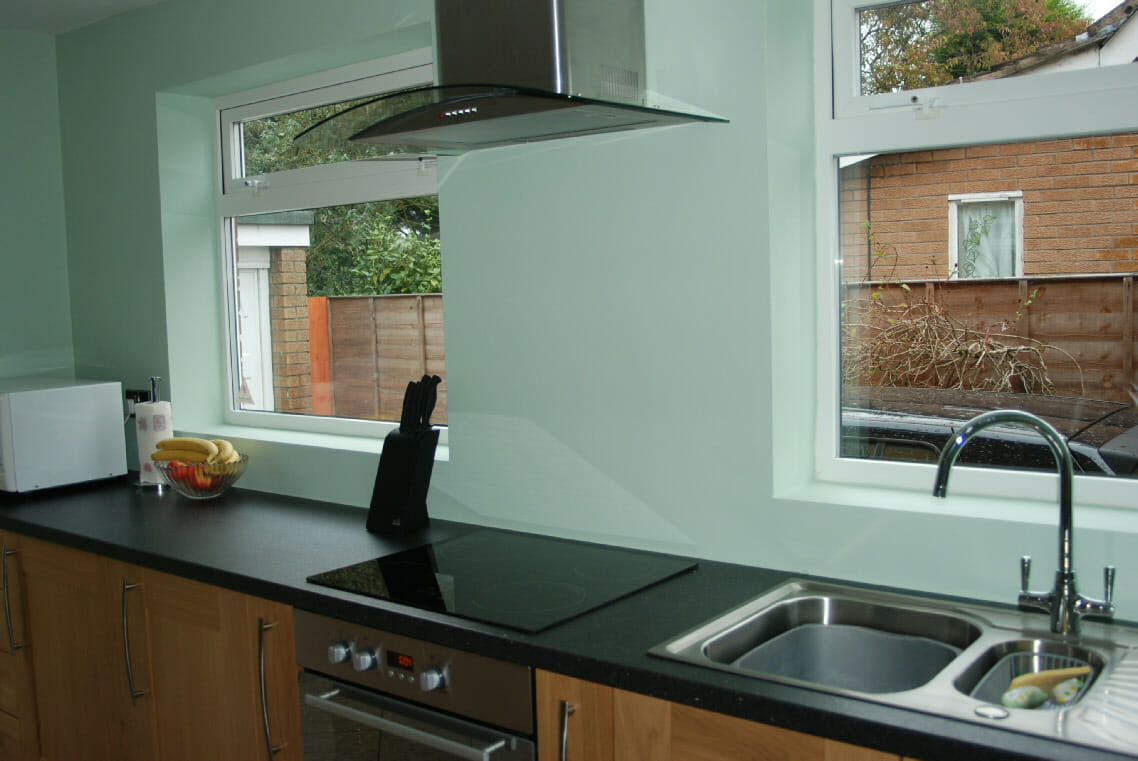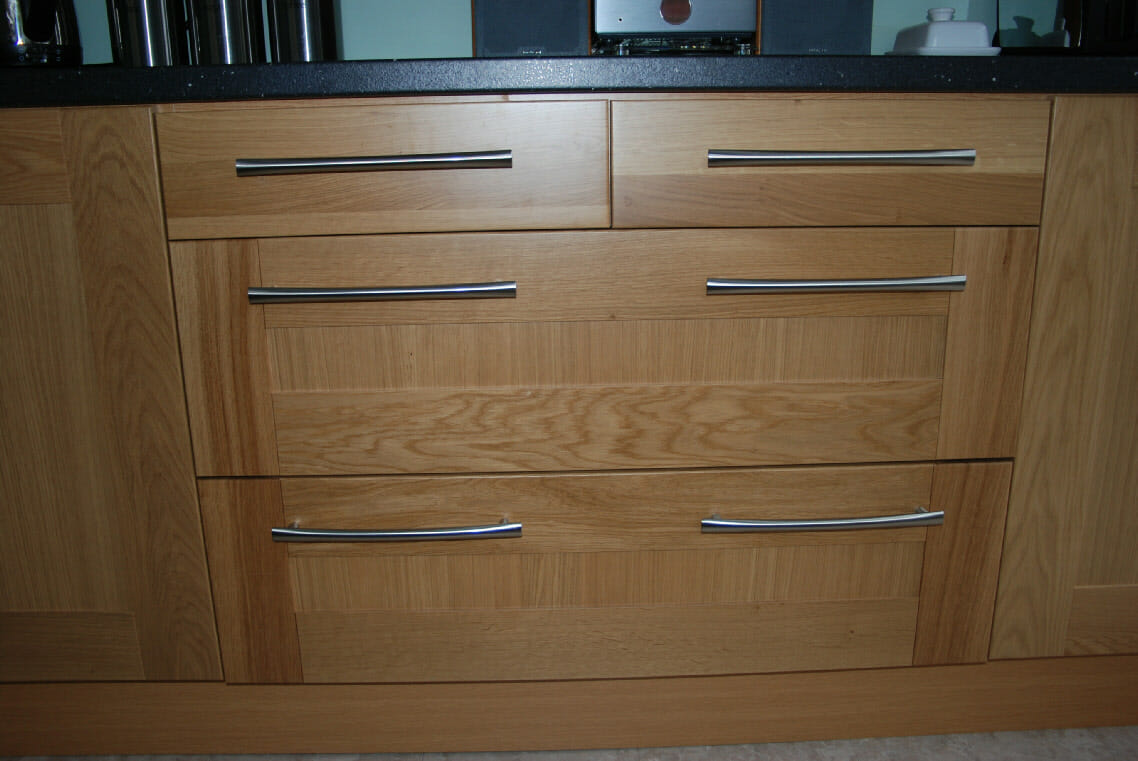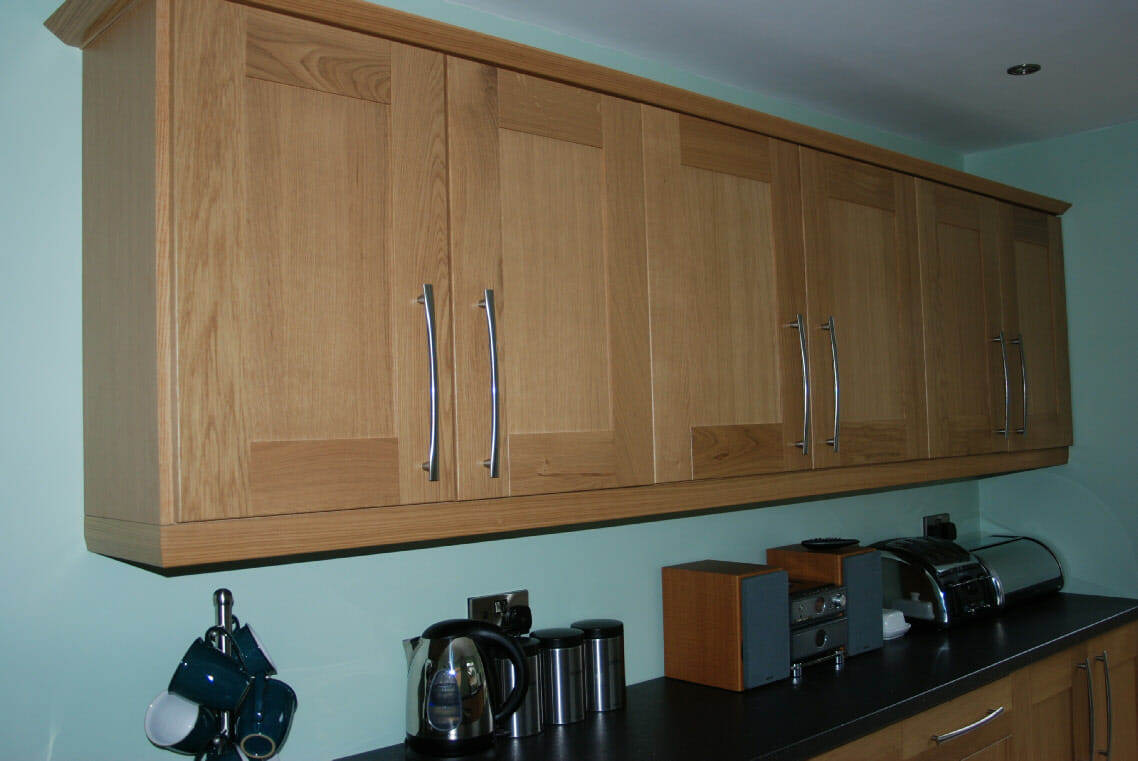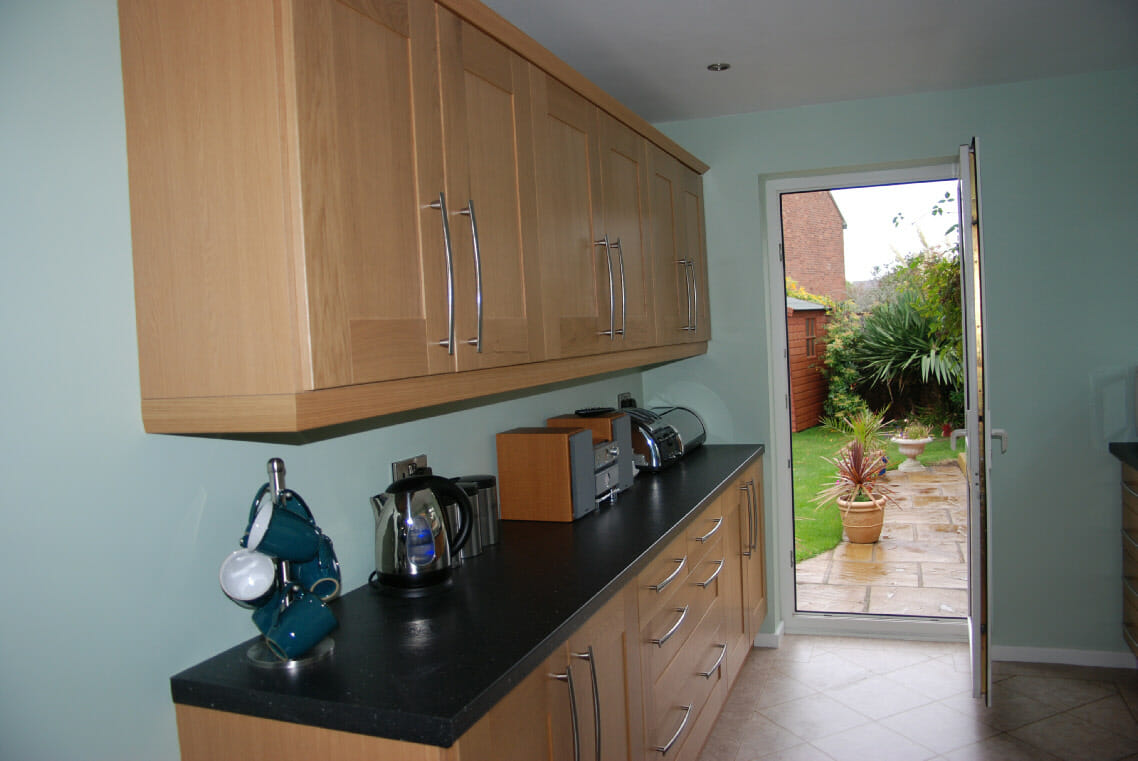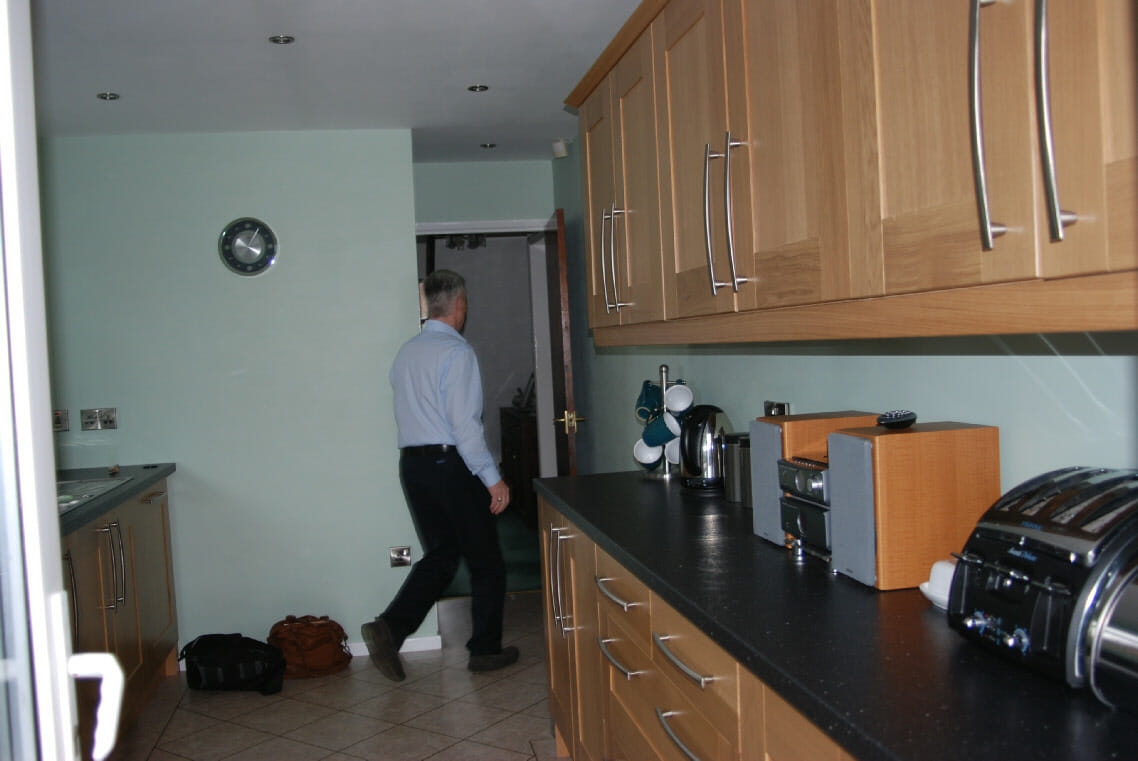 Both myself and my wife would like to tell you how pleased we are with our new kitchen.   We would like to thank you for your design and also to thank you for sending us a fantastic fitter called Mark who did a fantastic job of installing our kitchen.   We only have praise for the quality of the units and appliances and how well it was all assembled   We recommend Mastercraft Kitchens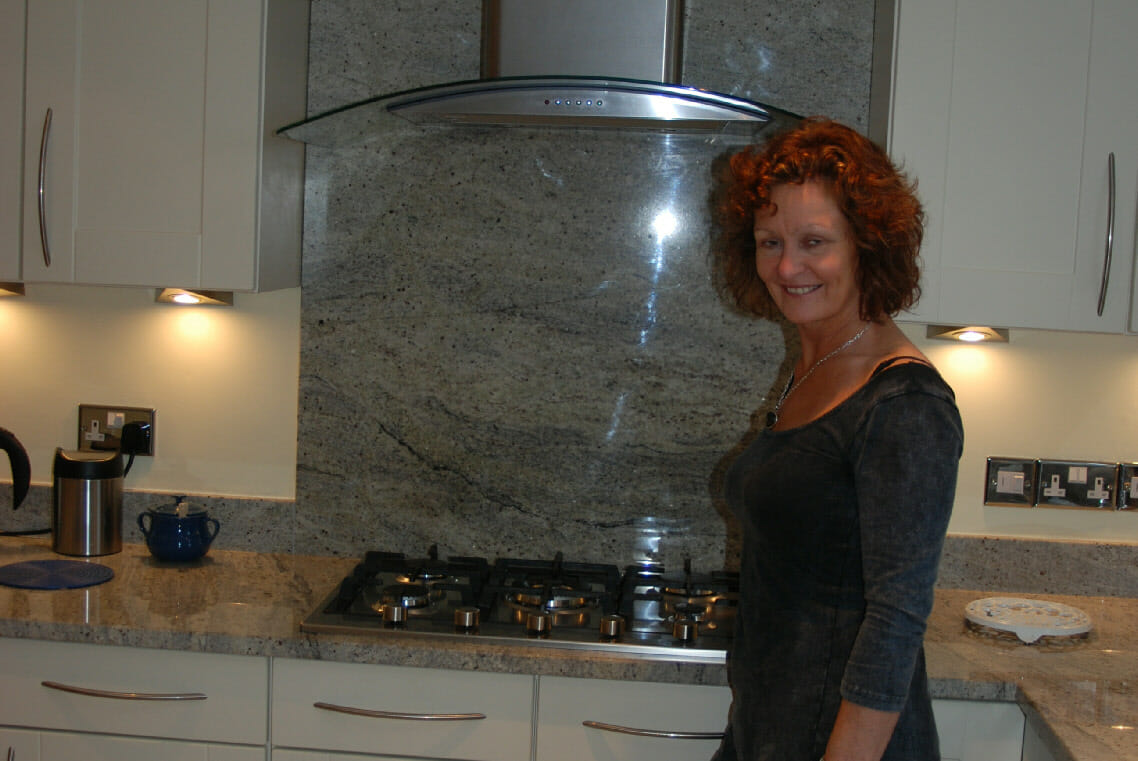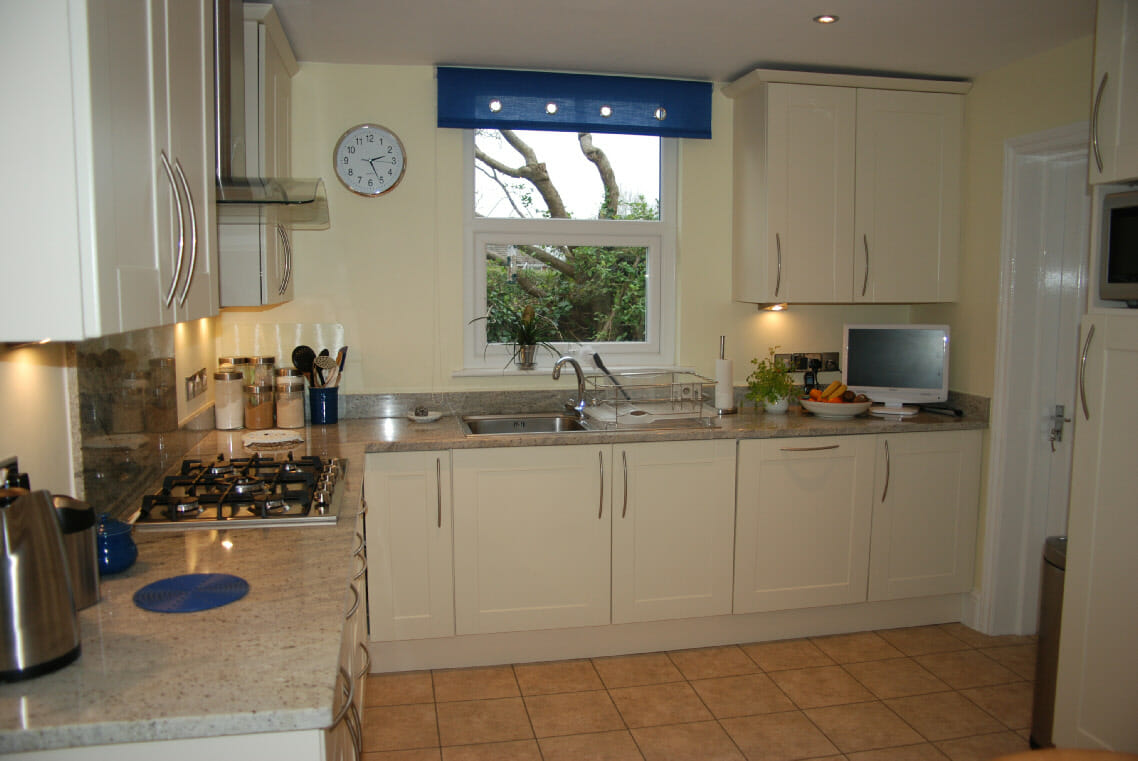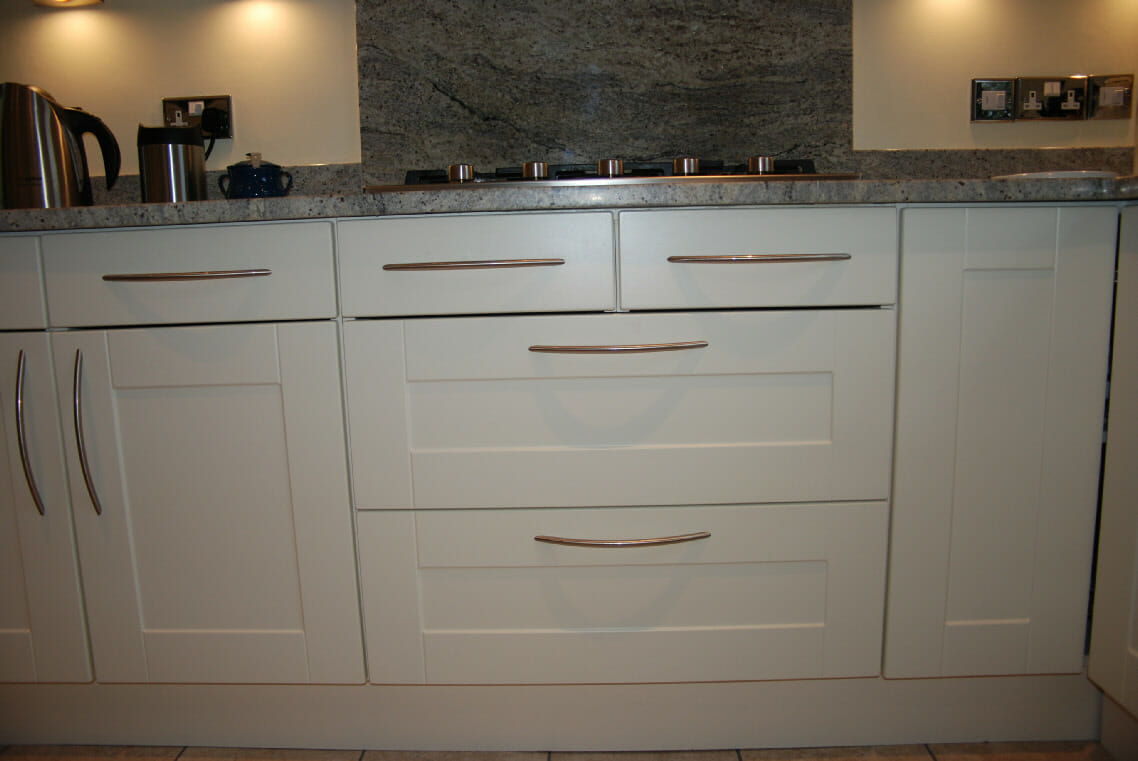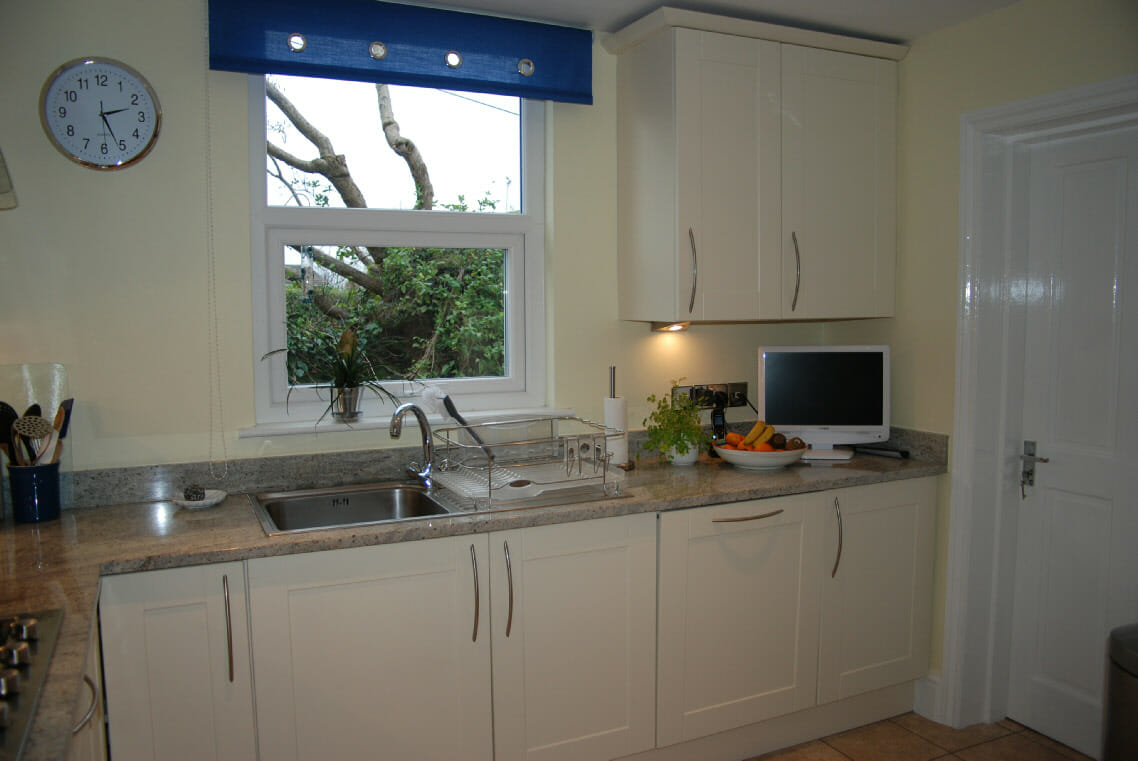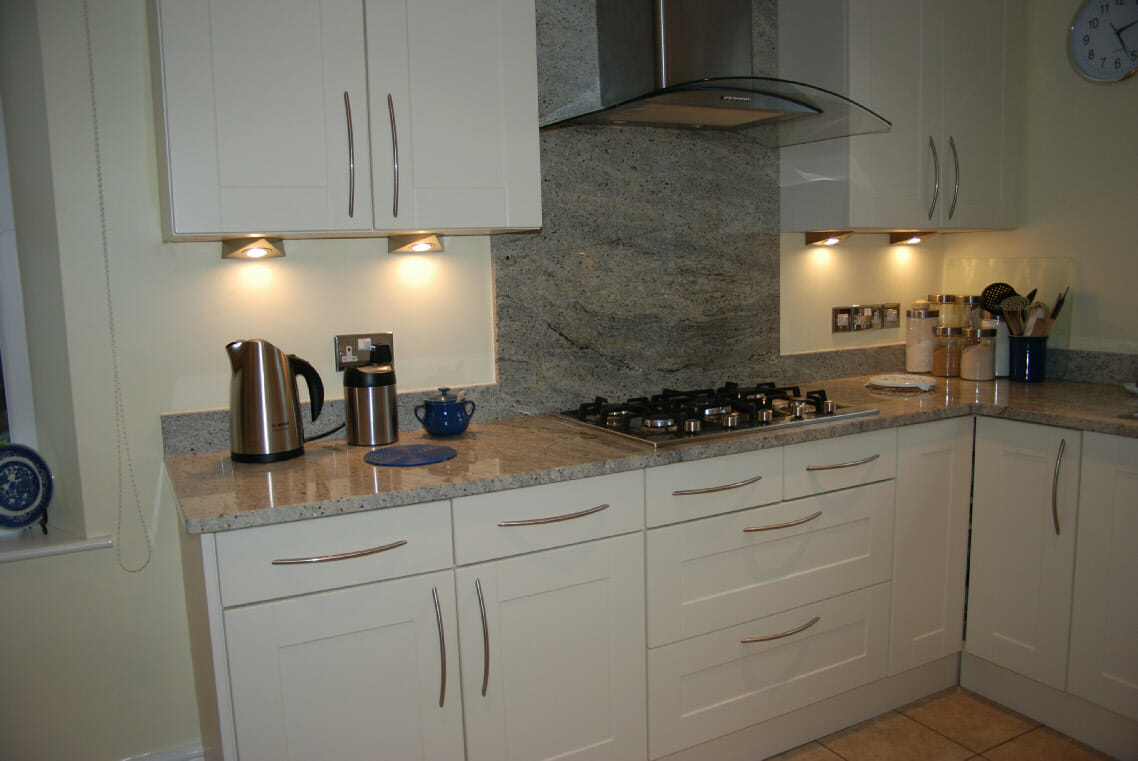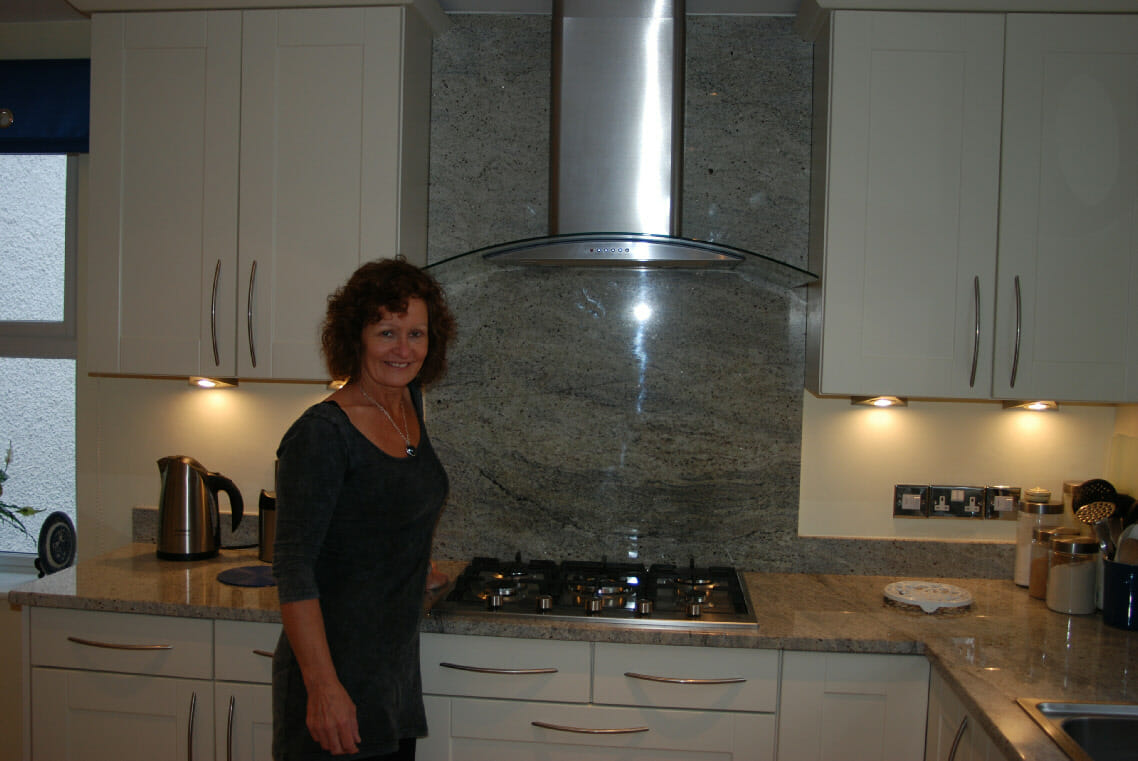 We are totally delighted with our new kitchen.  Right from the start, Mastercraft has been brilliant and so professional.
We had several quotes and although Mastercraft Kitchen was not the cheapest, they were definitely the best value including lots of "extras" such as replacing all the socket fronts and including pull out accessories inside some of the cupboards.
Plus I really like the fact that the units are made-to-measure so that the boiler which is next to the window is completely hidden from view, you'd never know it was there.
All in all a great service, great price and brilliant quality.  You only do a quality kitchen once every blue moon so I would seriously recommend you go with Mastercraft Kitchens if you are about to make that all important decision.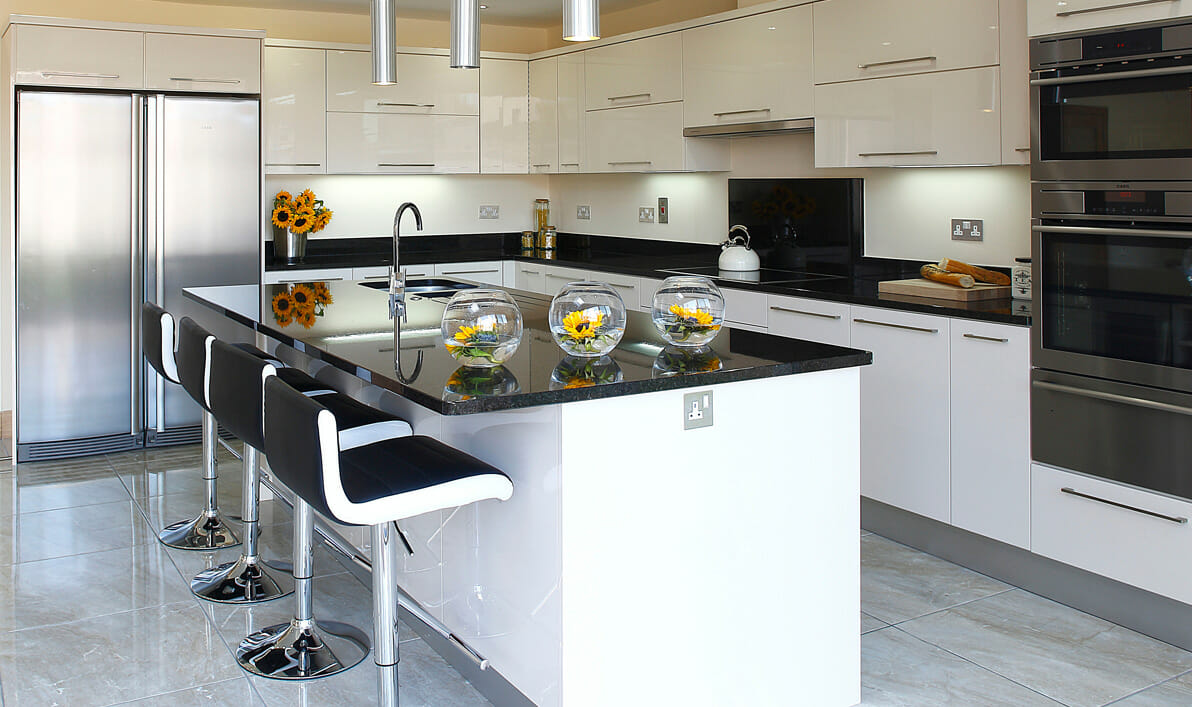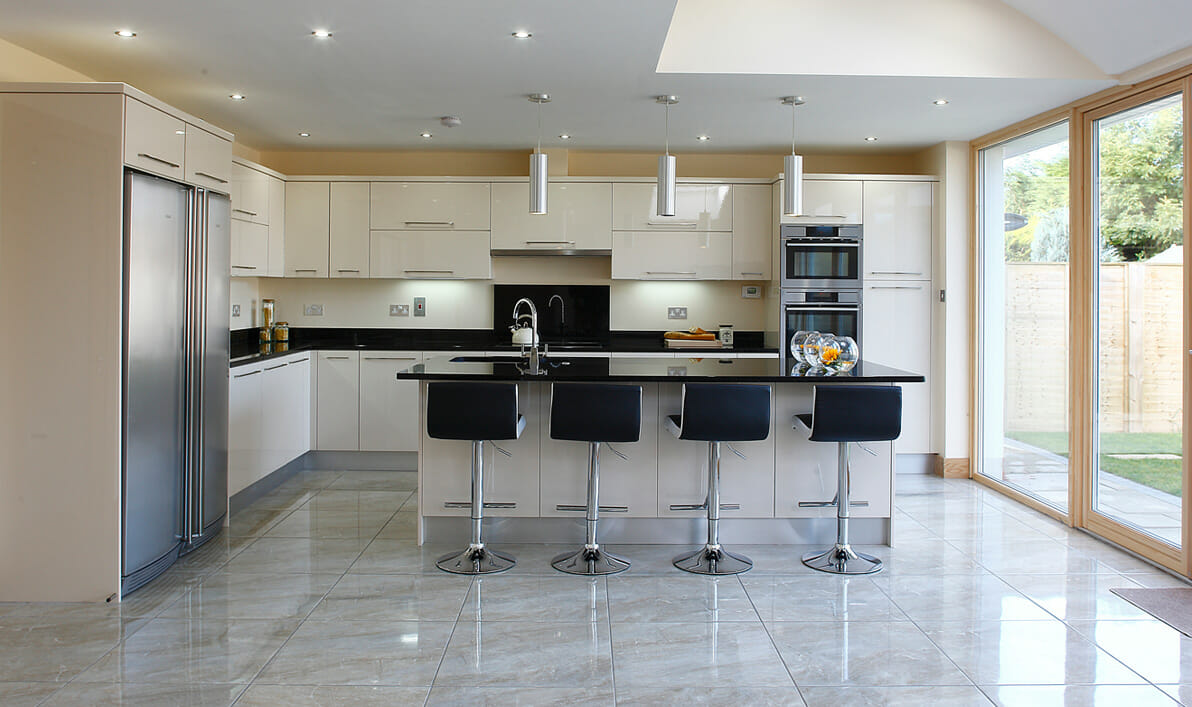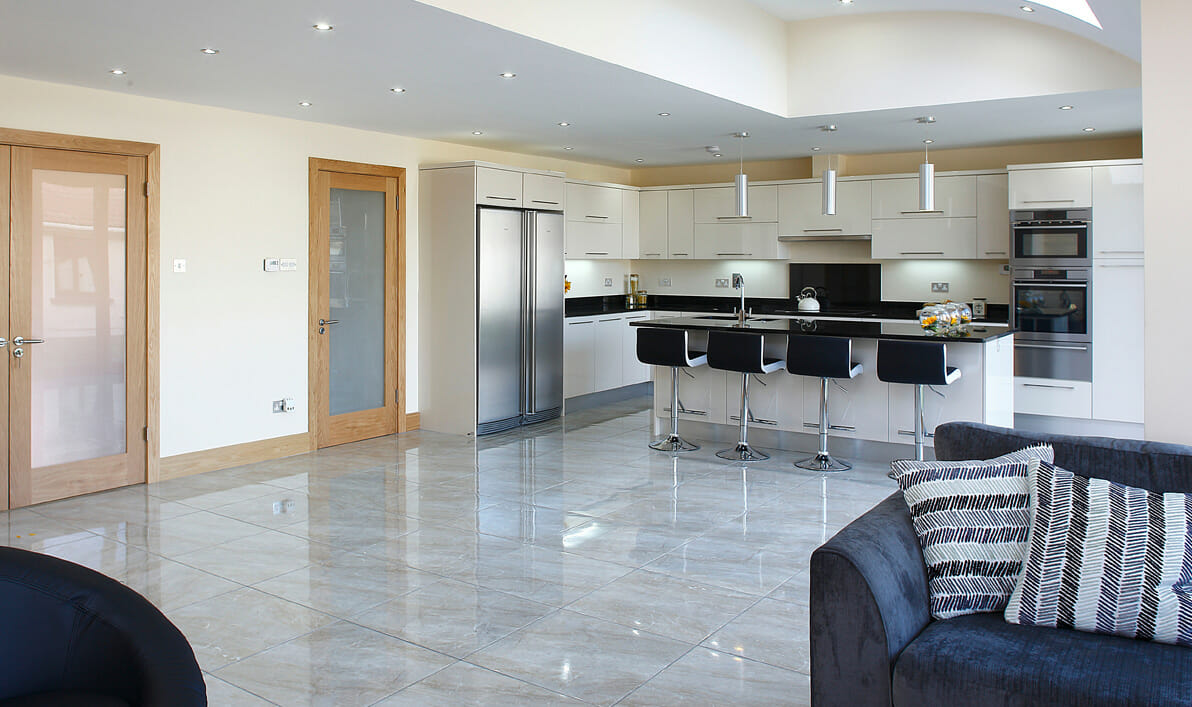 Full marks to Mastercraft Kitchens for all their help in our recent project.  Our only regret was not calling them in earlier. I would fully recommend requesting a design visit from Steve when you're at the design stage, he has great planning vision mixed with an honest experienced opinion of what works and what doesn't.  The out of business hours support and quick replies when we had any questions was very reassuring.
The kitchen is now the best room in our house and all our friends and family love it.  We would highly recommend anyone thinking of getting a new kitchen to get a quote from Mastercraft Kitchens.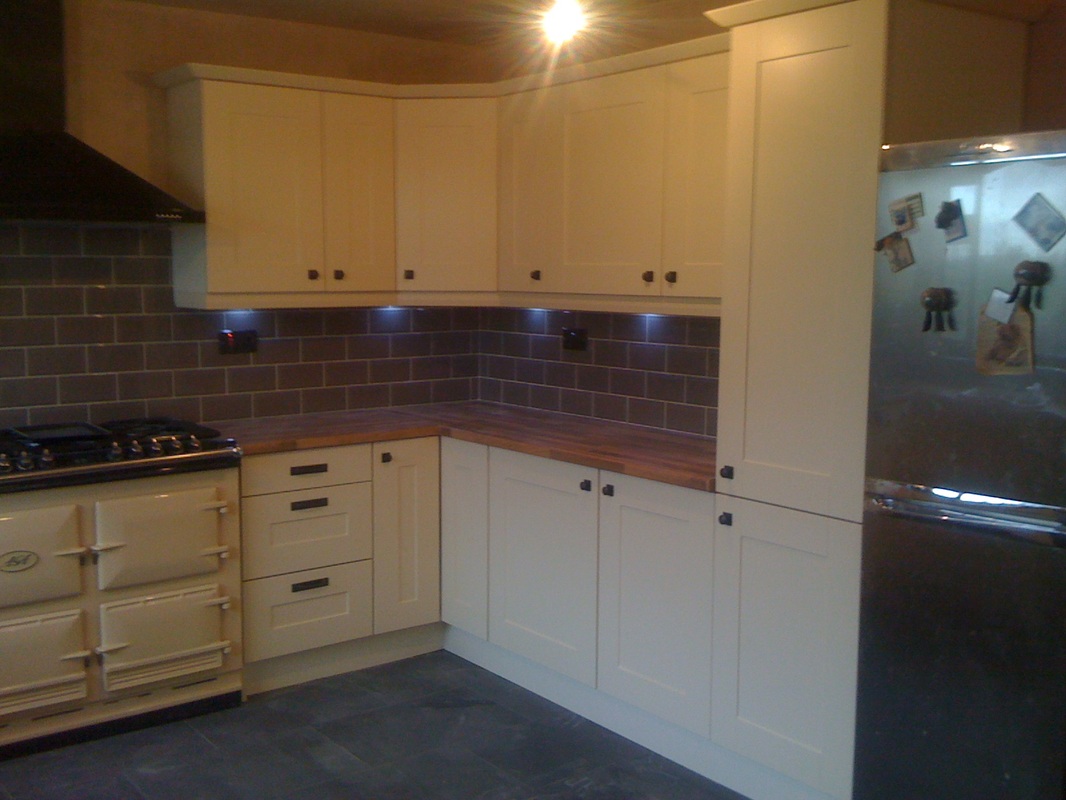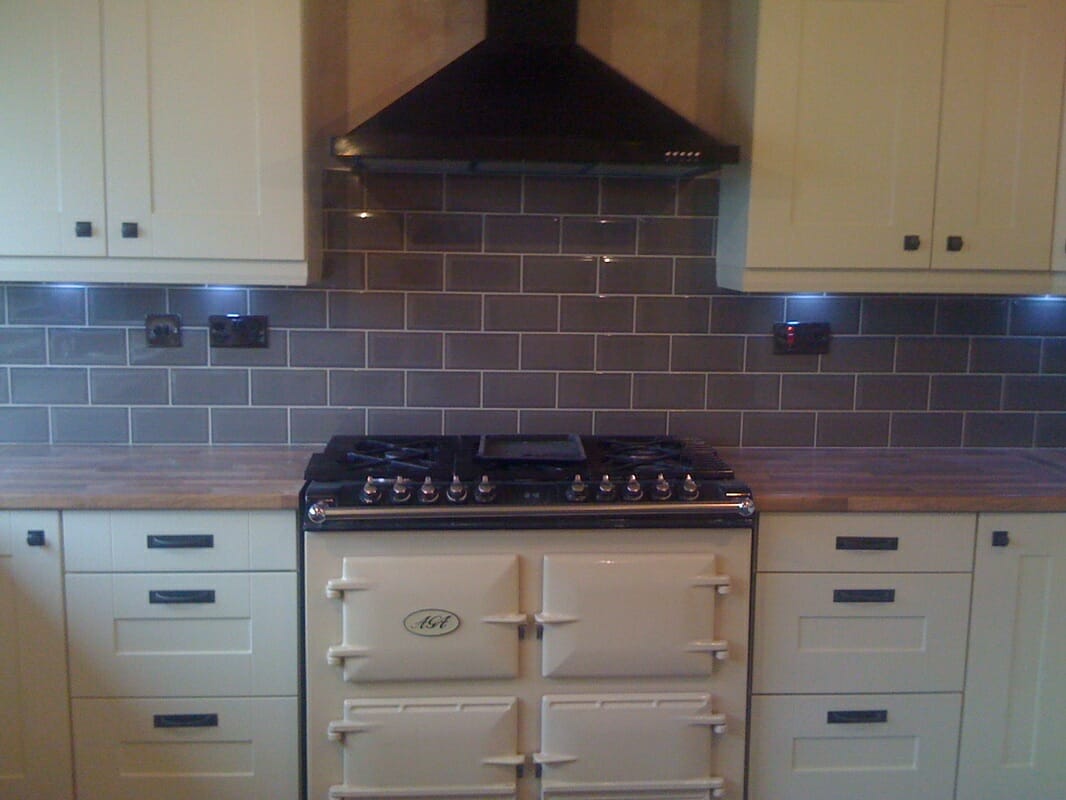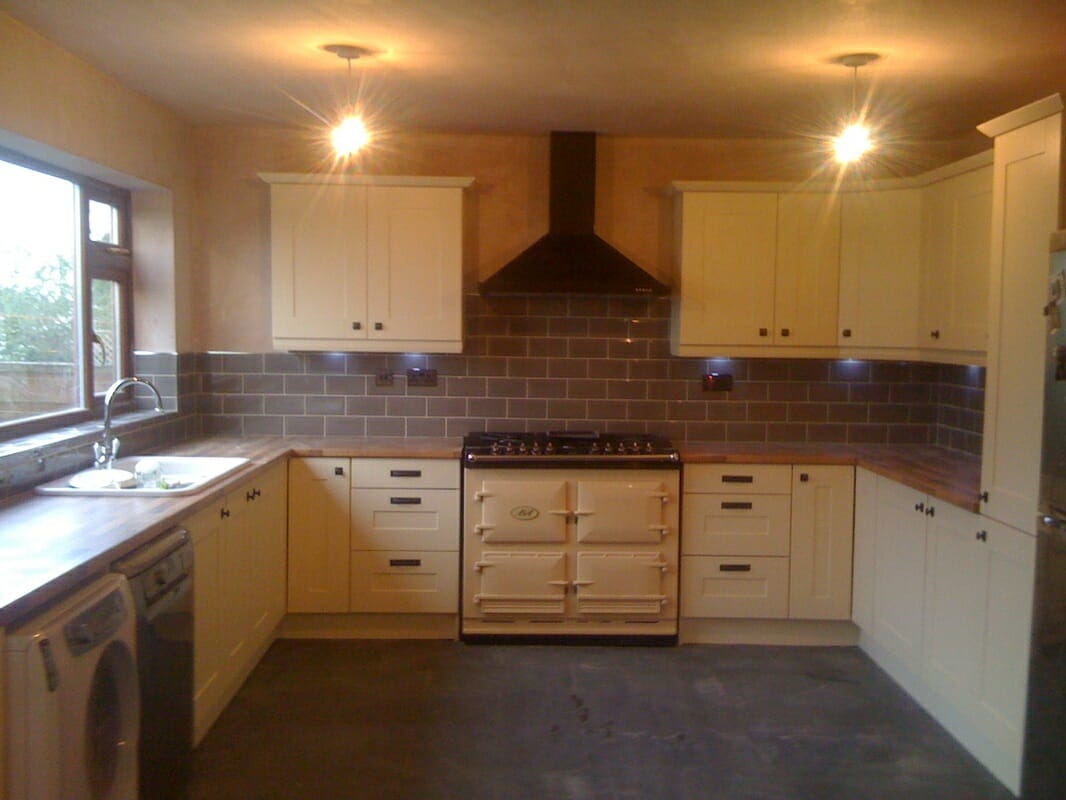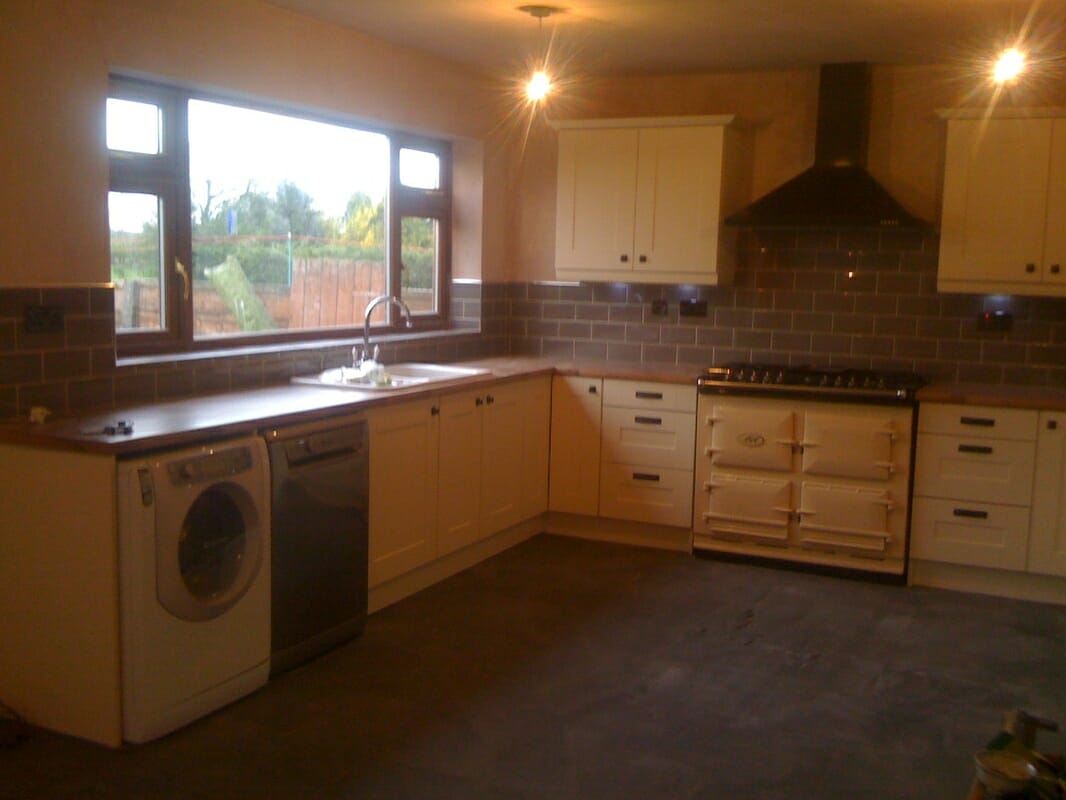 We were recommended to Mastercraft by a family member.  We had a really old kitchen that needed updating and a wall that we wanted to knock down to make the kitchen bigger and more open plan.
We were working to a tight budget and we were impressed by the all-inclusive price quoted which was a lot cheaper than other quotes we were given.
Everything was carried out in good time and we were very impressed with the designer's patience as we swapped and changed our minds a few times on worktop colours and doors etc. But nothing was too much trouble and he visited us several times at the design stage.
The result and quality of the work are far better than I had imaged and I would say to anyone considering a new kitchen that Mastercraft is fantastic value for money and a great choice.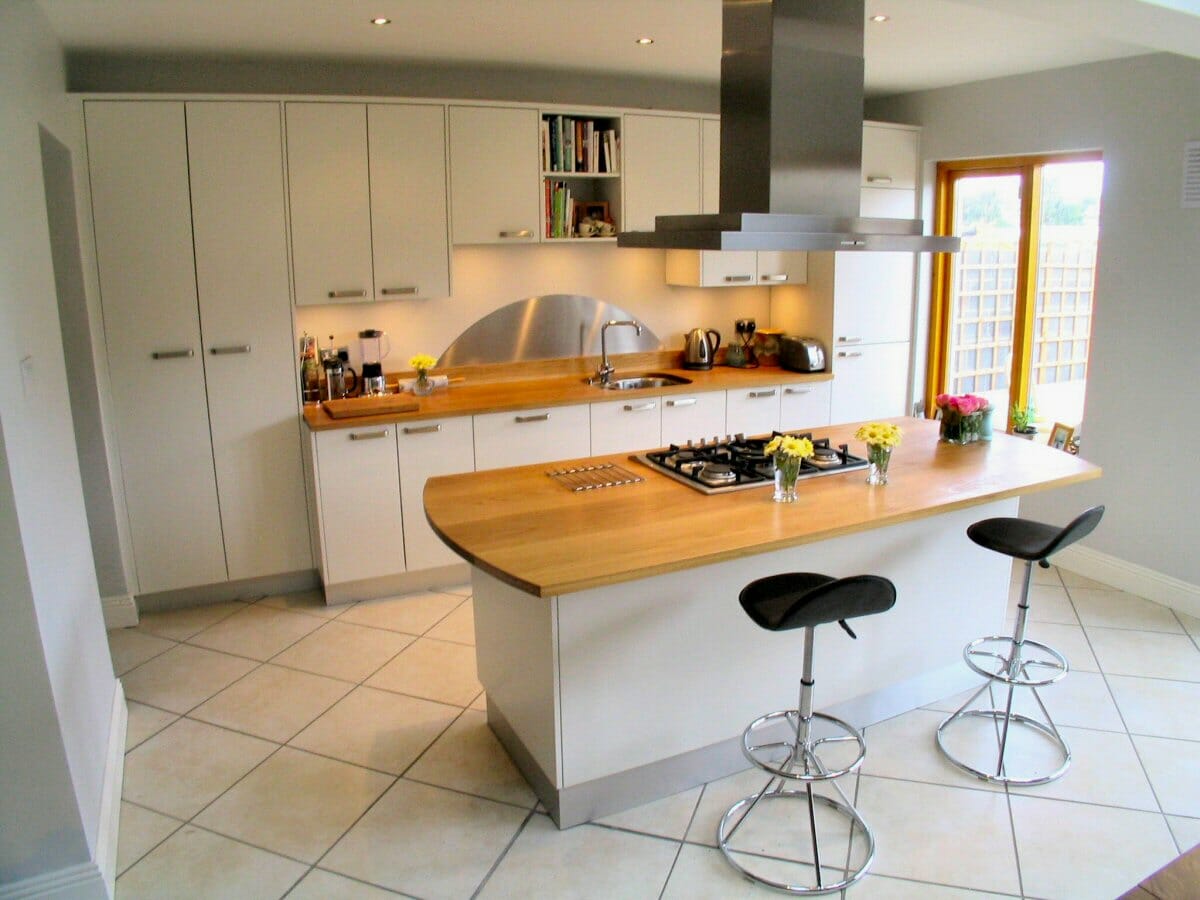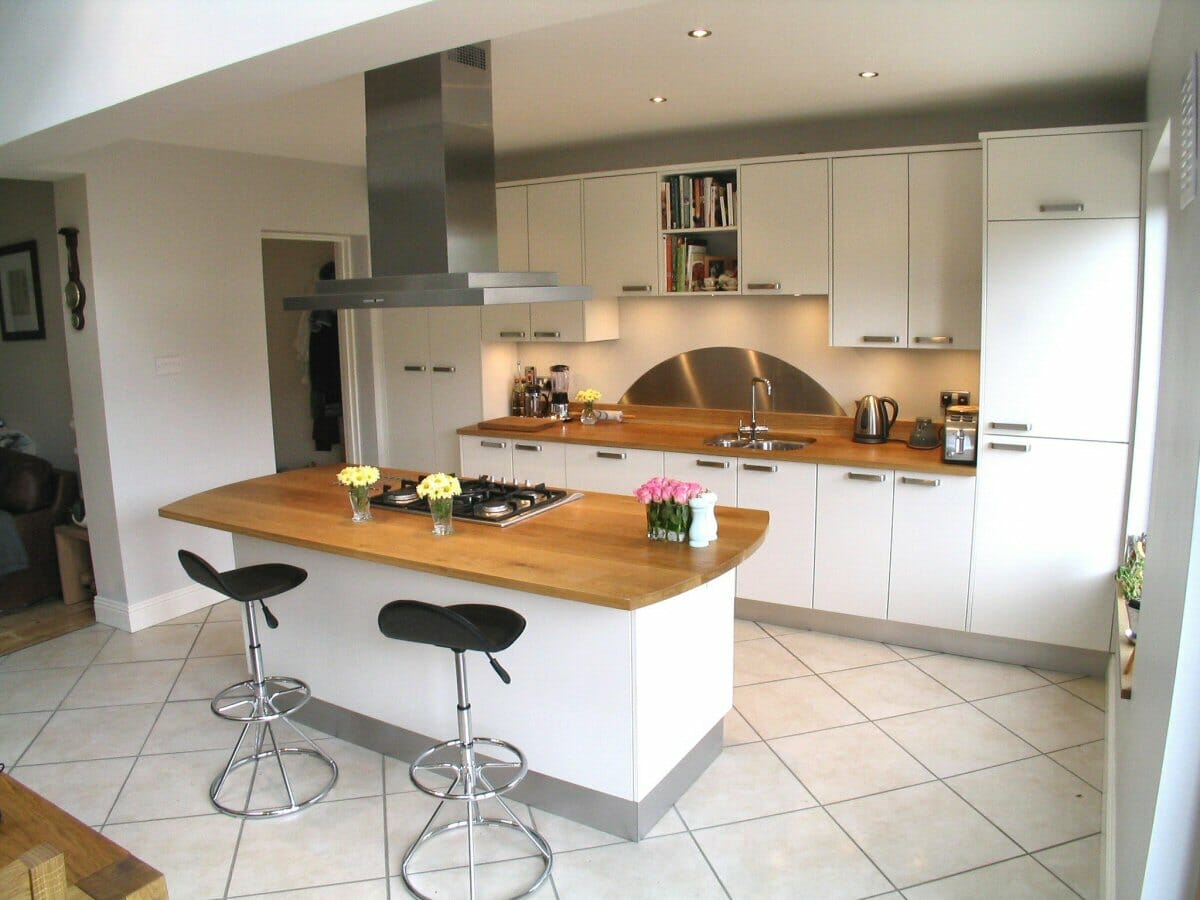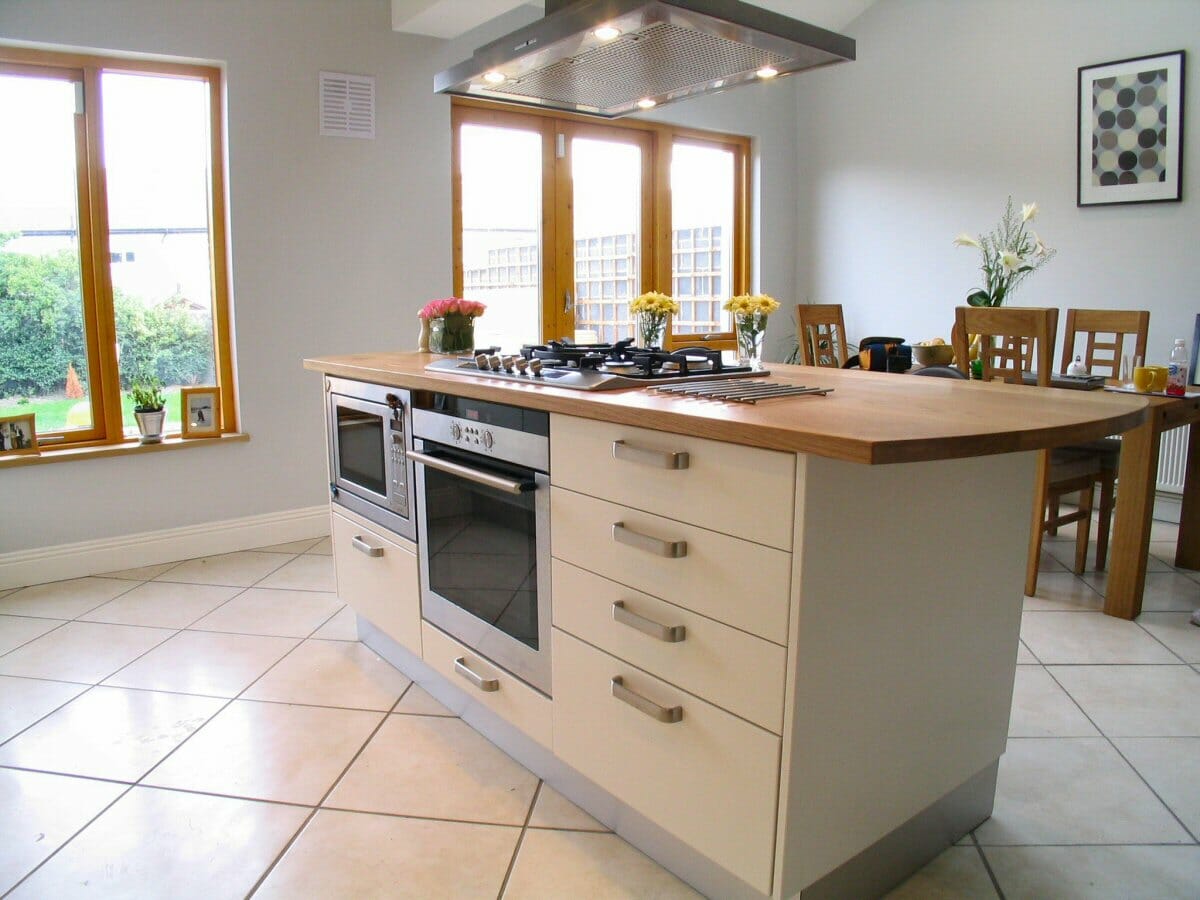 Having traipsed around expensive kitchen showrooms as well as the usual B&Q and Wickes, and being disappointed at the prices being quoted we decided we would try something a little more up to date and used the internet to shop around for our new kitchen. We are so glad we did.
We liked the look of the Mastercraft factory set up and the fact that they manufacture and fit everything themselves.  At the start of the process, the designer, Steve, made us promises about the quality of the units and about his close management of the entire project and I must say, he was good to his word.
Having decided upon a design, we worked together on the pricing and I do believe that Steve does really try to make things as easy and as affordable as possible for the customer.
He estimated that it would take Tony and his building team 9 days to complete the work and that included knocking a wall down, plastering and new ceiling lights.
All in all, it took only 7 days. They both arrived at 8 am on the first day and Tony was still there at 8 pm on the fifth day, cleaning up.  Steve came back the next day just to check that we were happy with everything.
In conclusion, we have a lovely new kitchen for a very reasonable price. However, the level of service that we received was far above and beyond what we expected to get for the price.
Perhaps most importantly, Steve is someone that you can trust to make sure you get a brilliant job.
If you go with Mastercraft, I know that you won't be disappointed.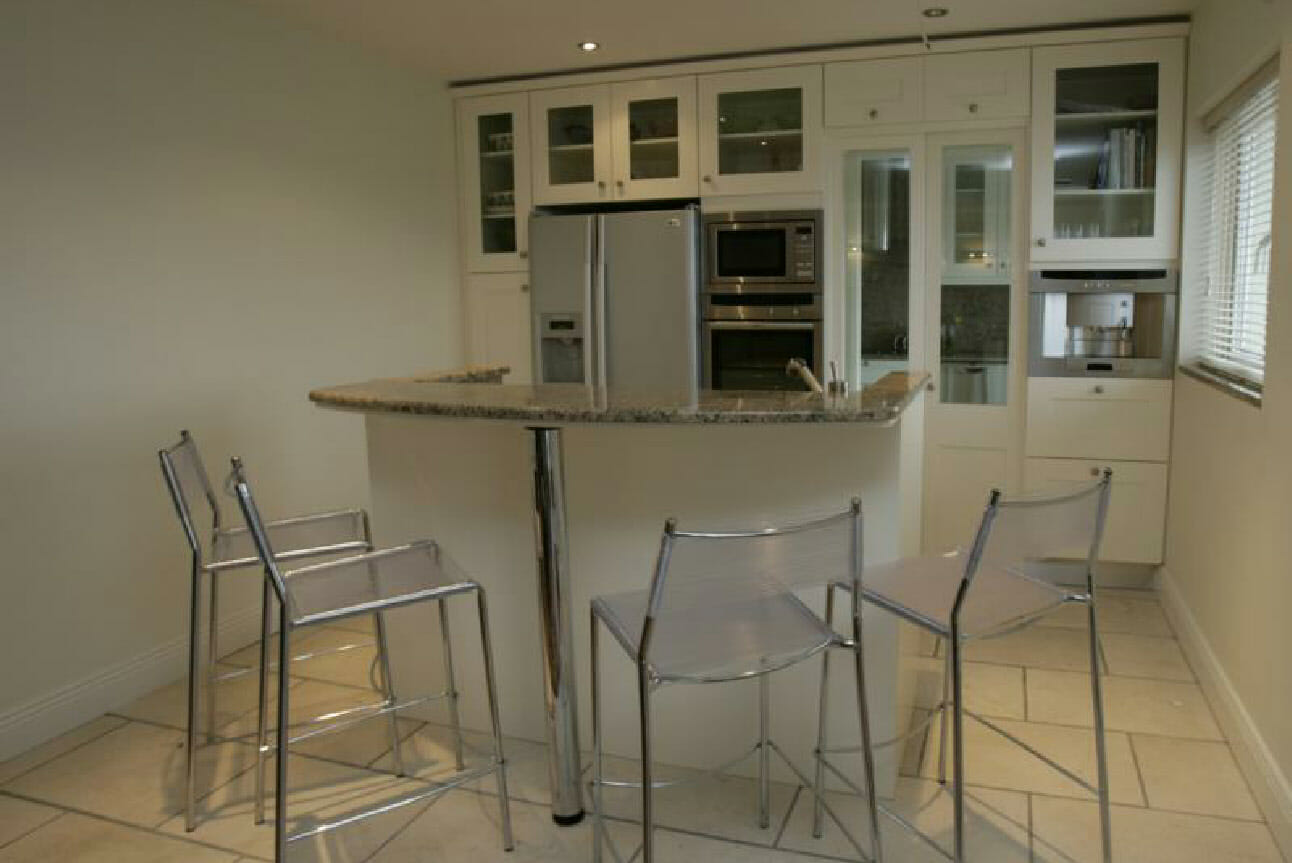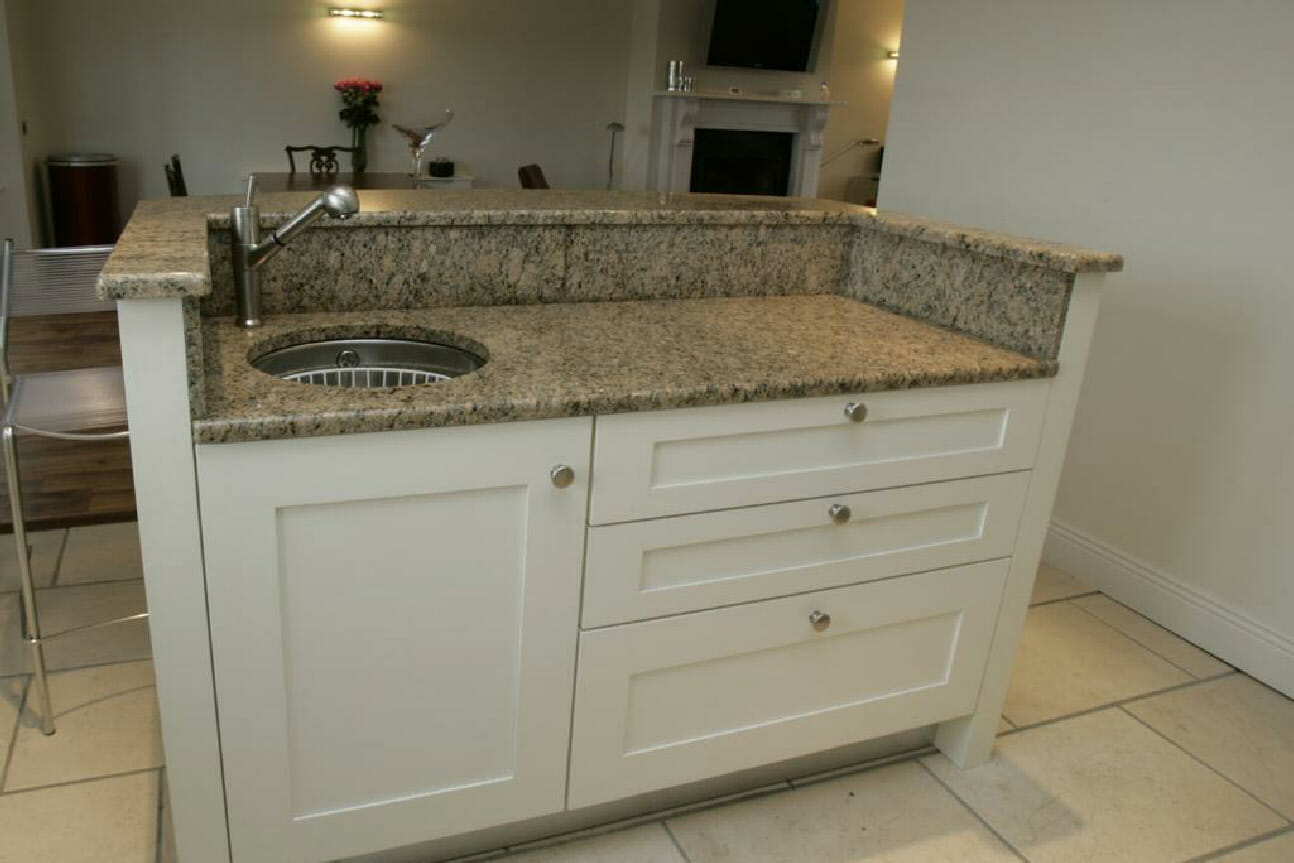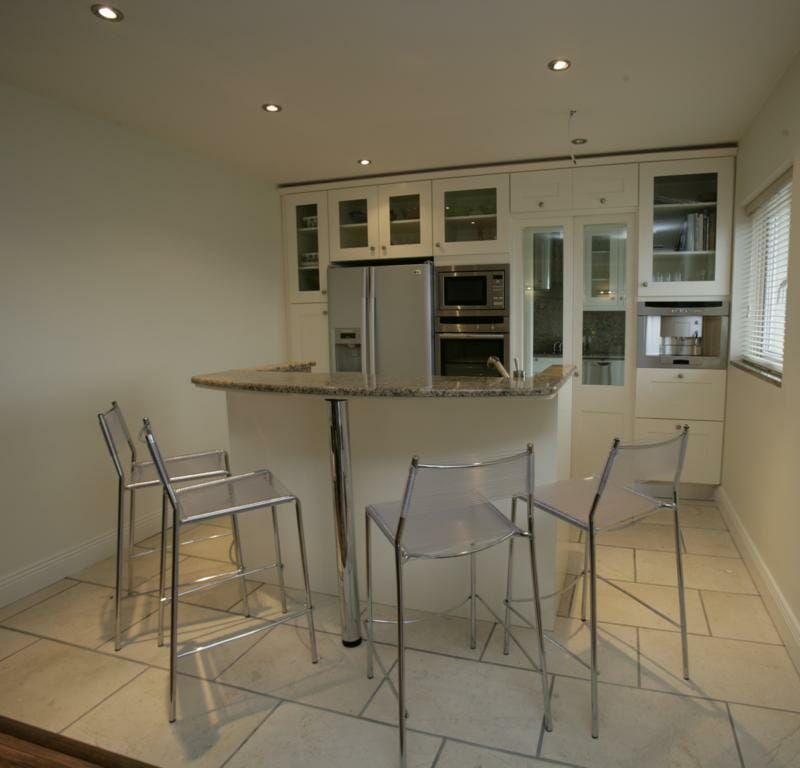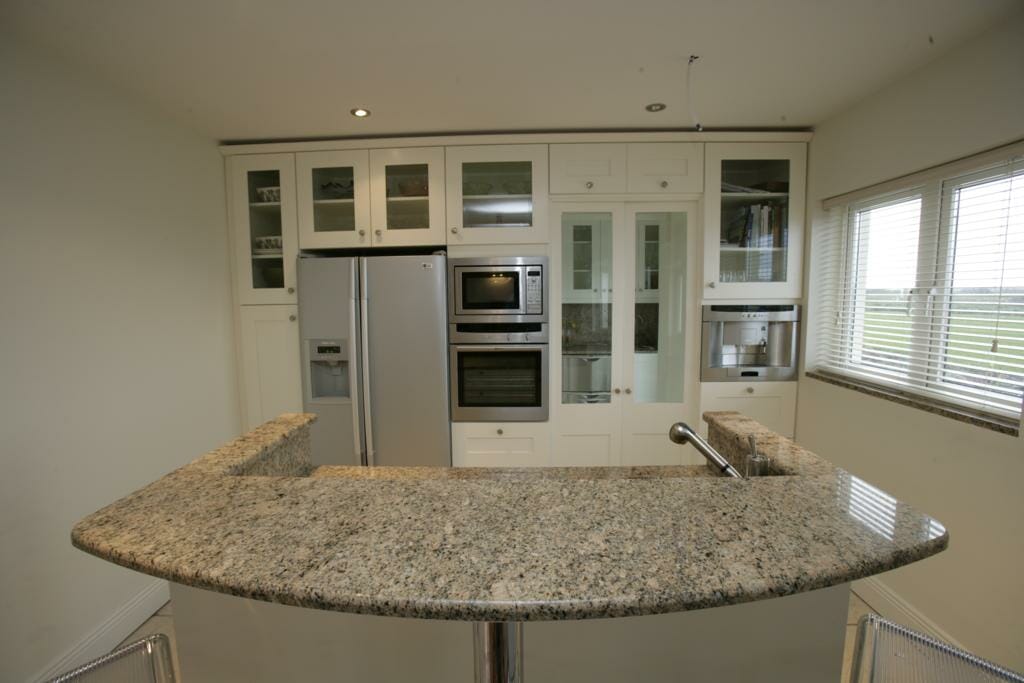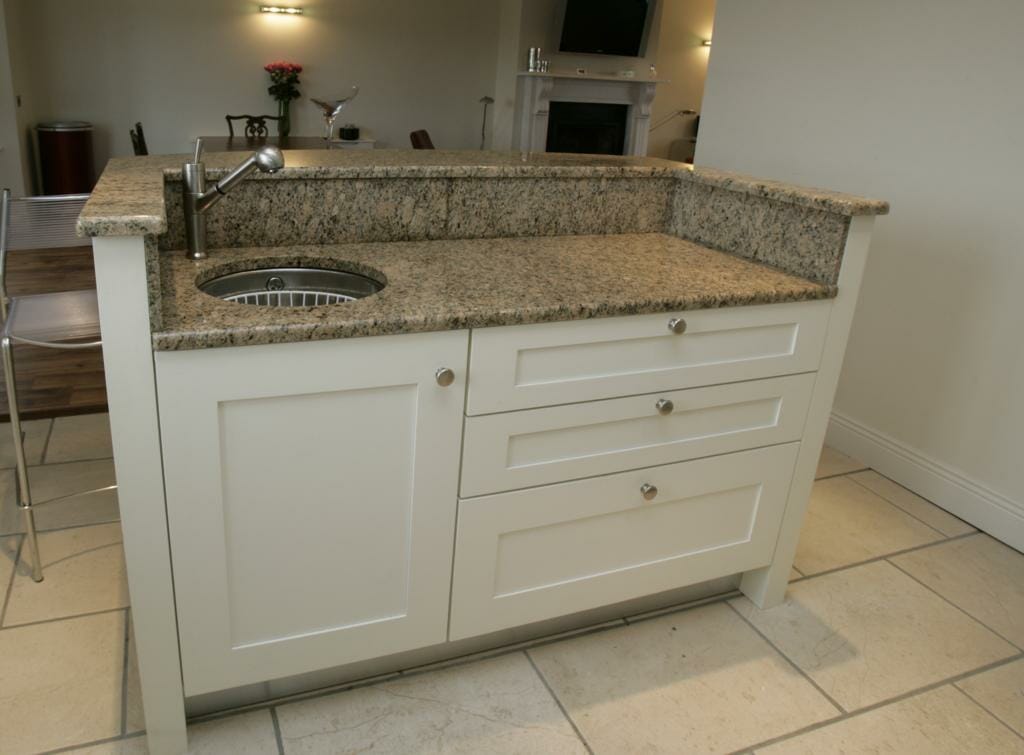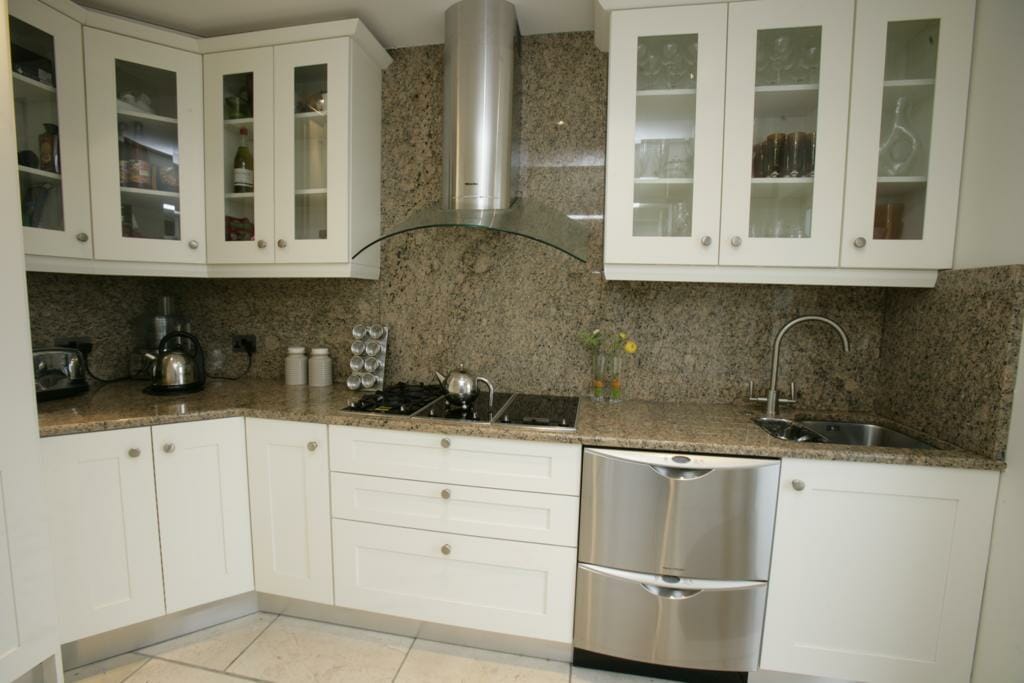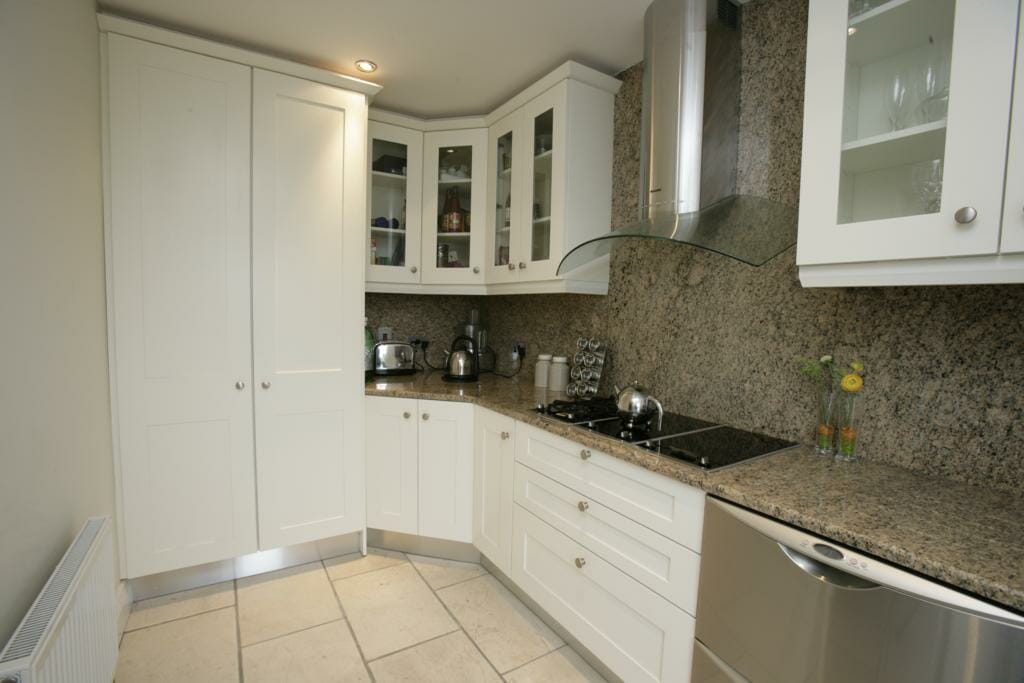 We are completely satisfied with all the work carried out by Mastercraft Kitchens. The workmanship, service and quality of the products supplied have all been and still are excellent.
We are particularly impressed by the friendly, cheery attitude everyone has in their work and would recommend anyone to use Mastercraft Kitchens for their kitchen project.
A very happy customer.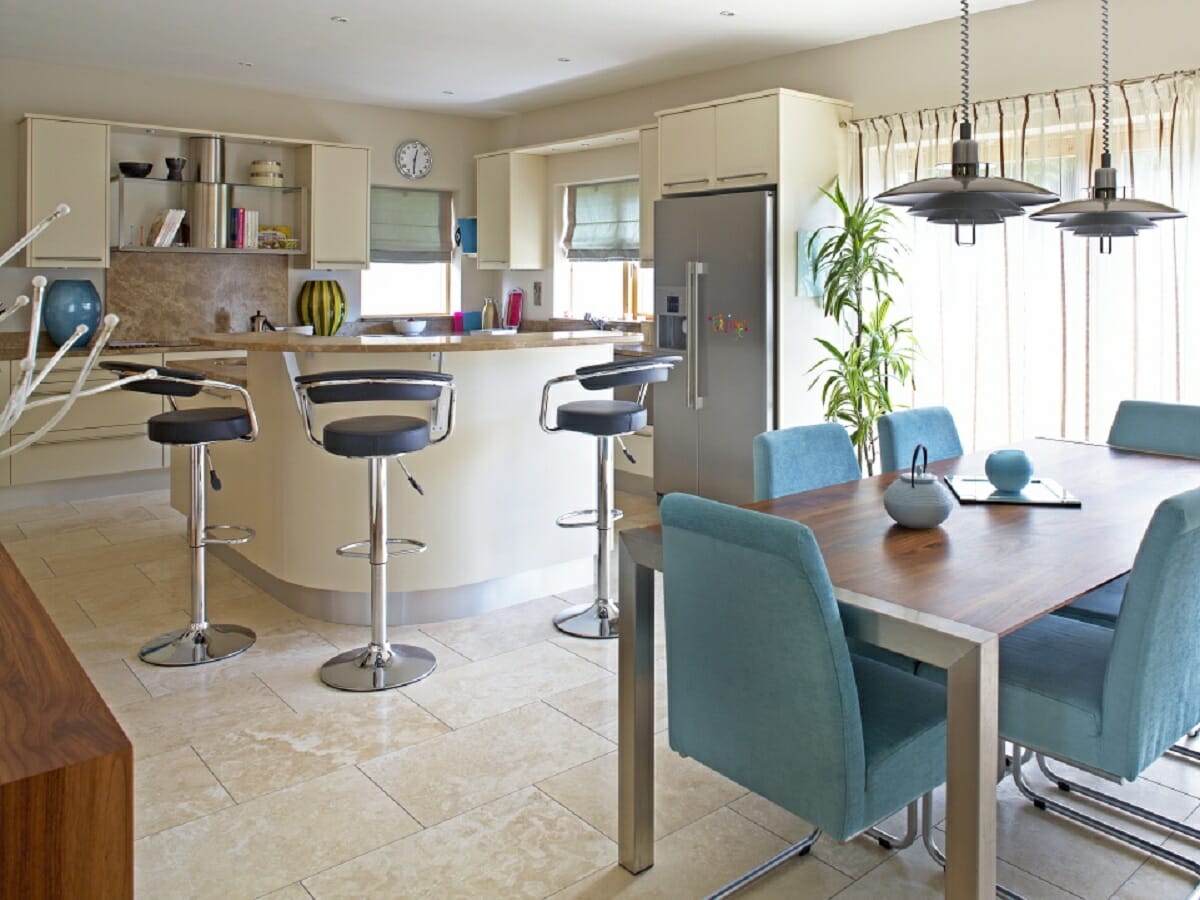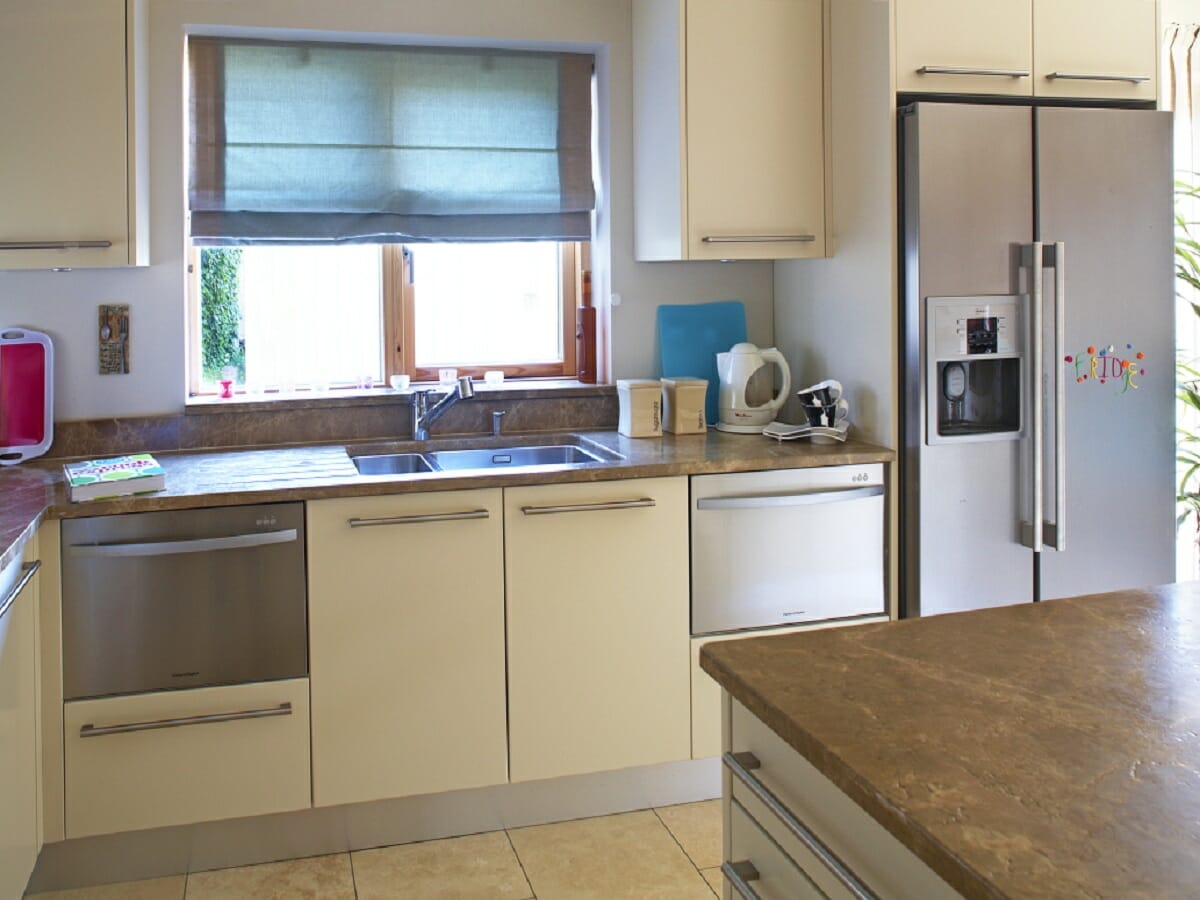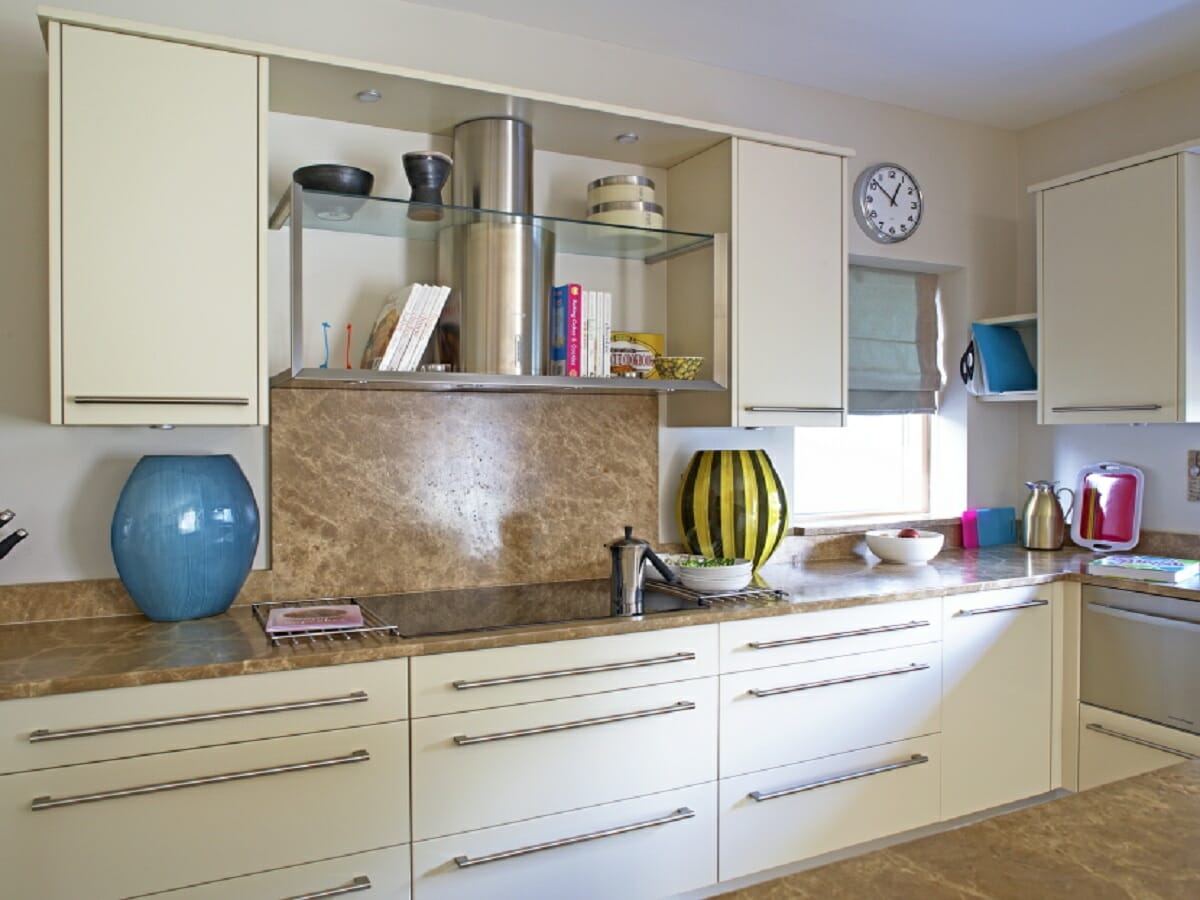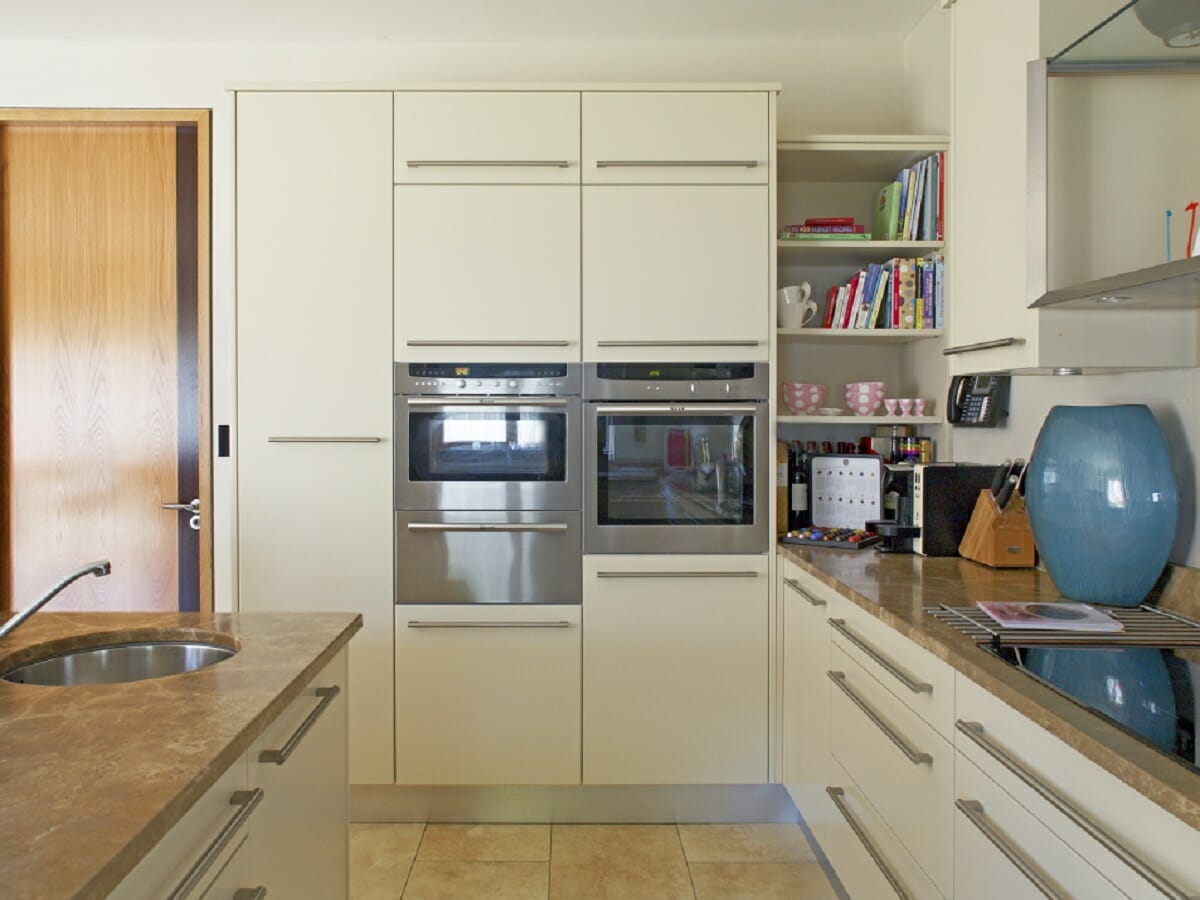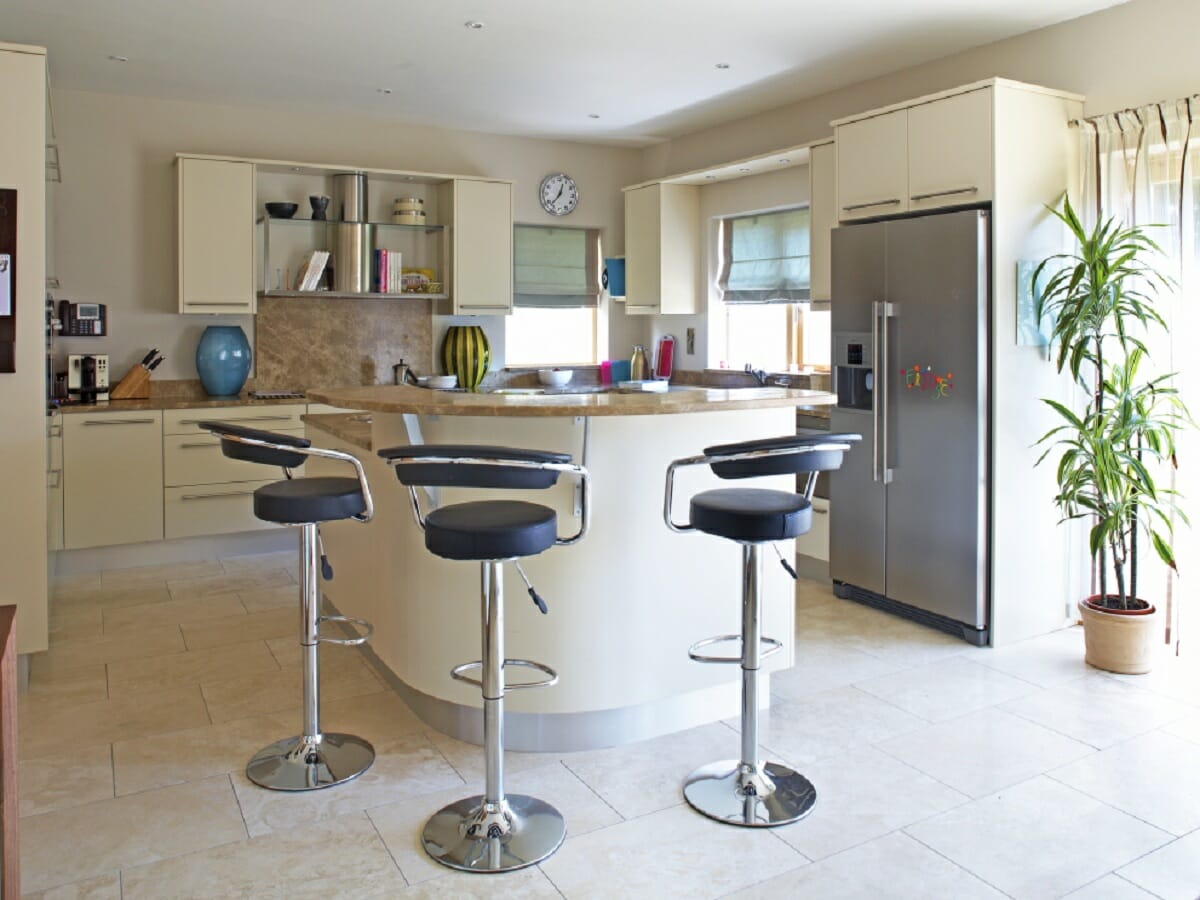 We are very impressed with the service we received from Mastercraft Kitchens.   The work was completed quickly and professionally with only one minor hiccup which was soon rectified, even before the job was completed.
Everyone has been very pleasant to deal with and nothing has been too much trouble.
We can honestly say this is the best fitted kitchen experience we have ever had and would highly recommend anyone in the process of shopping for a new kitchen to try Mastercraft Kitchens, you won't be disappointed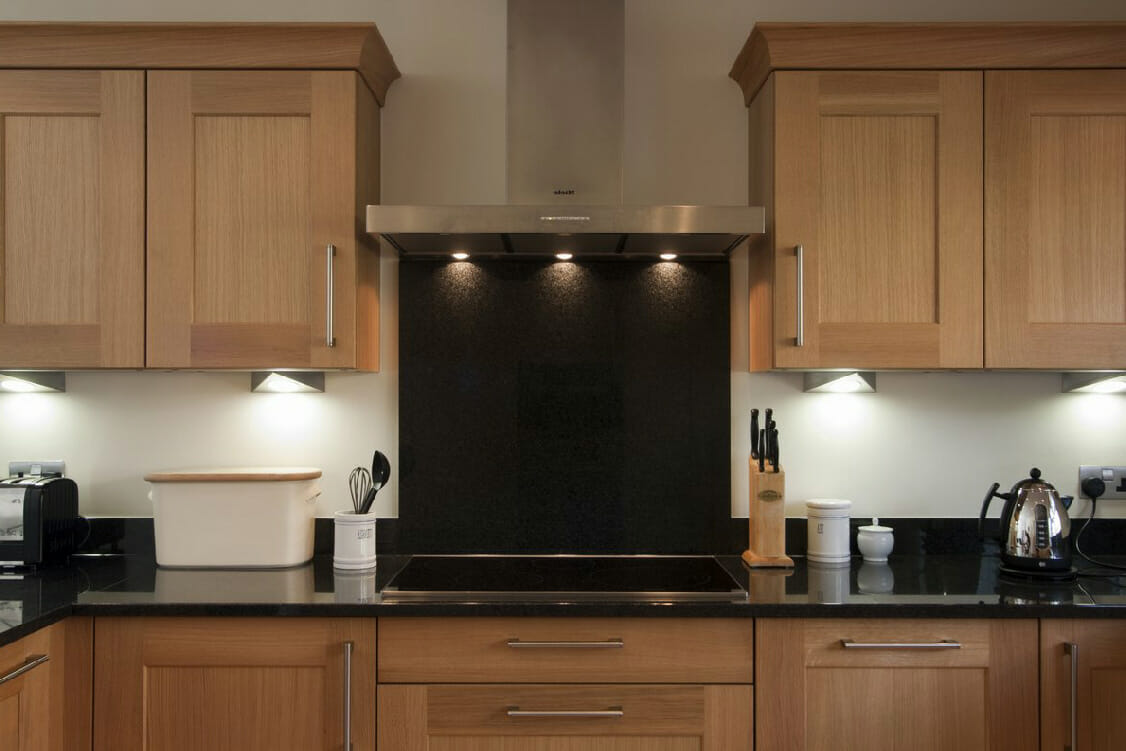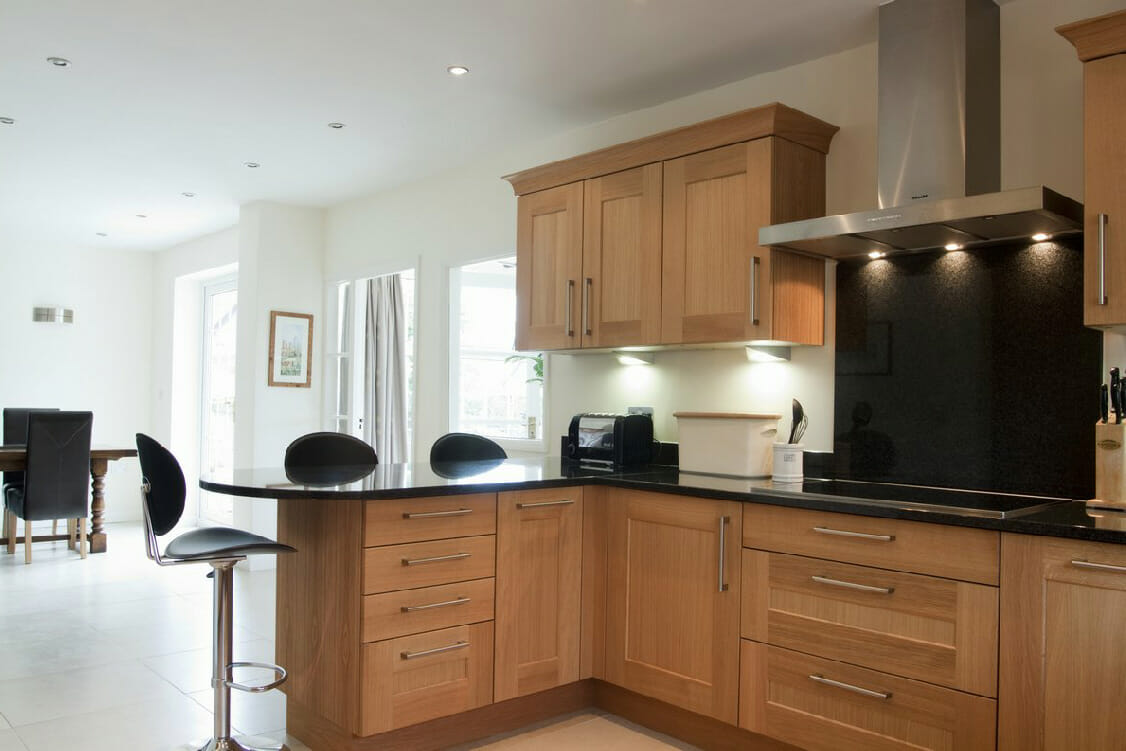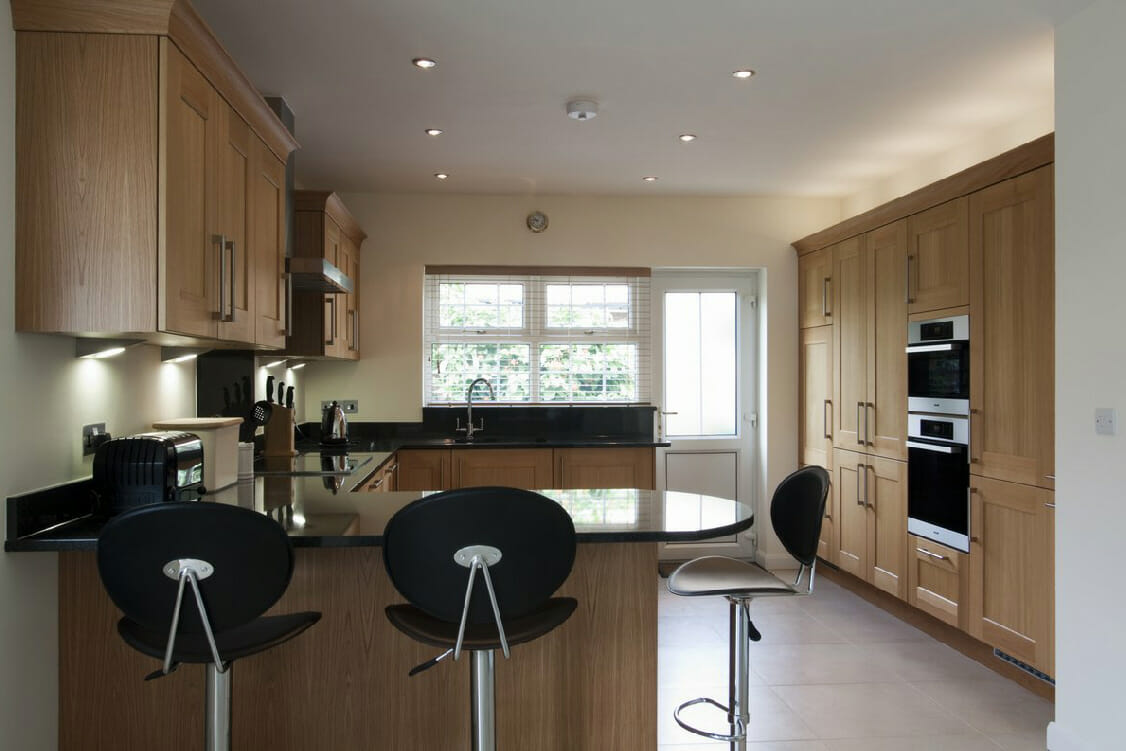 We selected Mastercraft Kitchens after numerous visits to other kitchen companies. We really appreciated the courteous and unhurried process we experienced at Mastercraft.
There was never any problem in tweaking the design so that we could arrive at the most cost-effective solution. We always received the best of service from Lynn and the rest of her team and that continued throughout the installation process with Mark and Ben when the kitchen was fitted earlier this year.
The fitting process was totally painless and the minor snags were rectified promptly. Overall a very good experience and we would recommend the company to any of our friends.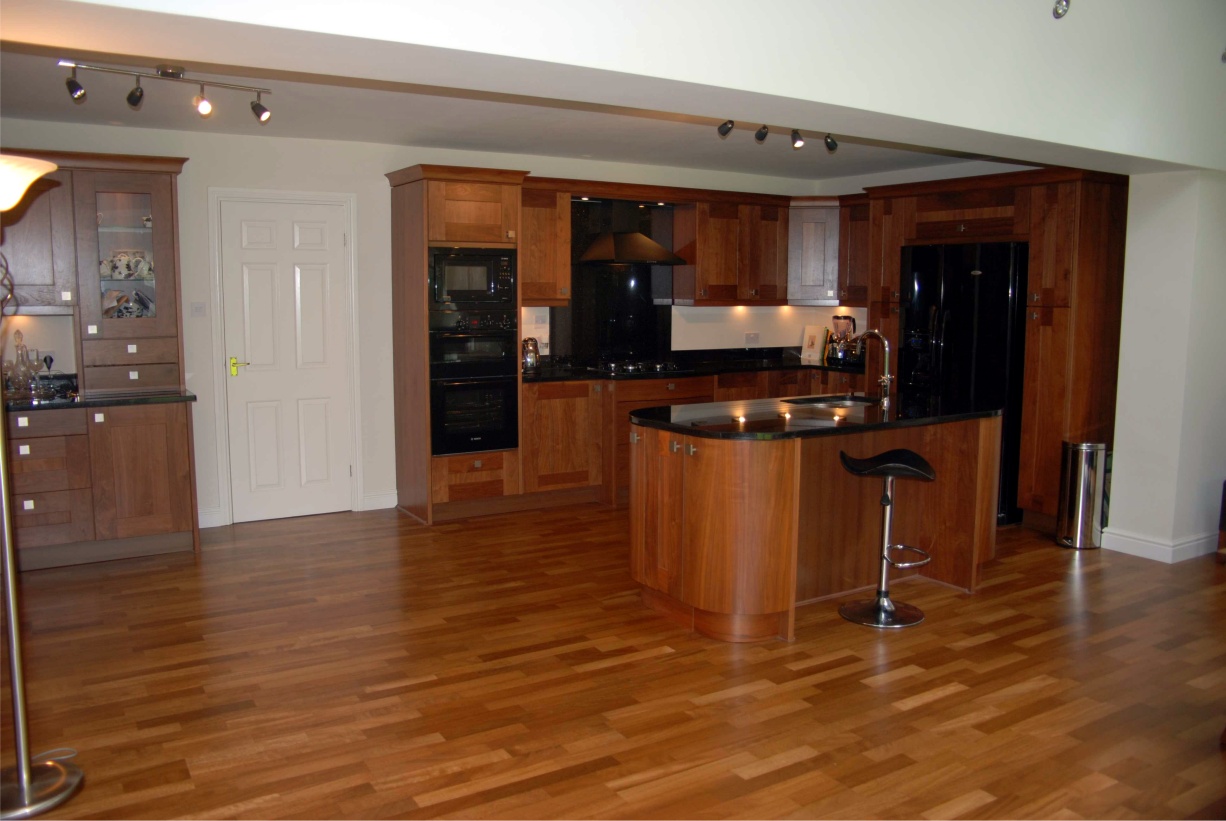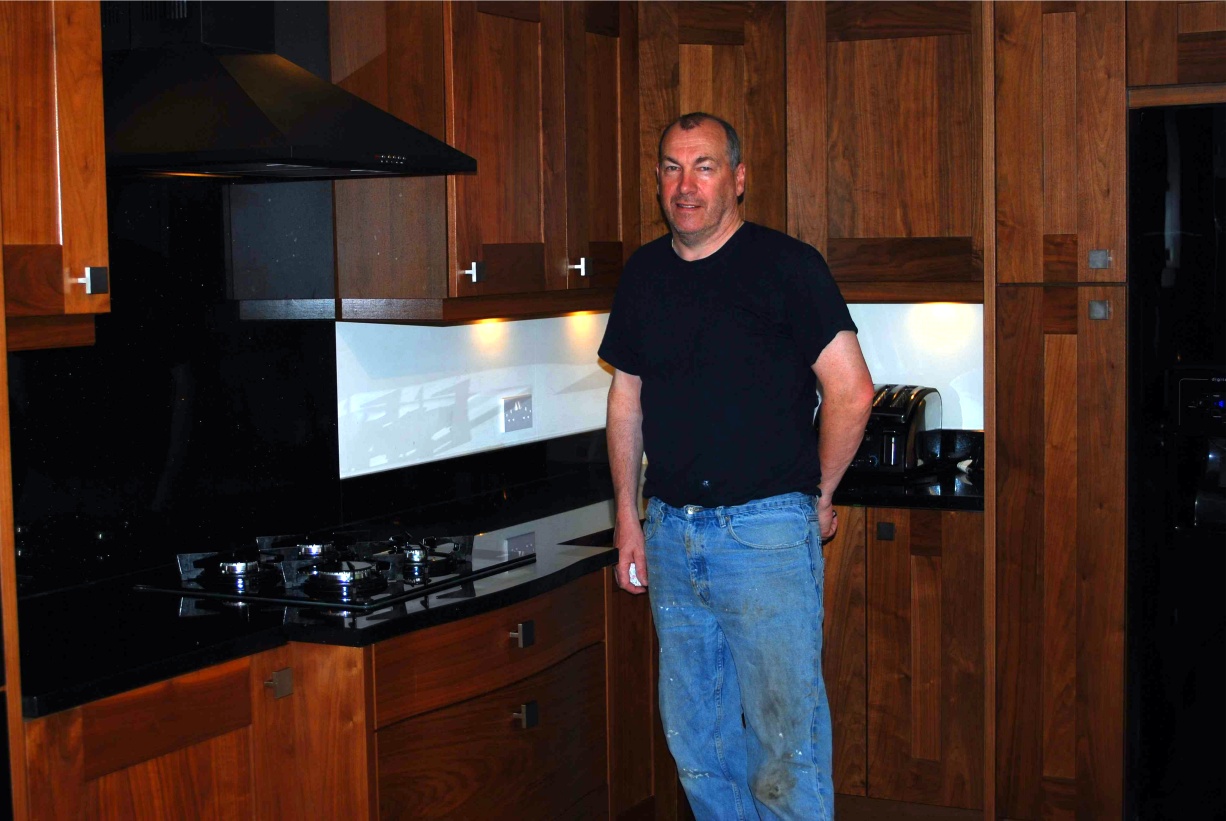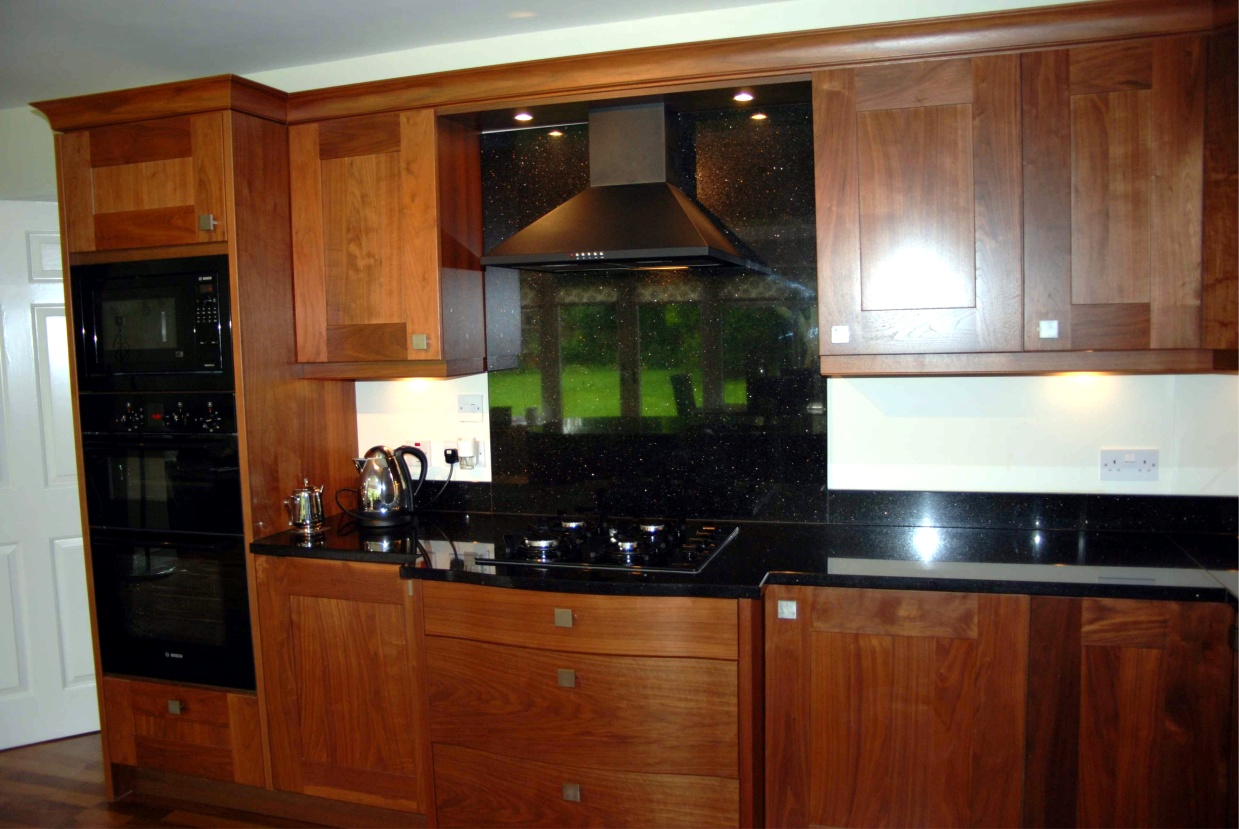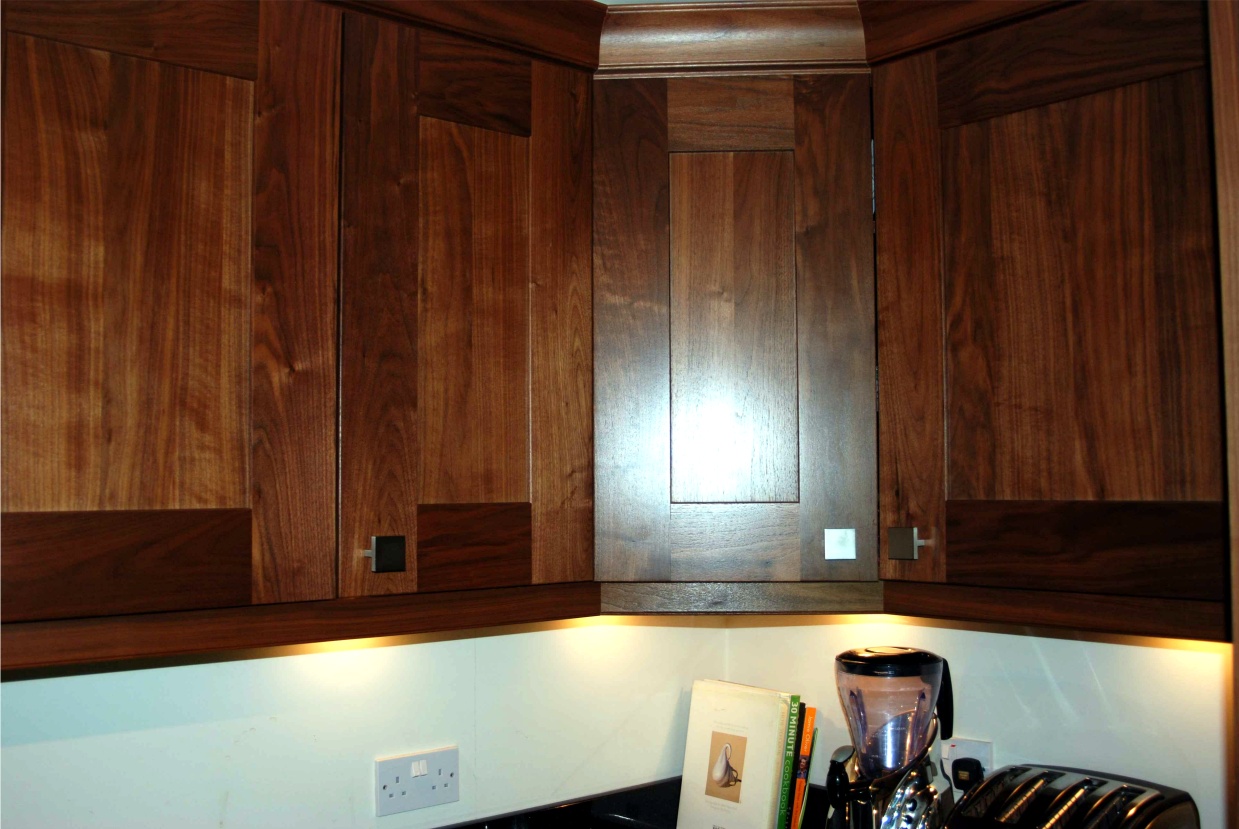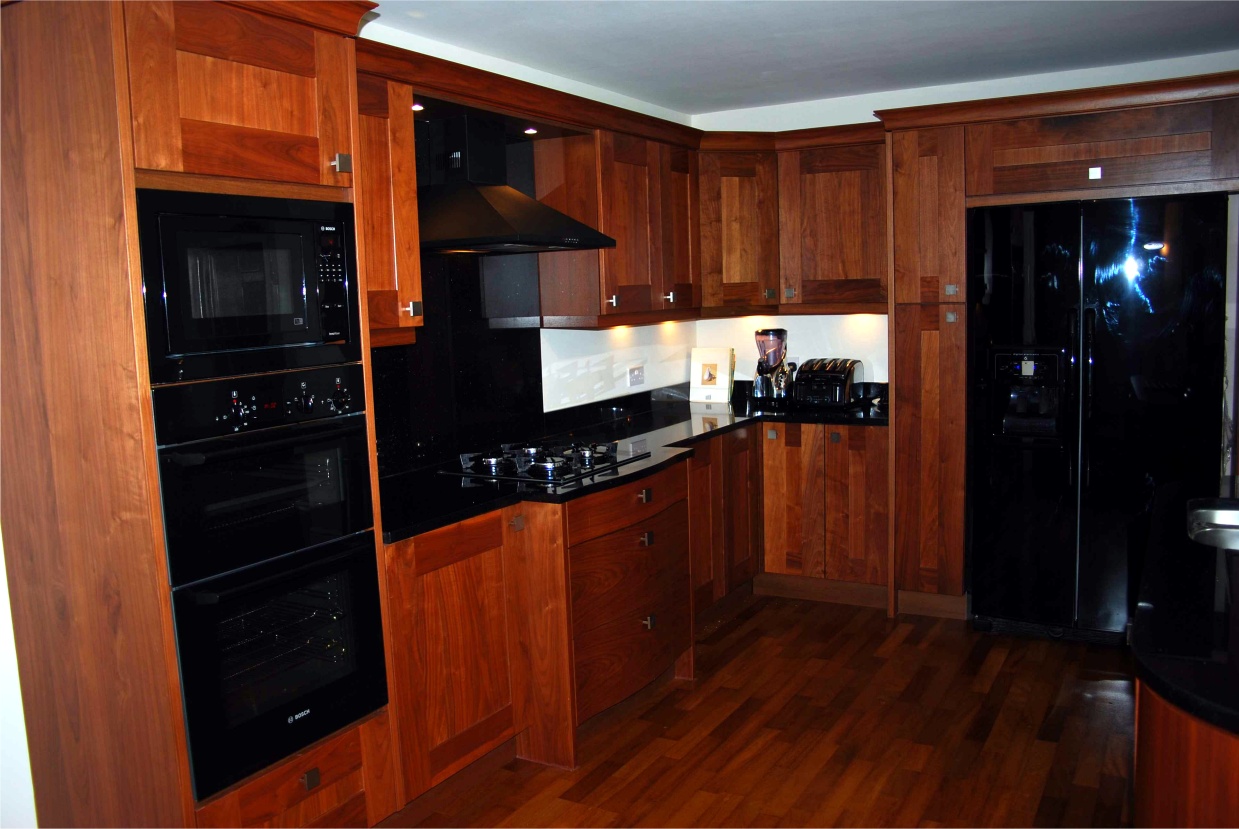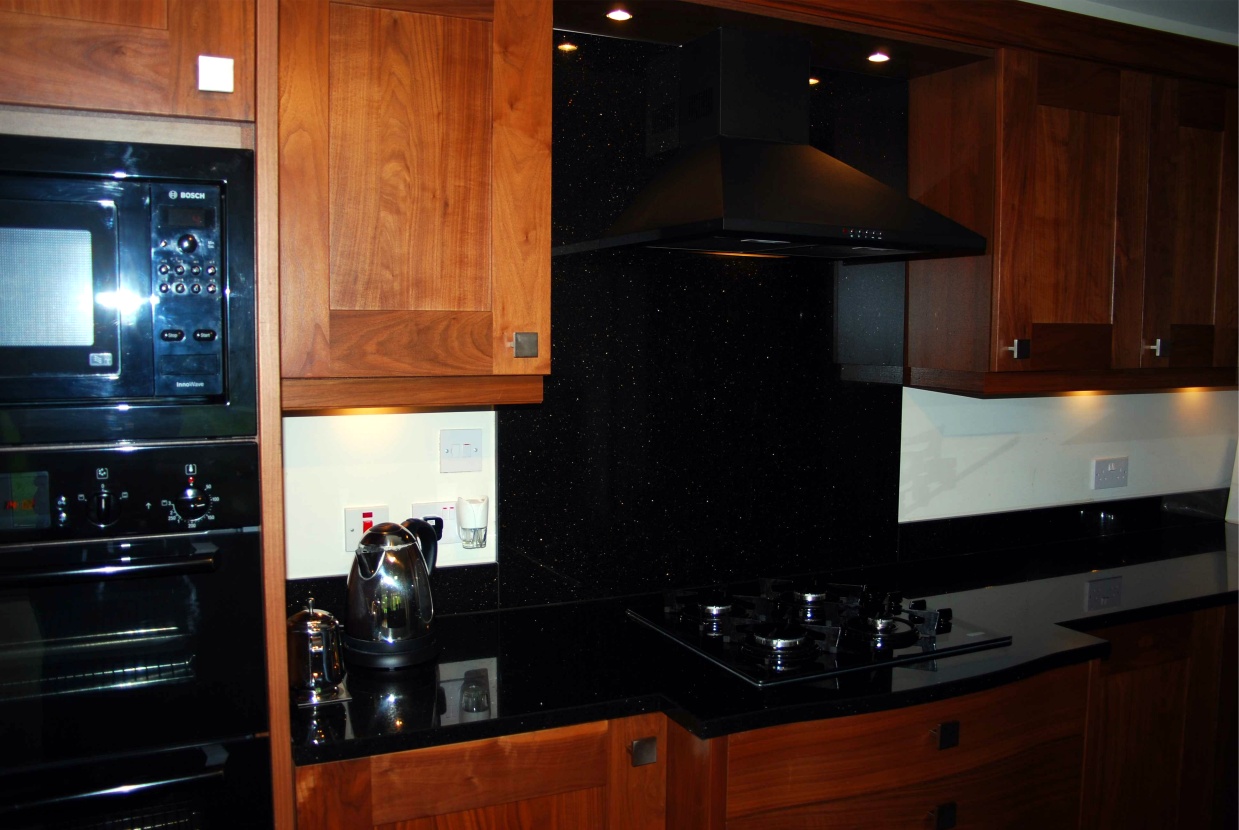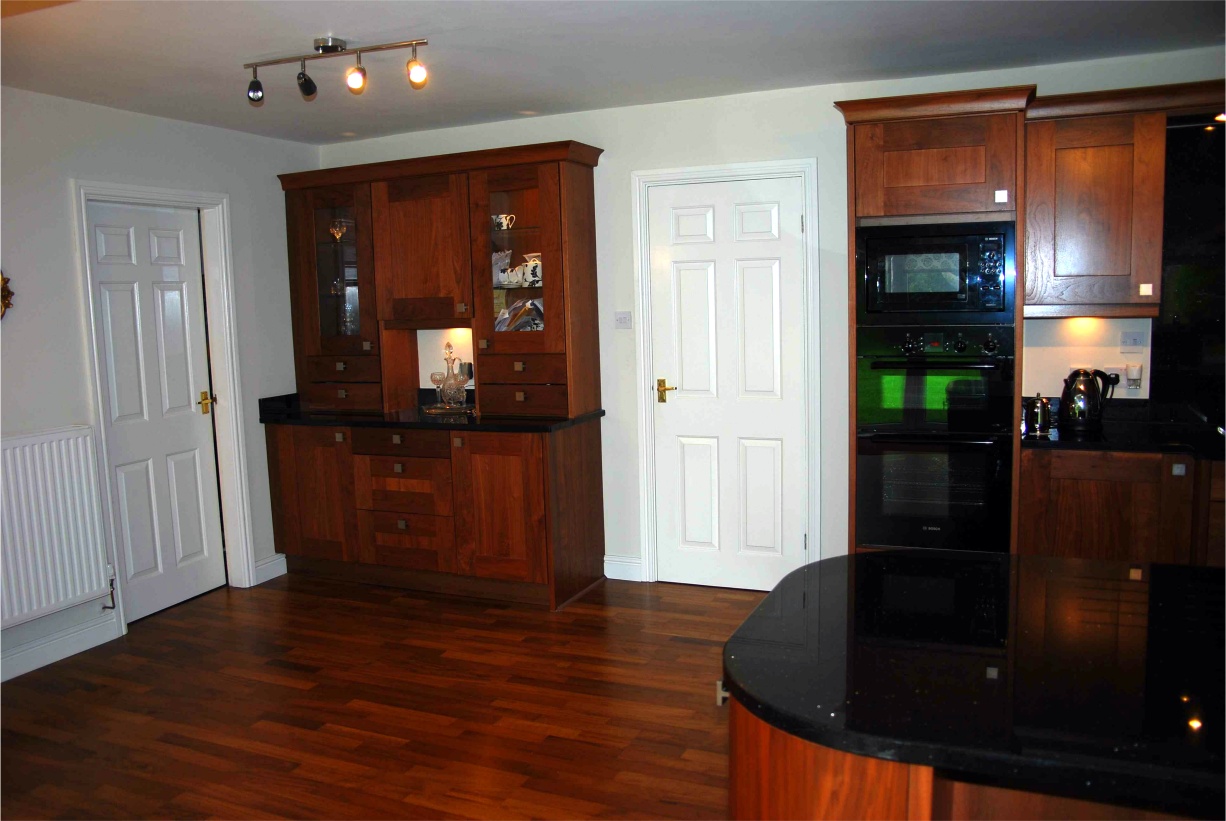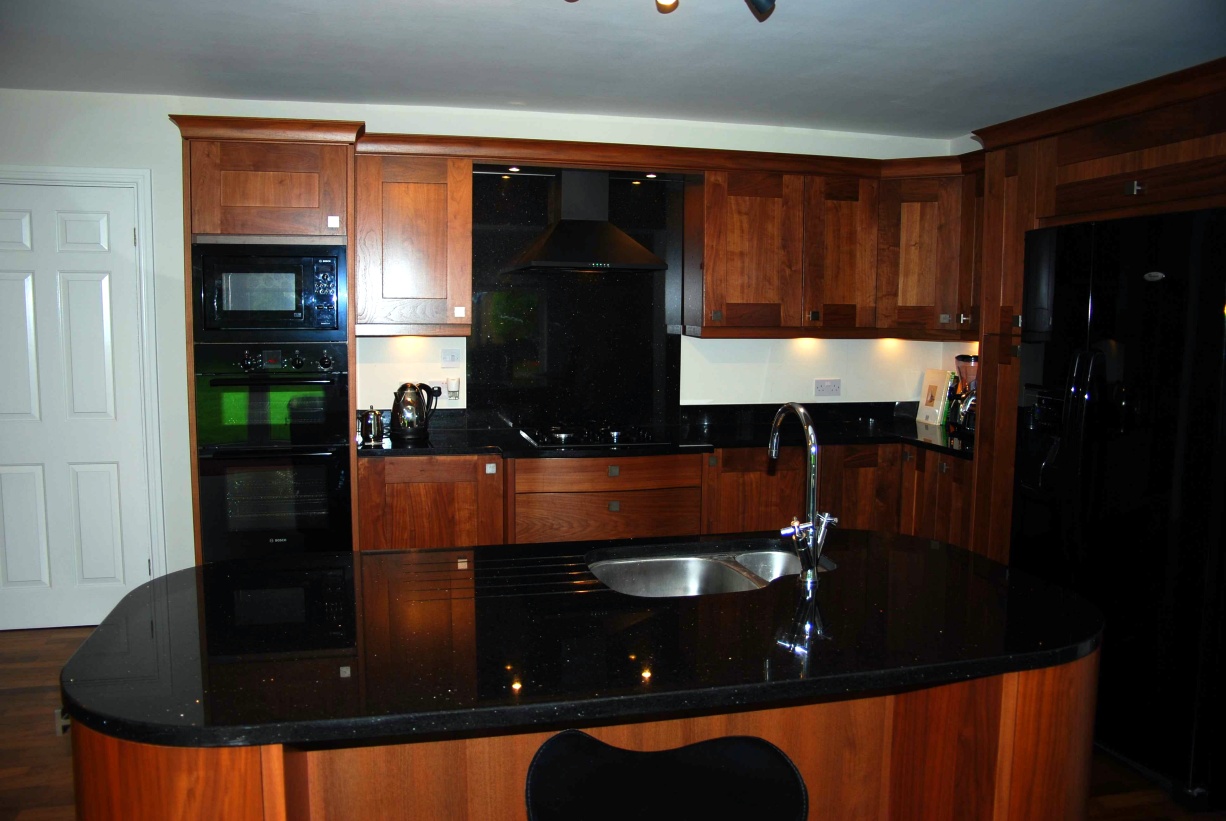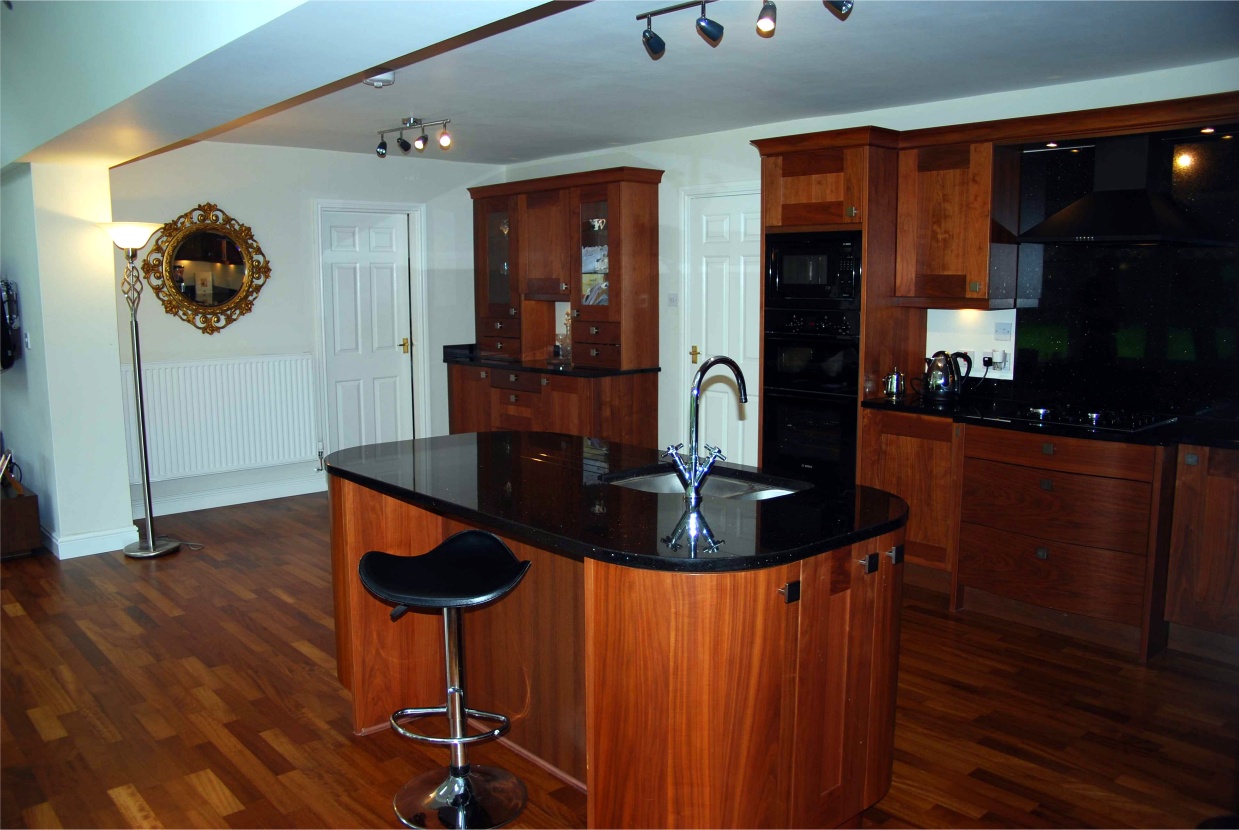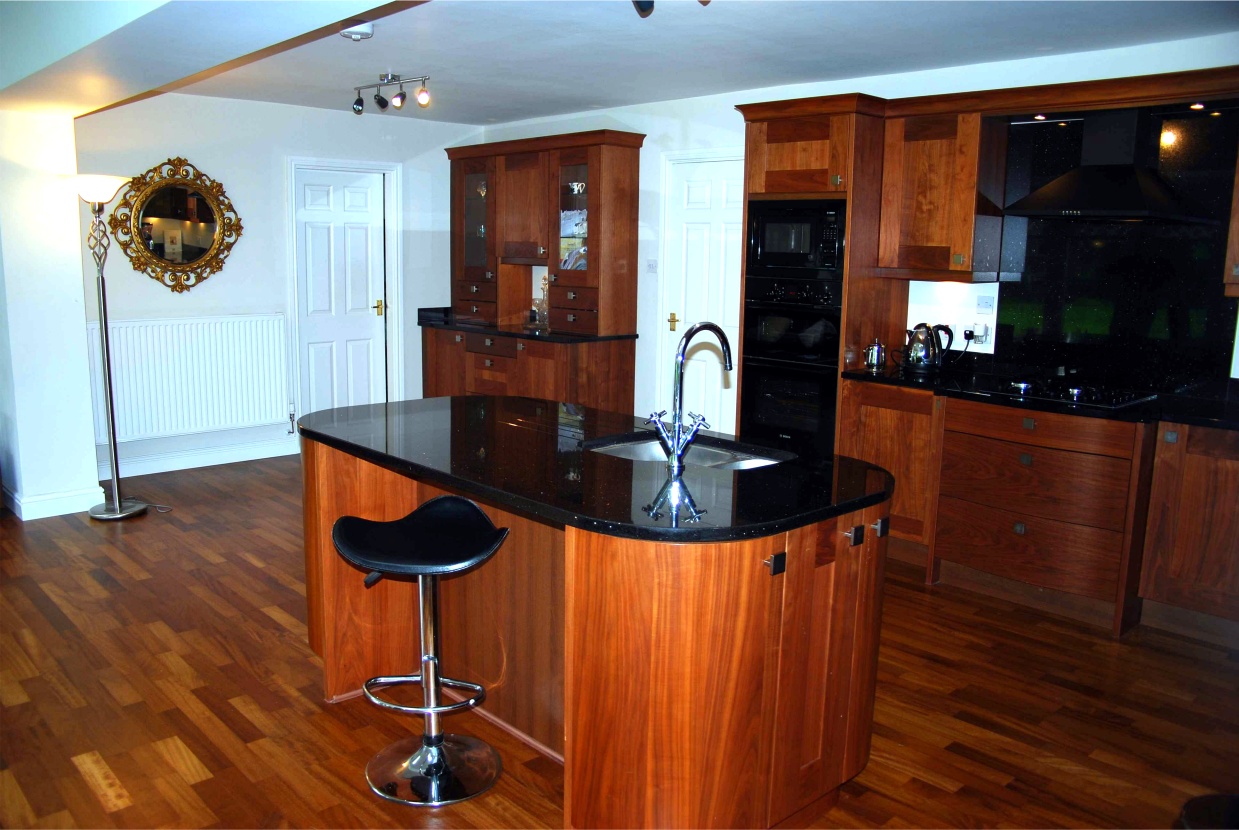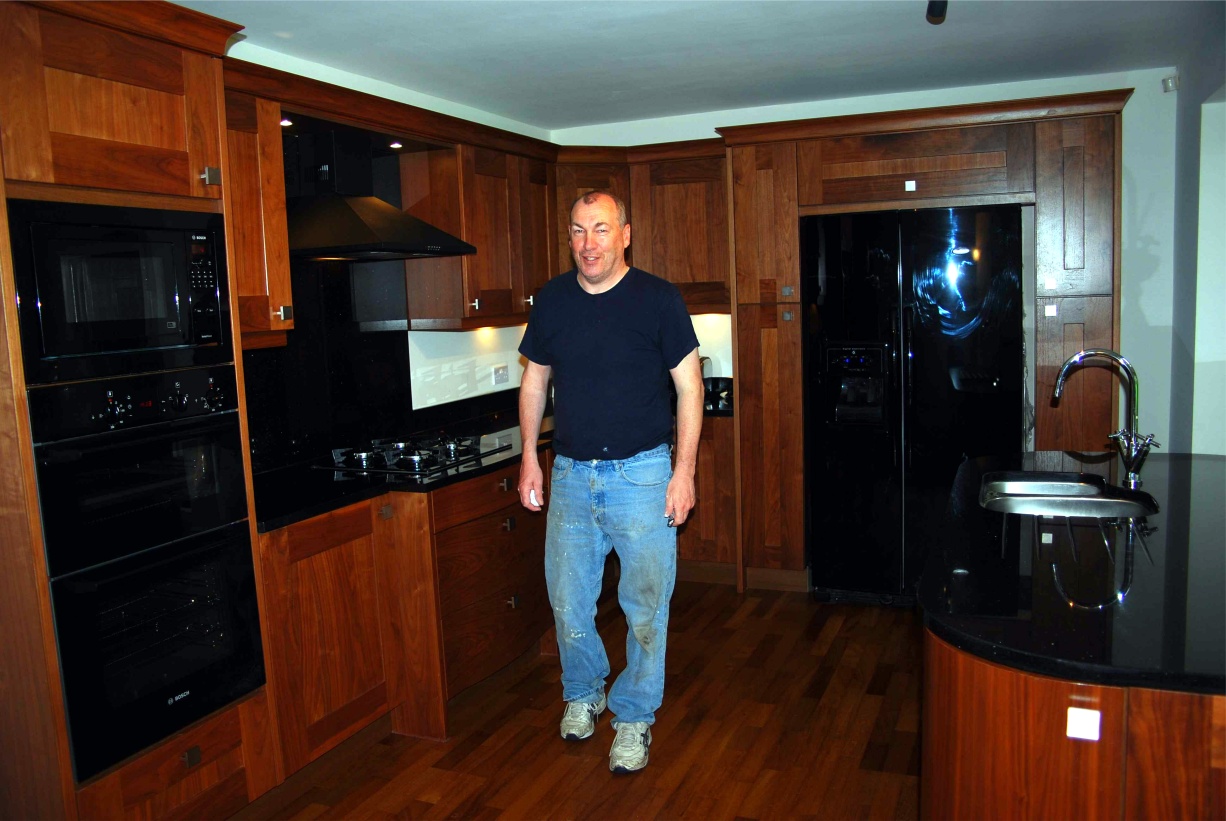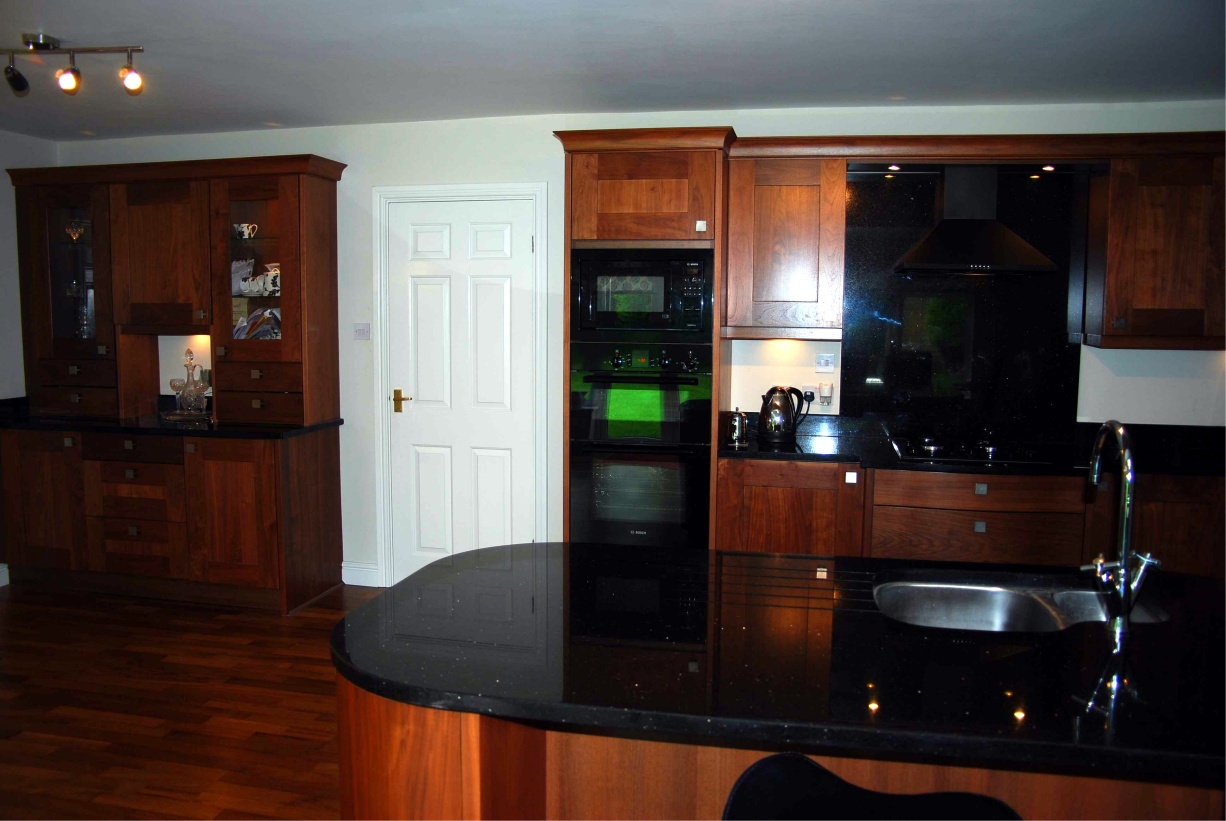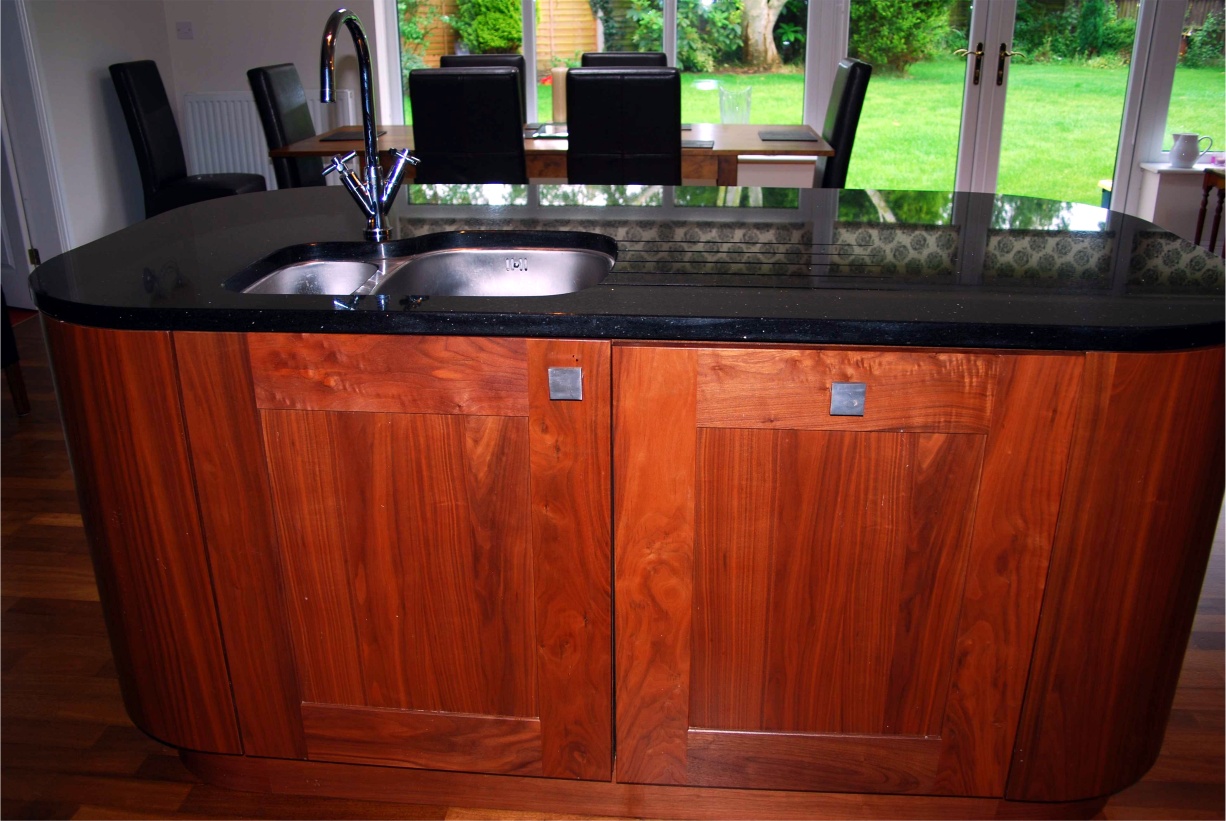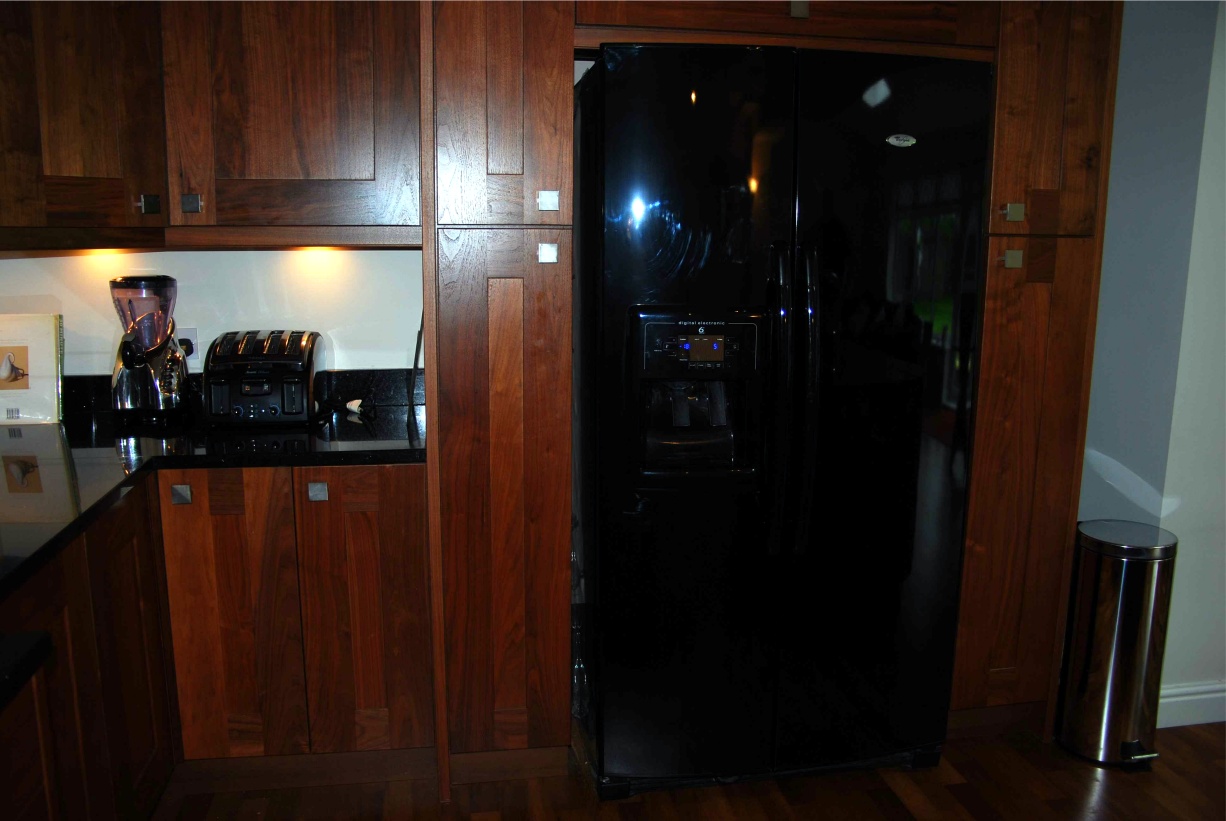 We were building a "granny flat" on to our property and part of the work was to be a newly fitted kitchen. Our builder recommended we go to Mastercraft for our kitchen as he had used them himself at his own home.  We had already received several quotes from local companies but they were way over what Mastercraft quoted.  One was more than £8,000 more, for the same kitchen.
We are very pleased with all the work carried out by the team.  The quality of the units and workmanship is excellent and the guys worked really hard to complete the kitchen before Christmas.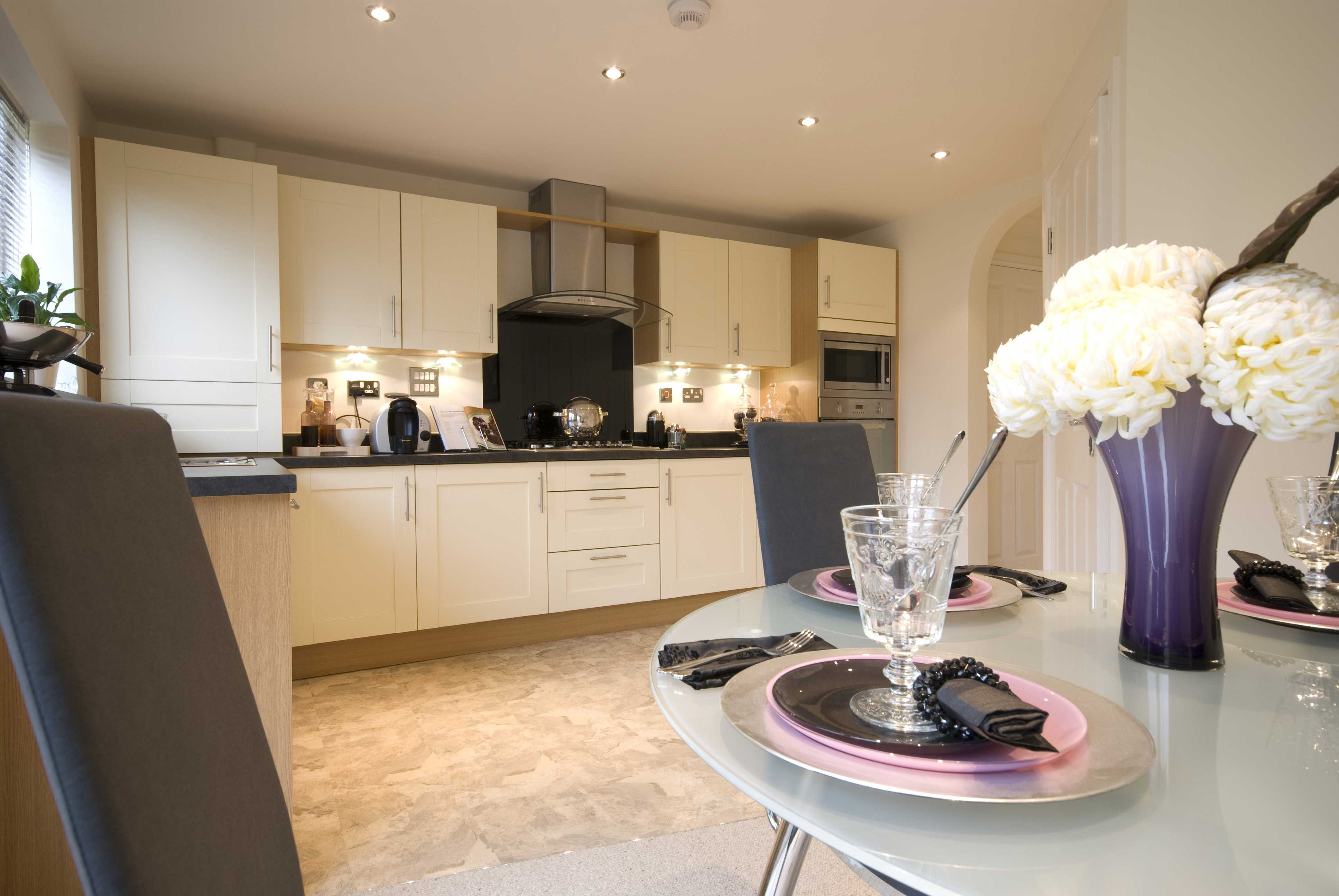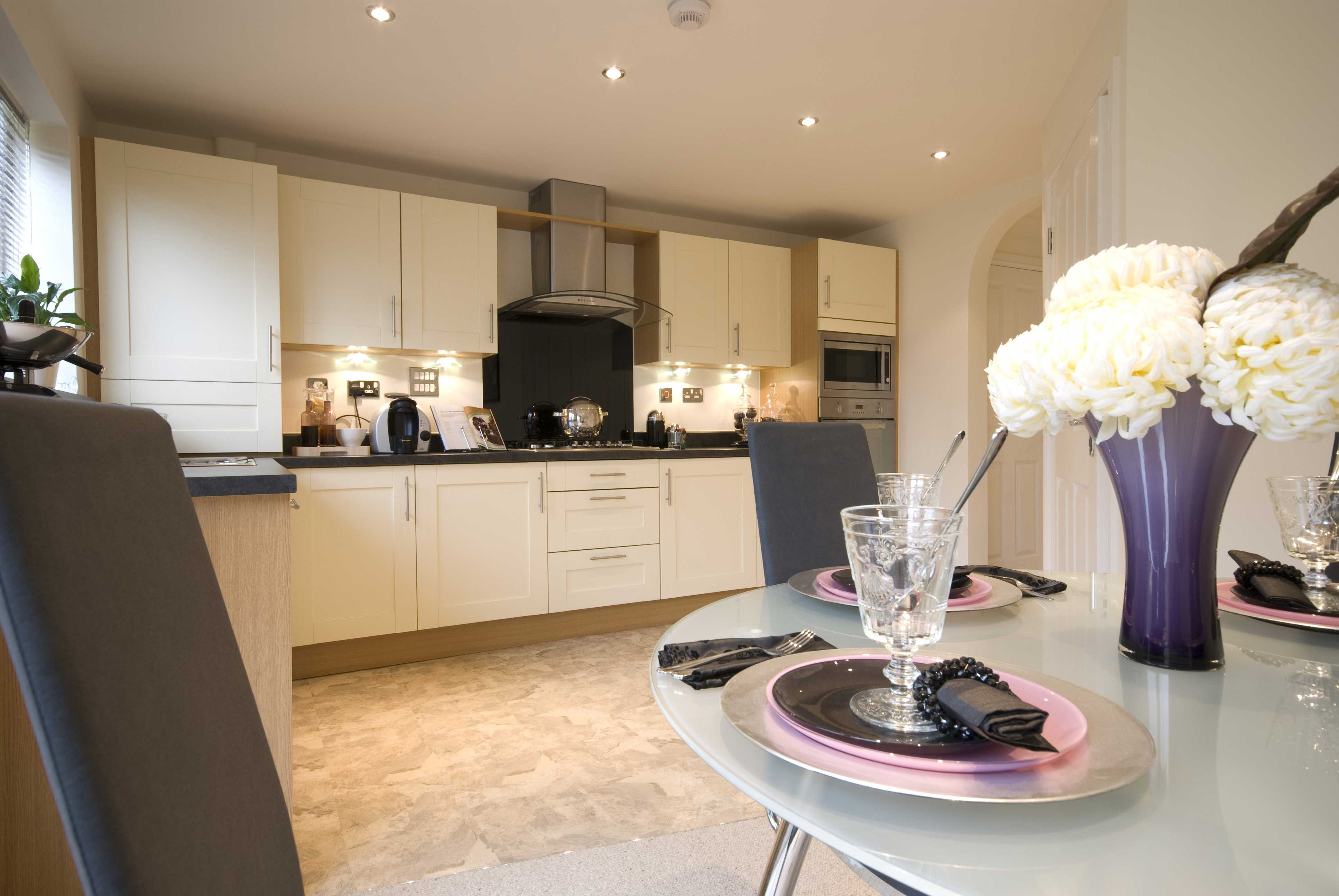 I'm very happy with my new Mastercraft kitchen - it looks amazing and really modern.  Really pleased we chose this company after getting quite a few other quotes. Talking of other quotes, I was totally shocked that B&Q wanted over £3,600 just to install one of their kitchens!
The whole service was wonderful from start to finish. The workmen were a friendly lot and they all did a fantastic job. Although my kitchen is only small, the design is very practical and the finish and quality of the units are noticeably better than a lot of the showrooms I looked around.  Best of all was that on the last day the guys cleaned and polished everything up for me. Amazing service. Would definitely recommend.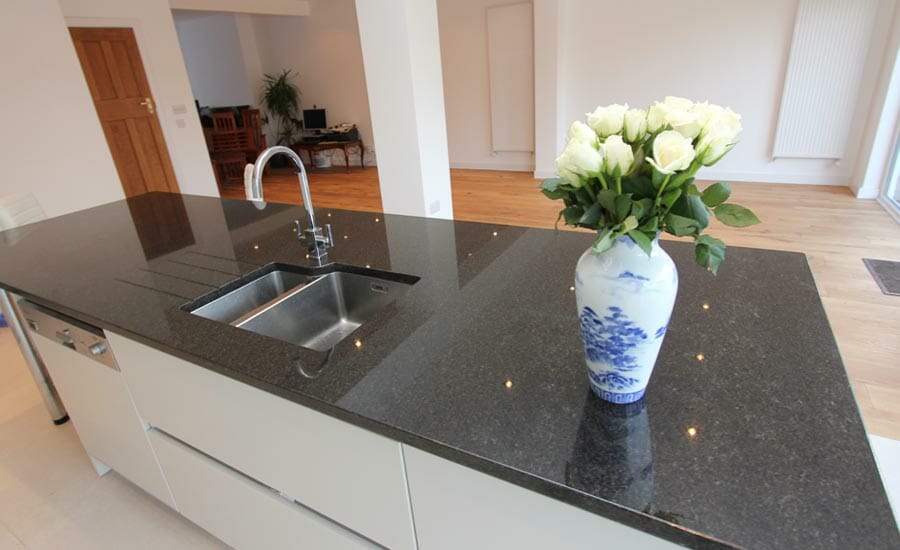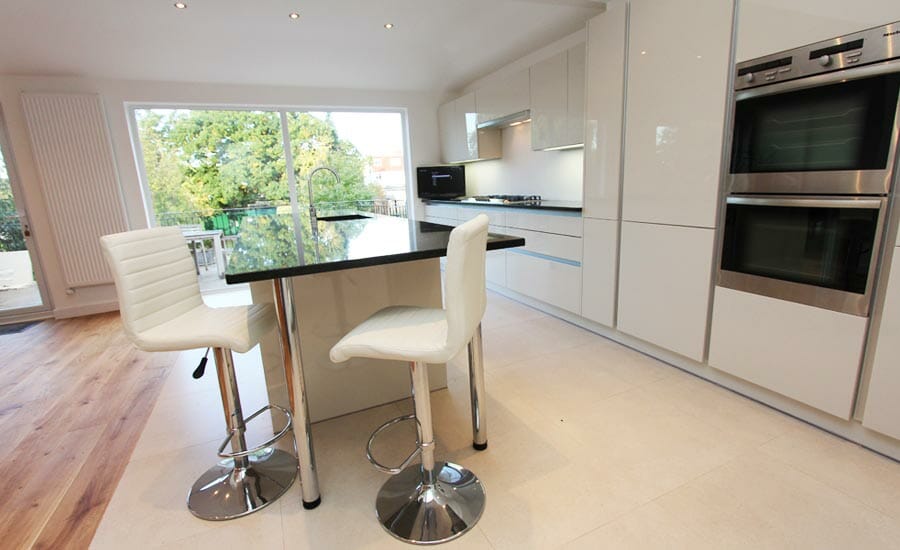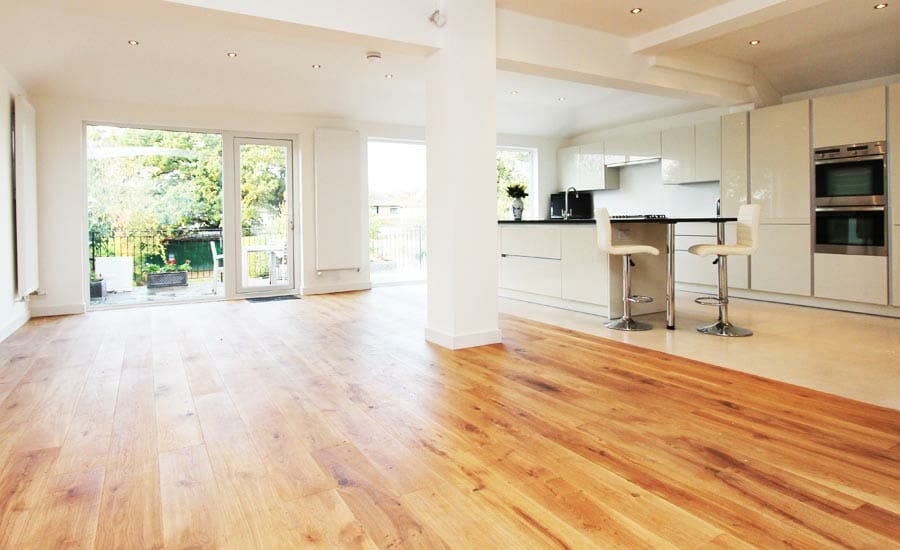 Mastercraft Kitchens fitted a kitchen for us in our house 3 years ago and we were very pleased with it. When we decided to re-locate we decided that the new kitchen needed modernising and extending. We didn't hesitate in going back to Mastercraft for our new kitchen.
Steve the designer was very relaxed, friendly and patient and a few tweaks and additions were arranged. The kitchen is now in constant daily use. It is my pride and joy and we're absolutely delighted with it, especially the island and the extra wide hob. A particular vote of thanks must go to our fitters Kev and Jay. They were superb, very professional and the quality of their work is a testament to them. We would thoroughly recommend Mastercraft Kitchens to anyone, be it a smaller kitchen as our original was or a larger kitchen like our latest one.
Five stars awarded to a five-star company.