Introducing Our Wooden Worktops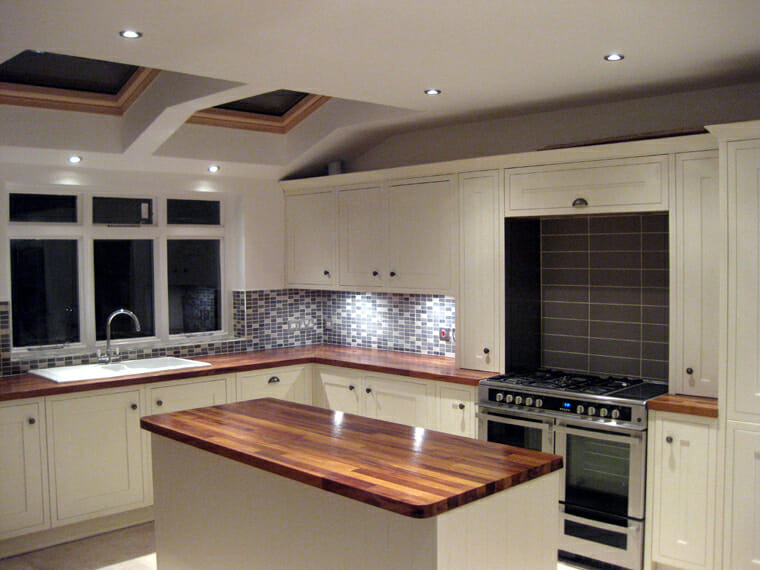 The Beauty Of Natural Wood.
Worktops from wood are durable, classic in their look and will instantly become the focal point in any kitchen. Each wood species has a slightly different shade and markings, such as brown with uniformed fine markings for worktops made from Oak or dark chocolate brown colour with natural colouring for worktops made from Black Walnut.
The beauty of the solid wood worktops lies in their warm tones and natural beauty. 
When choosing these instead of other worktop types, you benefit from the ability to maintain and enhance its fantastic natural rich and warm look, whilst other work surfaces age badly through the years. Moreover, because solid worktops are constructed from solid materials all the way through (100% real wood), you can easily sand the surface and restore it to its natural glory should you ever need to.
Care and maintenance of your wooden worktop
Here are a few simple guidelines that need to be followed for your solid woodwork top to give you a lifetime of good service:
Always mop up spills of water and other liquids straight away. Do not allow liquids to stand for any period of time. (The finishing oil is water resistant, not waterproof)
Always use pan stands and trivets to protect the wood from rough, hot, wet and dirty pots and pans. Direct contact from iron, steel or copper vessels can also stain the worktop.
Always use cutting boards to chop and slice food upon. Do not cut directly on to the surfaces.
Clean the tops with a sparing amount of warm water, a drop of washing up liquid and a well rung cloth.
Never use bleach and other chlorine based cleaners, acids, photographic development liquid, alkalis (caustic soda) and concentrated disinfectants on wood. If any of these come into contact with the material, clean them off immediately, otherwise surface damage will occur.
It is important that wood worktops are re-oiled at regular intervals to remain in the same condition as when it was installed. The time span between oiling is dependant on the degree of use and wear they receive. At the very least wood worktops should be re-oiled every three months.
Over time, with normal kitchen use, wood will acquire a patina and colour that reflects the use to which it has been put. It is normal for the original high sheen to weather and mellow in this way. Exposure to sunlight will also change the depth of colour.
The surfaces of your solid wood worktops have been finished with Danish oil (supplied): 3 coats on faces and edges, 5 coats on the end-grain.
The oil is formulated: to be safe for the preparation of food; to enhance the wood colour and grain pattern; to provide a durable, protective surface over the natural wood structure, whilst being easy to look after and restore when the surface becomes worn.
When the top is newly oiled and the surface is in good condition, it will have a sheen on it. Splashes of water will form into properly defined droplets that standup clearly.
After a period of use the finish will become worn; the sheen will diminish and the surface become dull. Water will not form into droplets as readily, but tend to spread out and wet the surfaces. This is a clear sign that the worktop needs reoiling; in fact it is better to re-oil before the surfaces quite reach this condition.
The time taken for wear to occur depends on the amount of use the surfaces have had. In any one kitchen there will be high wear and low wear zones; the former will need more attention than the latter.
The entire wood worktop should be re-oiled regularly, at the very least every 3 months depending on use.